9 février 2008
6
09
/

02
/

février
/

2008
00:12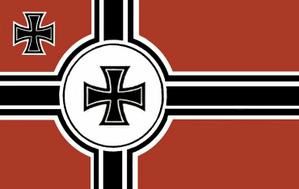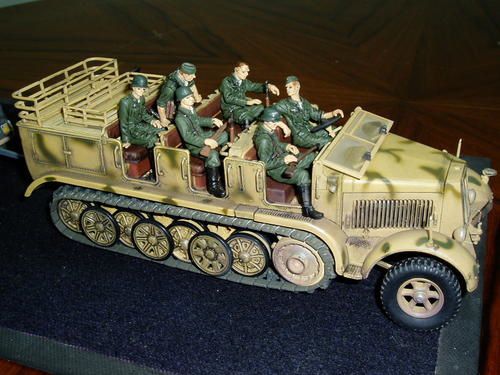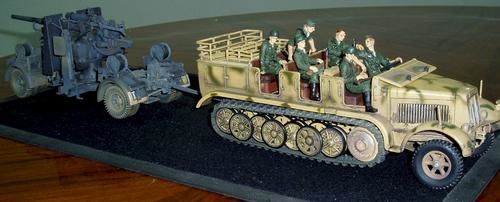 88 MM FORCES OF VALOR 1/32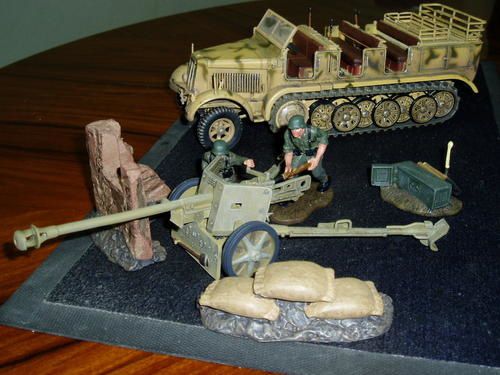 PAK 40
SOLDIER'S METAL PAK 40 METAL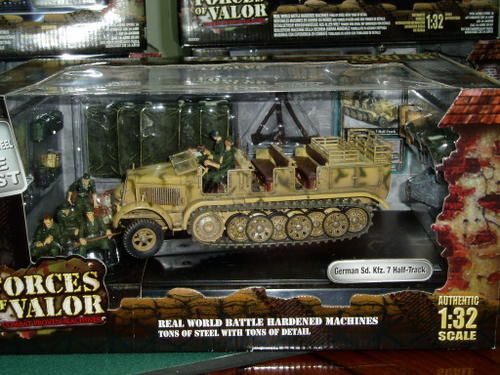 80047 German Sd. Kfz. 7/2
Half-Track
SKN: 80047 | SCALE: 1:32

German Sd.Kfz.7

Mittlerer Zugkraftwagen 8t (Sd.Kfz.7) was a medium halftrack / tractor / prime mover of the German Army. It was designed by Krauss-Maffei AG of Muenchen-Allach and was produced by Krauss-Maffei of Munich, Borgward of Bremen, Buessing-NAG of Berlin, Daimler-Benz of Berlin, and later by Saurer Werke AG of Vienna and Italian Breda. Production started in 1933 but it was not until 1939, when full-scale production started. From 1939 to March of 1945, some 12187 were produced and production figures were as follows: 1939 - 1609, 1940 - 996, 1941 - 1322, 1942 - 1388, 1943 - 3250, 1944 - 3352 and 1945 - 270. Cost of single vehicle was 36000 RM. Sd.Kfz.7 was used throughout the war on all fronts with almost all units of the German Army and there were 3602 in service as of March 1st of 1945.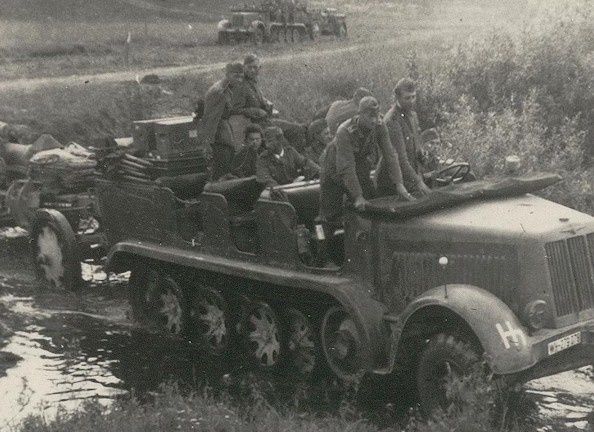 Krauss-Maffei AG worked on halftrack vehicles as early as 1928 with the experimental MS (m5) type tractor. The firm introduced the m7 based on the specification by Waffenamt in 1933. This was the prototype of the future Sd.Kfz. 7 series. First 8t production model appeared in 1934 - KM (Krauss-Maffei) m8. It was longer than m7 and powered by 6 cylinder Maybach HL 52 engine.

Similar vehicles were produced by Buessing-NAG - BN m8 and Daimler-Benz - DB m8. KM m8 was followed by an improved version in 1936 - KM m9. New and improved model was powered by Maybach HL 57 engine. Krauss-Maffei produced only 127 vehicles in 1936. It was followed in 1936 by almost identical KM m10, powered by 140hp Maybach HL 62 engine.

Similar vehicle was produced by Hansa-Lloyd-Goliath AG of Bremen (later known as Borgward) designated as HL m10. Only 222 were made and used in the same manner as KM m10 vehicles. In 1937, final model KM m11 entered production - now designated as Mittlerer Zugkraftwagen 8t (Sd.Kfz.7).

At the same, Borgward produced similar vehicle designated HL m11. In 1943, the Maybach HL 62 engine was replaced with Maybach HL 64.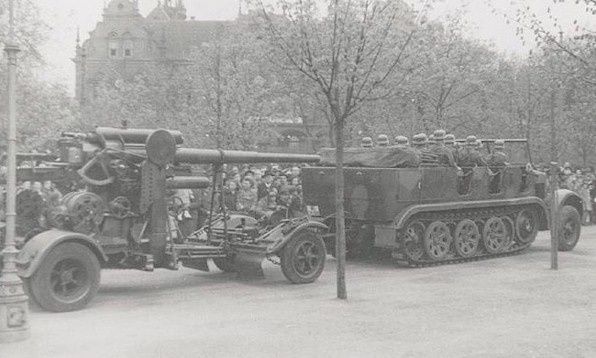 The Sd.Kfz. 7 was used to tow the famous 88mm Flak guns, 105mm sK 18 heavy field artillery, heavy 150mm sFH 18 howitzers and other heavy artillery pieces. The standard tractor/prime mover version of the Sd.Kfz. 7 could carry 12 men, including the driver, with their equipment and ammunition or supplies. The vehicle could tow up to 8,000kg (17,600 lbs) and was fitted with a winch able to pull 3,450kg (7,600 lbs). The vehicle itself weighed 9,700kg (21,340 lbs). It had a maximum speed of 50km/h (31mph) on the road. The range of the vehicle was 250km (156 miles) on the road and 120km (75 miles) cross-country. The fuel capacity was 215 liters (57 US gallons), while fuel consumption was 80 liters per 100km (nearly three miles per gallon) on the road and 160 liters per 100km (1.5 miles per gallon) cross-country. The Sd.Kfz. 7 was powered by a 6-cylinder Maybach gasoline engine with a five-speed gearbox (four forward and reverse) that allowed it to go from 3.5km/h to 50km/h (3mph to 31mph). The basic vehicle was 6.85m (22 feet, 8 inches) long, 2.35m (7 feet, 8 inches) wide and 2.60m (8 feet, 5 inches) high.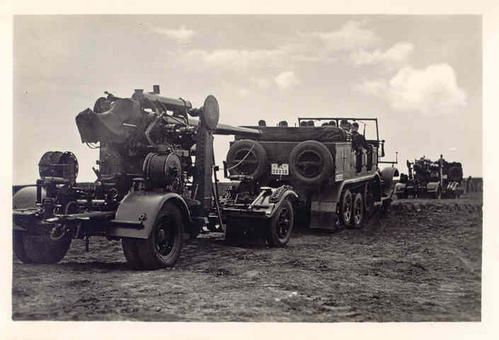 A number of Sd.Kfz. 7 was also delivered to the Bulgarian Army between 1941-1944. The vehicles were both Borgward HL m11 and Krauss-Maffei KM m11 models. Tito's partisans in Yugoslavia used several of these vehicles that were captured from German units. Interestingly 32 Sd.Kfz. 7 halftracks were sold to the Brazilian Army in 1939, but only five were delivered in late 1941. They were only used between 1942 and 1945 because the defeat of Germany in May 1945 cut off the possible supply of vehicles and parts.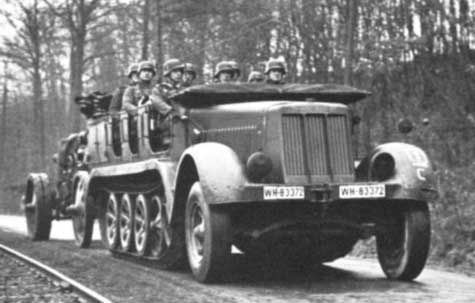 Italian Breda produced its own version of Sd.Kfz.7 designated as Semincingolato Breda Tipo 61 (Type 61) and some 250 were made. Italian FIAT also tried to develop similar vehicles based on the Sd.Kfz.7 but they remained in the prototype form. Captured in North Africa, Sd.Kfz.7 impressed the British so much that the British Ministry of Supply ordered Vauxhall Motors Limited of Luton to build a copy of the German 8t prime mover but only six prototypes designated as BT were produced. In the post-war period, number of Sd.Kfz.7 was used by the Czechoslovak Army along with other German equipment.
Sd.Kfz.7 was also produced in following variants:
Sd.Kfz.7/1 - 2cm Flakvierling 38 auf Selbstfahrlafette Sd.Kfz.7/1.
Sd.Kfz.7/2 -3.7cm Flak 36/37/43 auf Selbstfahrlafette Sd.Kfz.7/2.
Sd.Kfz.7/5 - Artemis - 7.62cm(r) Pak auf Zgkw 8t.
Sd.Kfz.7/6 - Flakmesstruppkraftwagen - Sd.Kfz.7 with AA range finder.
Sd.Kfz.7/9 - Feuerleitpanzerfahrzeug für V-2 Raketen auf Zugkraftwagen 8t.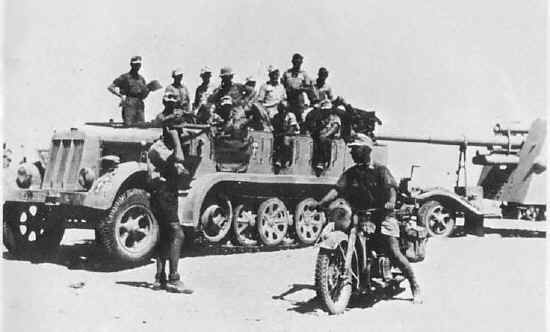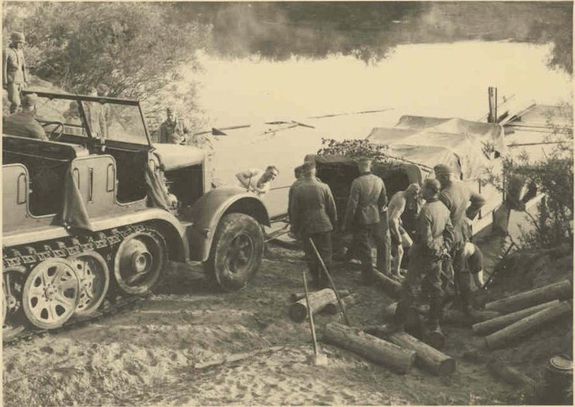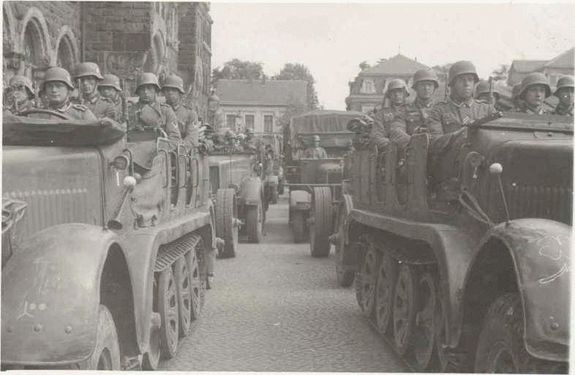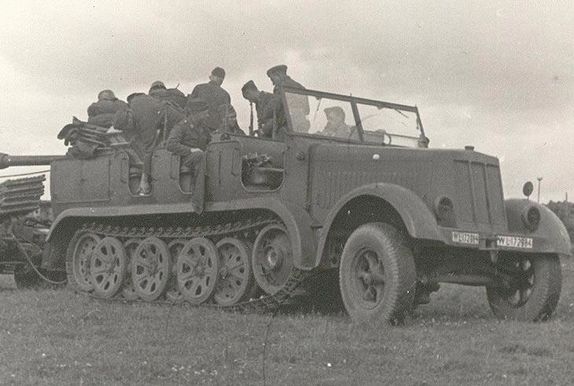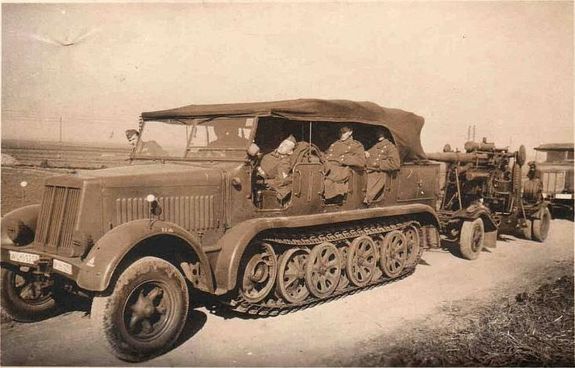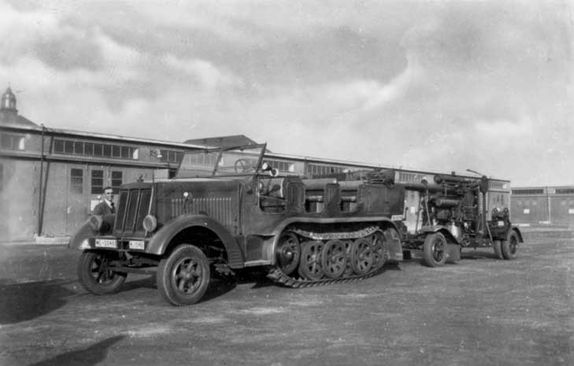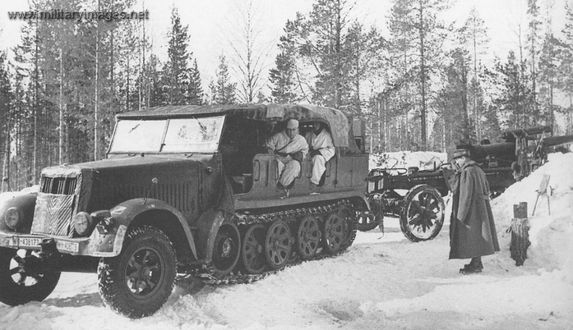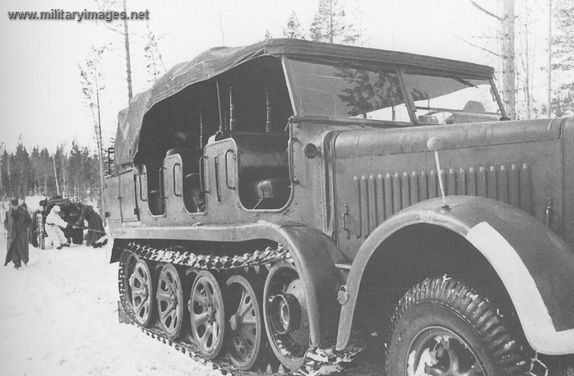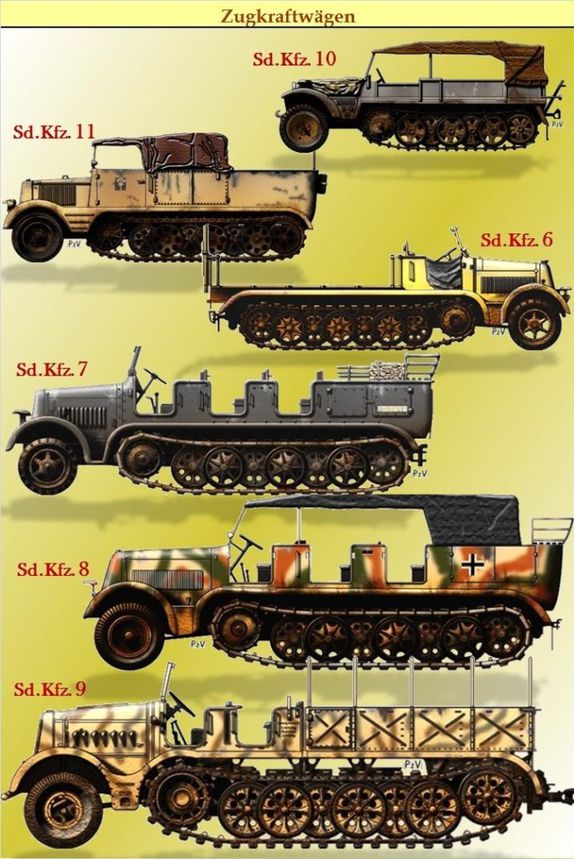 Weight:

9700kg

Crew:

6/12 men

Engine:

Maybach HL 64 / 6-cylinder / 140hp

Speed:

Road: 50km/h
Cross-Country: --km/h

Range:

Road: 250km
Cross-Country: 120km

Fuel Capacity:

215 litres

Lenght:

6.85m

Width:

2.35-2.40m

Height:

2.62m

Armament:

none

Ammo:

none

Armor:

none