2 février 2008
6
02
/

02
/

février
/

2008
03:08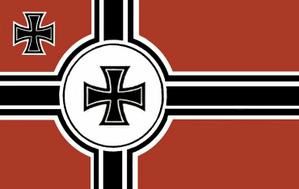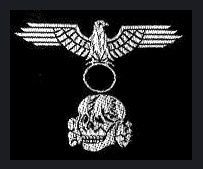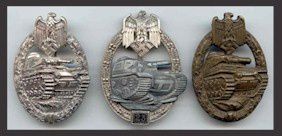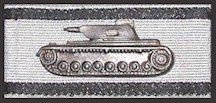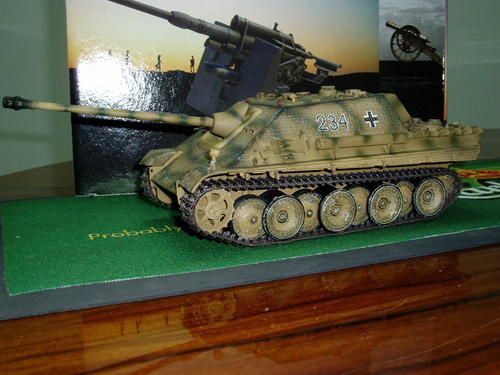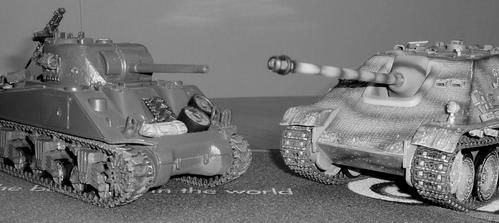 ......................................

80312 German Jagdpanther
-Battle of Germany -
SKN: 80312 | SCALE: 1:32


Jagdpanther


On August 3rd of 1942, Waffenamt decided to use Panzerkampfwagen V Panther's chassis and components to develop a new Sturmgeschutz (tank destroyer/assault gun) armed with newly developed long 88mm gun. At the time, development of new Panther tank was well under way and Krupp was put in charge of designing this new Sturmgeschutz. Plans and technical documentation for this new vehicle were to be completed by January of 1943. It was originally planned that first production vehicle will be manufactured in June and full production will start in July of 1943. On October 15th of 1942, Albert Speer decided that Daimler-Benz would continue the further development, since production was take place at Daimler-Benz plant number 40 in Berlin, in the summer of 1943. Krupp received the assisting role with main focus on armament and its mount. In November of 1942, wooden mock-up was made but its overall design was very different from the final Jagdpanther design. On January 5th of 1943, Daimler-Benz finished pre-final design of 8.8cm Sturmgeschutz (Sd.Kfz.172) and preparation continued until on May 1st of 1943, when final design (later known as Jagdpanther) was finished. On May 24th of 1943, production was transferred to MIAG (Muhlenbau-Industrie AG) in Braunschweig, because of limited space available at Daimler-Benz's plant in Berlin. In June of 1943, full-scale model was transported to MIAG in preparations for the production. On October 20th, this model was presented to Adolf Hitler at Arys (Orzysz) in East Prussia, along with wooden models of Tiger II and Jagdtiger. In late October, MIAG produced first prototype (Versuchs-Jagdpanther) of Jagdpanther, followed by second one in November. In November, new vehicle known as schwere Panzerjaeger 8.8 cm auf Panther I (Sd.Kfz.173) received its suggested name - Jagdpanther.
| | |
| --- | --- |
| Production Period: | Number Produced: |
| December 1943 | 1 |
| January - December 1944 | 226 |
| January - May 1945 | 198 |
After tests of prototypes, it was then ordered to start the full-scale production in December of 1943. Jagdpanther's production at MIAG (Muhlenbau-Industrie AG) in Braunschweig started in January of 1944, while at MNH (Maschinenfabrik Niedersachsischen-Hanover) in Hannover in November of 1944. During the production, third assembly plant - MBA (Maschinenbau und Bahnbedarf) in Postdam-Brewitz also started producing Jagdpanthers. It was planned that production will reach output of 150 vehicles per month, but the highest output was in January of 1945, when 72 were produced. Overall from December of 1943 to March of 1945, only 392 were produced (chassis numbers 300001 to unknown and 303001 to unknown), although some sources state that about 413 to 417 were made since production continued until April of 1945 or 425 until May of 1945. The total number of Jagdpanthers produced was a direct result of Allied bomber raids, which caused much destruction and disruption at two production centers (MIAG and MNH).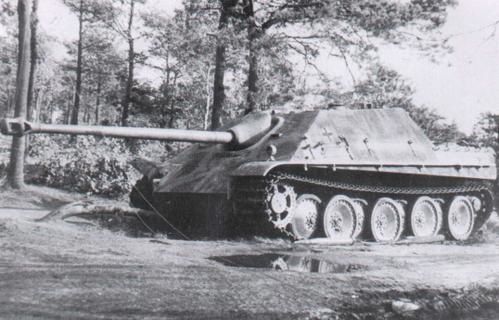 Jagdpanther was based on standard Panther chassis with superstructure being an extension of the upper front hull (80mm thick armor) and side (50mm thick armor) plates. The new superstructure housed the fighting compartment with main hatch in the rear wall that was used by the crew to enter and exit the vehicle as well to load the ammunition. Two other hatches were mounted on the roof of the superstructure. Jagdpanther's equipment differed from Panther's, only in hatch covers and small number of other components. The vehicle weighted 46 tons and was powered by 12 cylinder Maybach HL 230 P30 23.1 liter gasoline engine capable of making Jagdpanther reach maximum speed of 46km/h (average road speed was 25km/h). Its fuel capacity was 700 liters and maximum range on road was 160km. Jagdpanther used Zahnradfabrik AK 7-200 transmission (7 forward and 1 reverse gear), later upgraded with newer and strengthened AK 7-400.

Jagdpanther was operated by five men crew - commander, gunner, loader, driver and radio operator. The driver sat at the front left and radio-operator/machine gunner on the other side of the gun. Behind them both sat the gunner and the loader, while at the rear of the fighting compartment sat the commander.

The driver had a periscope in the front superstructure next to the gun mount. Early models were mounted with two vision slots for the driver, while mid and late models produced starting February of 1944 had single vision slot. Other periscopes were mounted on the roof of the superstructure and were used by commander and loader.


Jagdpanther was armed with excellent, long barrelled 88mm Pak 43/3 L/71 gun (similar to that used on Tiger II) and single 7.92mm MG34 or MG42 machine gun mounted in the same ball mount as Panther Ausf A. The 88mm gun was fitted with Sfl.Z.F.1a (5x8) gun sight and was capable of destroying enemy tanks at ranges of 3000 meters. Both weapons were mounted in a well-sloped frontal plate (80mm at 55 degrees). The main 88mm gun was protected by massive 100mm "saukopf" (pig's head) type mantlet. The limited traverse (11 degrees to the left and right) and elevation (-8 to +14 degrees) of the main gun was a severe disadvantage when it came to a mobile battle, since the crew was forced to maneouver the vehicle to face the target.

"The 8.8cm high velocity gun, comparatively thick, well sloped armour and more than average speed, make it a very formidable proposition as a tank destroyer, and it is believed that that Germans intend, as soon as Panther production is well enough advanced to bring it into service on a considerable scale." - British Intelligence Report (DRAC Tech Int Digest No.3 Appendix E).

Jagdpanthers were equipped with two types of 88mm gun; early type gun was one piece (monobloc) while the later type gun consisted of two parts. Two-piece gun was introduced in May of 1944. The early and mid production Jagdpanthers had a small flush mounted mantlet while late production model had a larger bolted design.

Convenient racking for approximately 60 rounds of 88mm ammunition and 1200 rounds of 7.92mm ammunition made Jagdpanther a very dangerous opponent on the battlefield, especially in a defensive role. Later on, with the introduction of Nahverteidigungswaffe (90mm NbK 39 close-in defence weapon), 16 grenades for the weapon were carried. In addition, inside the vehicle were two 9mm MP40 machine pistols with 384 rounds were carried for the use by the crew.

Various modifications, mainly external were made during production, almost on monthly basis, including: deleting of pistol ports, adaptation of Panther Ausf G components, exhaust arrangements, installation of Nahverteidigungswaffe (90mm NbK 39 close-in defence weapon), strengthening of gun mantlet, new larger self-cleaning idler wheel, Flammvernichter (flame suppressor) mufflers, deleting of rear shock absorbers, installation of cooling fan for crew compartment heater and deleting of rear superstructure stowage bin. Early Jagdpanthers were painted with anti-magnetic Zimmerit, while in September of 1944 this practice was abandoned. In addition, all major modification made to Panzerkampfwagen V Panther tanks were incorporated into production Jagdpanthers.

The Jagdpanther had an excellent intercom system and was equipped with 10 watt Fu 5 USW transmitter and Fu 2 USW receiver sets. Number of Jagdpanthers was mounted with additional antennas and long range 30 watt Fu 8 transmitter/receiver sets and served as command vehicles for battery and Abteilung commanders.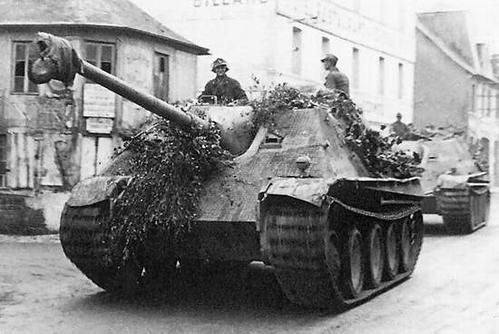 On July 30th of 1944 near Les Loges in Normandy, three Jagdpanthers from schwere Panzer Jaeger Abteilung 654 ambushed a squadron of British 6th Guards Tank Brigade destroying some 10-11 Churchill tanks in a short period of two minutes. At the same time, other squadron of British 6th Guards Tank Brigade opened fire at three Jagdpanthers causing crews of two of them to abandon their vehicles (because of damaged tracks), while the third one retreated.
Jagdpanthers were grouped into independent schwere Panzerjager Abteilungens - heavy anti-tank battalions (with 3 companies with 14 vehicles each and 3 vehicles in battalion HQ) and those that operated as part of Panzer Division. First Jagdpanthers were issued to schwere Panzerjager Abteilung 559 and 654 and reached the frontline in Western Europe in June of 1944. Only 654th had full compliment of 42 vehicles, while 559th had only 10 to 14 vehicles. Majority of Jagdpanthers produced saw service on the Eastern Front, while only single battalion (schwere Panzerjaeger Abteilung 654) saw service during Normandy Battles in the Summer of 1944. In preparations for the Ardennes Offensive, the largest number ever of Jagdpanthers was assembled, including vehicles transferred to the Western Front from the Eastern Front to take part in the offensive. Some 51 Jagdpanther in six battalions took part in the fighting in December of 1944.

Small number of Jagdpanthers was used by Waffen-SS formations and only 2nd SS Panzer Division Das Reich, 9th SS Panzer Division Hohenstaufen and 10th SS Panzer Division Frundsberg (part of the 6th Panzer Army) received company each during relief attempt to rescue encircled garrison of Budapest in January of 1945. Out of original 42 issued to those divisions only 12 were operational on April 1st and eventually took part in the defence of Vienna. From 1945, Jagdpanthers were also issue to Panzer Abteilungs of 7 Panzer Divisions, The Fuehrer Grenadier Regiment and single Panzer Brigade, but using them as substitute tanks was a mistake but a necessity at the time.

In 1944/45, Krupp was working on fitting Jagdpanther with rigidly mounted 88mm Pak 43/1 L/71 gun mounted in rear mounted superstructure. Along with this project, there were plans by Krupp dating back to November 17th of 1944 to install 128mm Pak 80 L/55 gun (in rear mounted small superstructure) in a Jagdpanther II but the end of the war terminated both projects.

It is reported but not supported that single unit equipped with Jagdpanthers also received and used infrared night-vision devices - Infrarot-Scheinwerfer, just as those mounted on Panthers.

After the war number of French Army tank units was equipped with Jagdpanthers, Panthers and Bergepanthers, till 1950s.

Today, early model Jagdpanther can be seen at the Imperial War Museum in England and late model Jagdpanther at Aberdeen Proving Grounds in USA as well as in Thun, Switzerland. Jagdpanthers can be seen in museums in Munster and Sinsheim, Germany. Vehicle at Aberdeen Proving Grounds (chassis number 303018) was produced by MNH in November/December of 1944 and took part in the Ardennes Offensive, where it was captured and eventually taken to USA.

The outstanding firepower of the 88mm gun, excellent mobility and low elegant silhouette made Jagdpanther a formidable opponent when correctly employed. Its combination of protection, firepower and mobility made it a superb tank destroyer. Overall, the Jagdpanther was probably the best tank destroyer produced during the World War II, but it was introduced too late to have any serious impact on the situation.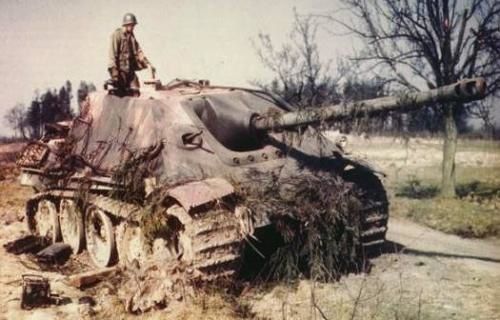 GENERAL DATA
Other Designations

Panzerjäger für 8.8cm PaK 43 auf Fgst Panther I (SdKfz 173)

Manufacturer(s)

MIAG, MNH

Production Quantity

392

Production Period

Jan. 1944 - Mar. 1945

Type

Tank Destroyer

Crew

5

Length /hull (m)

9.87/6.60

Barrel Overhang (m)

3.00

Width /with skirts (m)

3.27/3.42

Height (m)

2.72

Combat Weight (kg)

45500

Radio Equipment

FuG5 + FuG2
FIREPOWER

Primary Armament

88mm PaK 43/3 L/71

Ammunition Carried

57

Traverse (degrees)

Manual (13° L, 13° R)

Elevation (degrees)

-8° to +14°

Traverse speed (360°)

-

Sight

SflZF5

Secondary Armament

1 x 7.92mm MG34 (bow)

Ammunition Carried

600
MOBILITY CHARACTERISTICS
Engine Make & Model

Maybach HL230P30

No. of Links/Track

86

Type & Displacement

V12, 23.1 liters

Track Width

66cm

Horsepower (max.)

700hp@3000rpm

Track Ground Contact

392cm

Power/Weight Ratio

15.4 hp/tonne

Ground Pressure

12.9 psi

Gearbox

7 forward, 1 reverse

Ground Clearance (m)

0.56

Fuel

Gasoline (Petrol)

Turning Radius (m)

10.0

Range on/off road (km)

250/100

Gradient (degrees)

30°

Mileage (liters/100km)

280 on/700 off road

Vertical Obstacle (m)

0.9

Fuel Capacity (liters)

720

Fording (m)

1.6

Speed on/off road

55/30 km/h

Trench Crossing (m)

2.45
ARMOR PROTECTION
Armor Detail
Front
Side
Rear
Top/Bottom
Hull

60mm@35°

40mm@90°

40mm@65°

16-25mm@00°

Superstructure

80mm@35°

50mm@60°

40mm@55°

25mm@7°

16mm@0°

Mantlet

100mm@Saukopf

-

-

-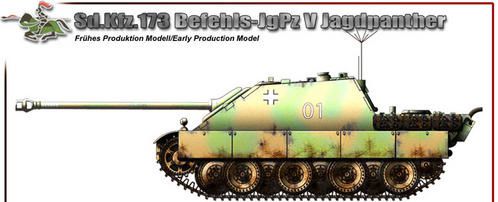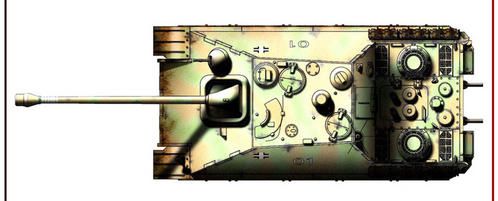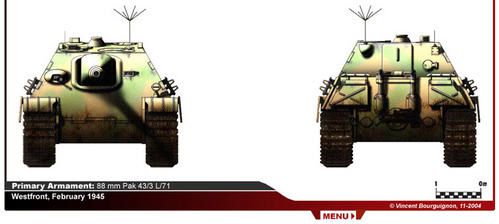 The Battle of Germany 1945





THE ROLE OF AIR POWER. In 20th-century warfare the assembly line became as important as the battle line and consequently an equally vital target for attack. The strategy of blockade adopted by the Allied governments was designed primarily to starve not the German population but German industrial and military machines, chiefly by cutting off fuel and essential raw materials. This aim could best be achieved by supplementing the naval blockade with a systematic bombing of German factories, power plants, and transportation centers.
At the commencement of the Second World War, in 1939, the Germans possessed the strongest air force in the world. By the close of 1943, however, their bombing squadrons were depleted, though they still had a peak force of 3,000 first-line fighters. In 1944 the Allied air offensive was sharply intensified and German air strength declined decisively. Over 1,000 Luftwaffe planes were destroyed in January and February, and vital machine plants in Essen and Schweinfurt were crippled. Gen. Henry H. Arnold, commanding general of the U.S. Army air forces, later characterized the week of Feb. 20–26, 1944, as "probably the most decisive of the war" because of the shattering damage inflicted upon German installations in six days of favorable flying weather. By the end of hostilities the Germans had received 315 tons of explosive in retaliation for every ton of aerial bombs they had launched against Britain. Their loss in planes, by Jan. 1, 1945, had passed 50,000, in comparison with a total loss of 17,790 suffered by the U.S. air forces on all fronts. During the last four months of fighting, Allied air squadrons roamed Germany almost at will, destroying communications, obliterating plants and stores, and wrecking many of the remaining German aircraft on the ground, where they lay helpless for lack of fuel and repairs.
The military collapse of Germany was consummated in four months by simultaneous drives launched by Soviet armies in the east and south and by American, French, and British imperial forces in the west. Concentration camps were liberated during the Allied invasion.


Jan. 12
Opening a powerful drive into Poland, the Russians took Warsaw (Jan. 17), swept into Tarnow, Cracow, and Lodz two days later (Jan. 19), and forced the Germans to abandon the whole Vistula defense line. By Feb. 20 Russian mechanized units, spearheads of the encroaching Soviet host that numbered 215 divisions, were within 30 miles of Berlin.

Feb. 4–12

Yalta Conference
. While President Roosevelt, Prime Minister Churchill, and Marshal Stalin met at Yalta in the Crimea to plan the final defeat and occupation of Germany, the U.S. Third Army crossed the German frontier at ten points. British and Canadian divisions opened an offensive southeast of Nijmegen (Feb. 8).

Feb. 22
The Third Army continued its progress, crossing the Roer River. American advance forces drove toward the Ruhr Valley (Feb. 23) and entered Trier (March 2) and Köln (March 5). Supreme Headquarters announced that 954,377 German prisoners had been taken since D-Day (June 6, 1944

March 7
The U.S. First Army crossed the Rhine at Remagen, and the German defense system on the east bank collapsed. By April 11 the U.S. Ninth Army had reached the Elbe River; eight days later the Russians fought their way into Berlin (April 20); and advance units of the American and Soviet armies met on the Elbe at Torgau (April 25).
April 28

German resistance in northern Italy broke as American and British forces swept into the Po Valley .
May 1
Soviet forces continued to shell Berlin and fight their way into the capital. A German radio announcement from Hamburg declared that Adolf Hitler had died defending the Reichschancellery, and that Adm. Karl Doenitz had succeeded him.
One million German and Italian soldiers in Italy and Austria laid down their arms.


May 4

The dissolution of the German National Socialist regime continued, with local military commanders making their own offers of capitulation. German divisions in northwestern Germany, the Netherlands, and Denmark surrendered.

May 7
A group of German army leaders sent envoys to Reims, where they
signed terms of surrender

May 8
President Truman for the United States and Prime Minister Churchill for Great Britain proclaimed the end of the war in Europe (V-E Day).

May 9

Marshal Stalin
announced the end of the war to the Russian people. German army chiefs completed the formula of surrender in Berlin

.
Battle of Berlin (The Lost Evidence) (Part 1 of 5)
Battle of Berlin (The Lost Evidence) (Part 2 of 5)
Battle of Berlin (The Lost Evidence) (Part 3 of 5)
Battle of Berlin (The Lost Evidence) (Part 4 of 5)
Battle of Berlin (The Lost Evidence) (Part 5 of 5)