9 septembre 2010
4
09
/

09
/

septembre
/

2010
22:51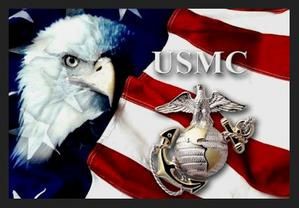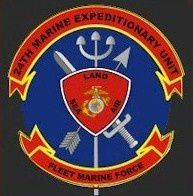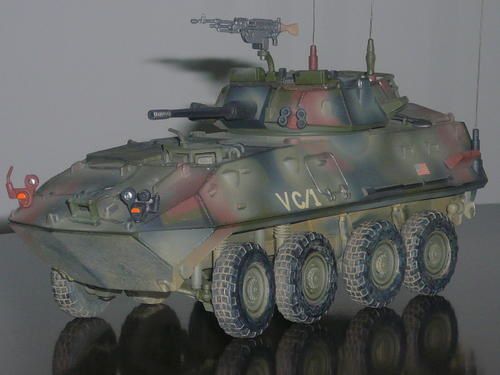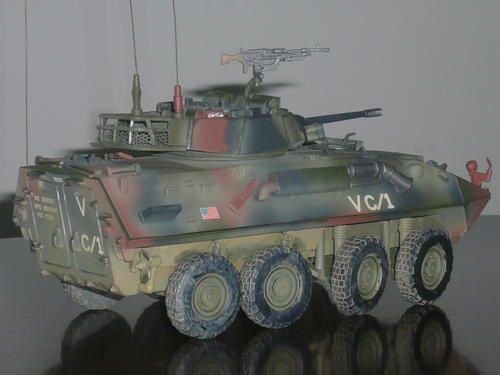 Light Armored Vehicle-25 (LAV-25)
The LAV-25 is an all-terrain, all-weather vehicle with night capabilities. It provides strategic mobility to reach and engage the threat, tactical mobility for effective use of fire power, fire power to defeat soft and armored targets, and battlefield survivability to carry out combat missions. It is air transportable via C-130, C-141, C-5 and CH-53 E. When combat loaded there are 210 ready rounds and 420 stowed rounds of 25 mm ammunition as well as 400 ready rounds and 1200 stowed rounds of 7.62mm. There are 8 ready rounds and 8 stowed rounds of smoke grenades. A supplementary M240E1 7.62mm machine gun can be pintle-mounted at the commander's station in the turret. The LAV-25 is fully amphibious with a maximum of 3 minutes preparation.
Light Armored Vehicle (LAV)
The Family of Light Armored Vehicles (FOLAV) are 8x8 wheeled light armored combat, combat support, and combat service support vehicles. The Light Armored Vehicle Family of Vehicles (LAV FOV) consists of seven fielded LAV configurations, and one communications/intelligence-configured asset on an LAV chassis (Mobile Electronic Warfare Support System). Collectively, the LAV FOV provides a logistically self-contained, highly mobile, and lethal combined arms combat system to the Marine Air-Ground Task Force (MAGTF).
The LAV Product Improvement Program (PIP) funds the development and testing of modifications of four major programs; the LAV Service Life Extension Program (SLEP) which includes the Improved Thermal Sight System (ITSS), the LAV Anti Armor System (LAV-AAS) Program, the LAV-Command & Communication (LAV-C2) Program, and the LAV Reliability, Availability & Maintainability (LAV RAM) Program. These programs will ensure that the LAV FOV will be capable of conducting its assigned missions through FY 2015 by enhancing lethality and survivability; reliability, availability, maintainability and durability; as well as reducing operations and support costs.
The GEN II is subdivided into fundamental types. The first (Type), has evolved from the United States Marine Corps (USMC) Light Armor Vehicles. The second (Type II), from the Canadian Armed Forces "Bisons" armored vehicles. The Type I chassis have been primarily used for the combat and combat support roles and the Type II for the combat support and combat service support roles. The LAV-25 is the baseline vehicle for the Type I and the LAV-PC is the Type II baseline.
Both Type I and Type II incorporates subsystems which are common to the FOLAV fleet. The power plant is a Detroit Diesel 6V53T diesel engine developing 275 horsepower coupled to an Allison MT653, 6 speed (5 forward, 1 reverse) automatic transmission with driver-select gear ranges. Power is delivered through a single transfer case to 4 differentials. The four rear wheels drive the vehicle on a full-time basis, but eight-wheel drive is selectable.
The GEN II has been designed and equipped with the capability, mobility, agility, and flexibility for operations in hot dry, hot humid, mild cold to cold climatic conditions and on highways, off road, cross-country, level and hilly unimproved roads, and urban environments. Its low silhouette makes it a difficult target to detect and destroy.
The GEN III configurations are newly designed LAVs from ground up. The chassis is longer and wider than the baseline vehicle. Higher capacity Power Pack, Driveline and Suspension have been introduced to provide more load carrying capacity.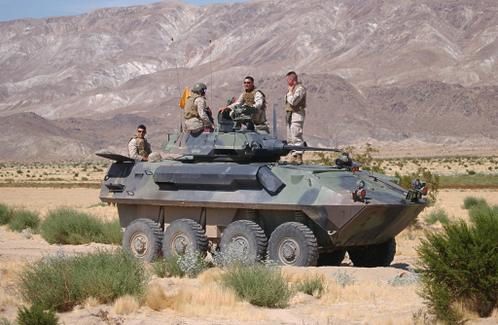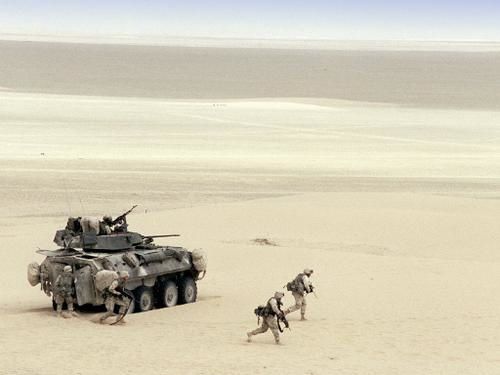 .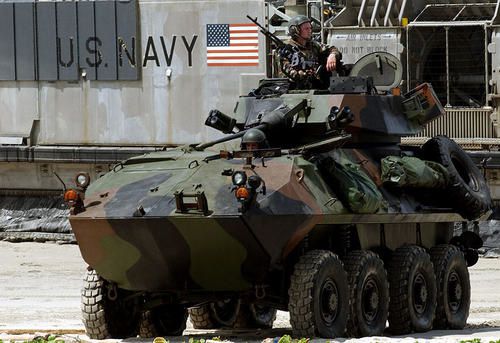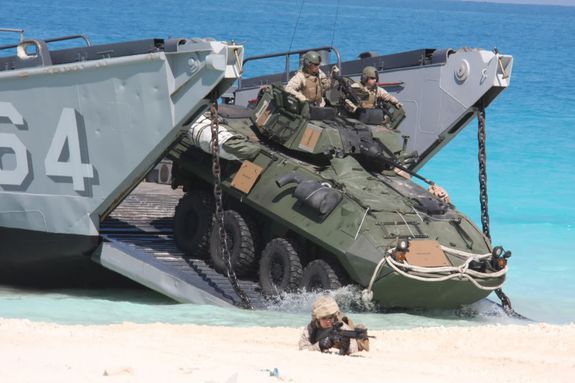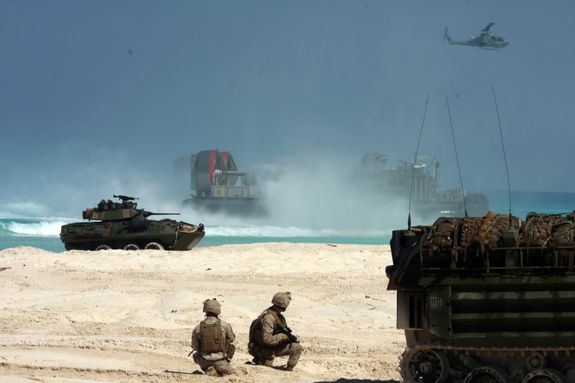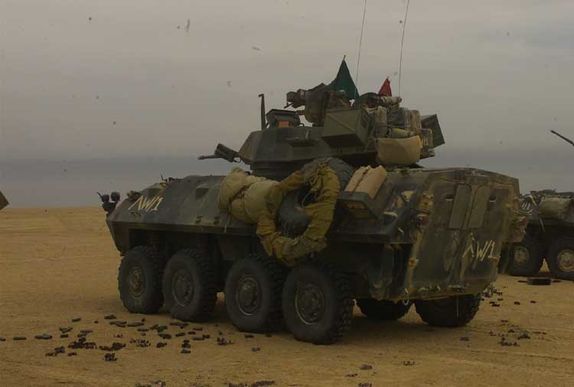 .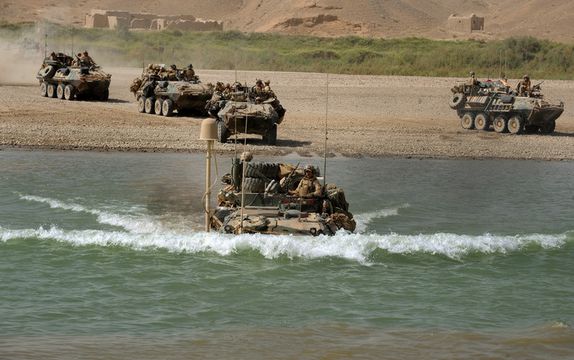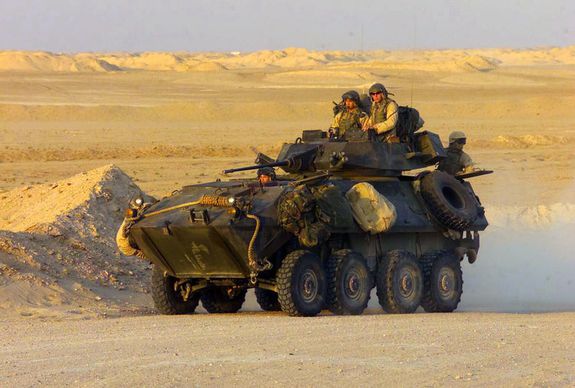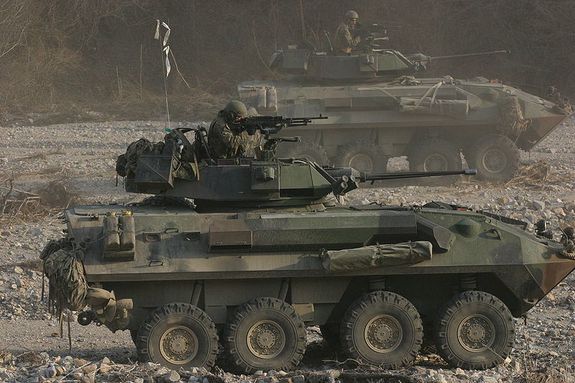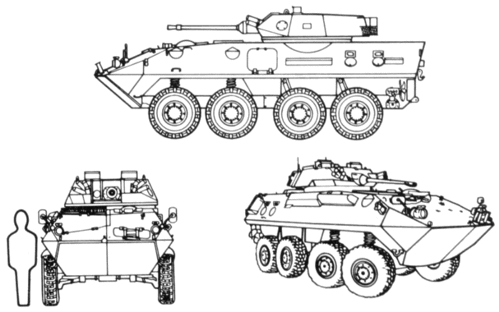 Length

20.96 ft (6.39 m)

Width

8.20 ft (2.50 m)

Height

8.83 ft (2.69 m)

Weight

14.1 tons (12.8 m-tons)

Engine

Detroit Diesel 6V53T 275 hp diesel

Transmission

Allison MT653 5 fwd, 1 rev

Drive

Rear two axles full time, front two axles selectable

Differentials

Four for wheeled axles, two for water propellers

Armament (LAV-25)

M242 Bushmaster 25mm automatic chain gun
two M240 7.62 mm machine guns
two 4-barrel grenade launchers

Ammunition (LAV-25)

210 ready rounds and 420 stowed rounds of 25 mm ammunition
400 ready rounds, 1200 stowed rounds of 7.62mm ammunition
eight ready rounds and eight stowed rounds of smoke grenades

Max speed (highway)

60 mph

Max grade

60°

Max side slope

30%

Acceleration

0-20mph, < 10 sec.

Vertical step capability

18 inches

Cruising range

400 miles

Ground clearance

14 inches

Air transportable

C-130 Hercules, CH-53E Super Stallion helicopter



LAV 25 8 wheeled APC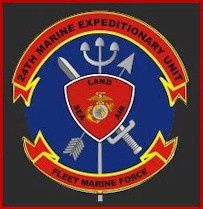 24th Marine Expeditionary Unit / 24 MEU (SOC)
Landing Force Sixth Fleet (LF6F)
The 24th Marine Expeditionary Unit (MEU) is one of three Marine Air/Ground Logistics Task Forces which routinely deploys from Marine Corps Base Camp Lejeune to the Mediterranean Sea aboard amphibious ready group shipping. The MEU prepares for deployments by participating in a three-phased pre-deployment training program (PTP).
The training program culminates with a certification exercise to validate the MEU' s operational readiness and special operations capability. During training, the MEU is under the operational control of the II Marine Expeditionary Force Commanding General. When embarked aboard ARG shipping, the fleet commander exercises operational control of the MEU.
The 24th MEU's Command Element (CE) serves as the Headquarters for command and control of the Ground Combat Element (GCE), Aviation Combat Element (ACE), and MEU Service Support Group (MSSG). The CE also consists of detachments from Radio Battalion, Reconnaissance, Counter Intelligence, Interrogator Translator Team, Topographical and Force Imagery Interpretation Units, as well as standard staff sections.
During the 1960' s and 1970' s, the current 24th Marine Expeditionary Unit was activated at various times as the 34th Marine Amphibious Unit and participated in exercises and operations in the north Atlantic Ocean, Mediterranean and Caribbean Seas. In 1982, it was redesignated the 24th Marine Amphibious Unit and served twice as part of the multinational peacekeeping force in Lebanon. It continued to make routine deployments to the Mediterranean during the next six years while also providing forces for operations in the Arabian Gulf.
The Marine Amphibious Unit was redesignated as a Marine Expeditionary Unit in February 1988. Following Operation Desert Storm, the 24 th MEU was tasked with the humanitarian relief effort, "Operation Provide Comfort," in support of the Kurdish people in Turkey and Northern Iraq. In 1993, the 24 th MEU took part in Operations "Restore Hope" and "Continue Hope" providing humanitarian aid to many remote areas of Somalia in the form of food, water and medicine. From May to June 1994, it served in support of Operations "Provide Promise" and "Deny Flight" in Bosnia-Herzegovina. Two weeks after returning from that deployment, the 24 th MEU redeployed to the waters off the coast of Haiti where it served during July and August as part of Operation "Support Democracy".
In June 1995, elements of the 24th MEU launched a daring mission from the Adriatic Sea to rescue Air Force Capt. Scott O'Grady, who had been shot down over Bosnia-Herzegovina six days earlier. In 1996, the MEU served as a contingency force in the Adriatic Sea in support of Operation "Decisive Endeavor." Near the end of October, units from the MEU assisted U.S. Army and allied engineers with the construction of a bridge across the Drina River in Bosnia. During 1998 the MEU was diverted from its regular deployment schedule to provide a forward presence in the Arabian Gulf as the U.S. Fifth Fleet landing force in support of Operation "Desert Thunder." In addition to using its aviation assets to enforce the Iraqi no-fly zone – Operation "Southern Watch".
During November and December 1998, Marines from the 24 th MEU were called upon to provide security for the American embassy in Tirana, Albania. In March, the MEU conducted 34 battlefield air interdiction missions as part of the NATO air campaign against Yugoslavia, attacking with its AV-8B Harriers from the Adriatic Sea.
Throughout the air campaign, the MEU was poised in the Aegean and Adriatic Seas to support Tactical Recovery of Aircraft and Personnel (TRAP) missions in support of Operation "Allied Force" had U.S. or NATO aircrews required assistance. While in the Aegean, the MEU also participated in humanitarian assistance efforts in the former Yugoslav Republic of Macedonia to assist Kosovar refugees with food, water, shelter and medical aid.
LF6F 04
Marines from all major subordinate elements of the 24th Marine Expeditionary Unit completed several Enhanced Nuclear, Biological and Chemical training exercises at Combat Town April 26-27, 2004. During the training, the Marines simulated receiving a call from a host country with an unknown chemical in the air. They responded by sending in teams of Marines to identify the chemical and to determine a recommended course of action for the country.
Six weeks after the 24th Marine Expeditionary Unit dispatched its initial element to the Middle East, the last of the MEU's leathernecks arrived in Iraq in late July as the unit prepares to begin operations in the province of North Babil. The long journey from its home base at Camp Lejeune, N.C., took the MEU through Kuwait, where Marines and sailors trained and acclimated to the desert heat before heading north.
Within days, the MEU will assume operational control of a heavily populated area south of Baghdad that includes the cities of Mahmudiyah and Iskandariyah. As it relieves Army units being transferred elsewhere in Iraq, the 2,200-strong MEU will be beefed up with additional Marine forces, including 2nd Battalion, 2nd Marines and Alpha Company, 1st Light Armored Reconnaissance Battalion. Their mission is to assist local Iraqi authorities in establishing security and stability for the nearly 900,000 citizens of the province. The most urgent priority is to empower Iraqi police and national guardsmen with the skills they need to combat enemy insurgents.
After seven months of triumph and heartache in one of the most dangerous regions in Iraq, the 24th Marine Expeditionary Unit is headed home. Several hundred of the MEU's 2,200 Marines and sailors will begin returning to North Carolina this weekend, signaling the end of a successful deployment that spanned one of the more turbulent and decisive junctures in the two-year-old effort to bring democracy to Iraq.
Through scores of direct-action raids, hundreds of cordon-and-knock searches, and thousands of patrols and vehicle checkpoints, the MEU gradually thinned insurgent ranks in northern Babil Province and chipped away at their supply of weapons. Working alongside Iraqi security forces, the Marines rounded up nearly 900 criminals, thugs and terrorists and seized more than 75,000 munitions.
In the end, while area militants had not yet lost their will to fight, they had lost steam. After several months of steadily growing activity, insurgent attacks fell by 20 percent in December and nearly 50 percent in January. Sunday's nationwide election ushered in the expected spike in attacks, but they were largely ineffective, causing few casualties and little damage.
The MEU's success came at a significant cost. Fifteen Marines were killed and nearly 225 wounded. Including those units that fought under the MEU's command - 2nd Battalion, 2nd Marines, 2nd Battalion, 24th Marines, and the 1st Battalion of Britain's Black Watch Regiment - the casualties numbered 34 killed and nearly 300 wounded.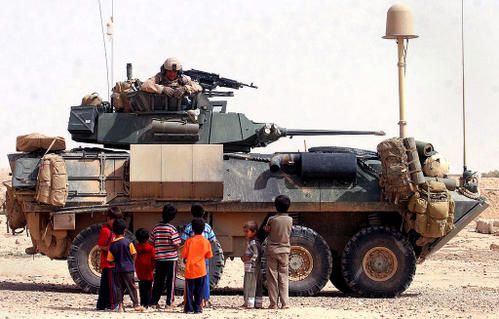 Even as they hunted the enemy, the Marines sought to demonstrate their goodwill to the 1.2 million Iraqi citizens in the MEU's area of operations. Led by MEU Service Support Group 24, the Marines delivered water, distributed medical supplies, renovated health clinics and water-treatment plants, rebuilt bridges, restored dozens of schools, and equipped thousands of Iraqi kids with the tools they need for a decent education.
The bulk of the MEU returned to North Carolina by mid-February of 05. A handful of Marines will remain in Kuwait a couple of extra weeks before returning home at the end of the month.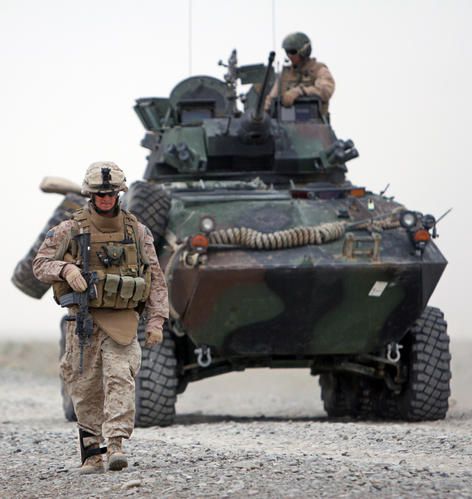 24th Marine Expeditionary Unit