12 mai 2008
1
12
/

05
/

mai
/

2008
01:20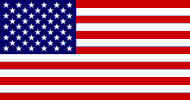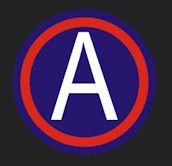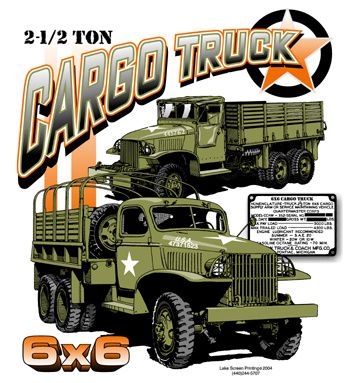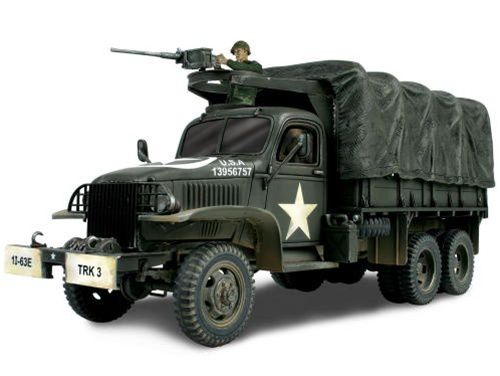 .......................................

GMC 6x6 2-1/2 Ton Truck
England-1944
SKN: UNI80055H | SCALE: 1:32
*Available August 2008
GMC 2 1/2 TON 6X6 TRUCK (CCKW-353)
The 2 and 1/2 ton 6x6 truck was the most widely utilised transport vehicle for the US forces in World War II. Nicknamed 'The Jimmy' or 'Deuce and a Half' over 800,000 were produced, with the majority built by GMC (General Motors Corporation) who completed 562,750 examples during the war. By 1943, GMC were running continuos production shifts staffed mainly by women, twenty four hours a day, pushing out trucks from final assembly inspection on the production line at a rate of one truck every four minutes!
Developed from a civilian commercial truck type called the ACKWX-353 the military version came in two variants and was later adapted for a multitude of purposes. The two basic chassis models were the CCKW-352 with a 145 inch wheel-base and the CCKW-353 with the longer 164 inch wheel-base. To speed up production the all steel cab was re-designed as an open cab with canvas cover and this became the standard appearance by 1943. The cab area was often fitted with anti-aircraft protection in the form of a ring mount and .50 Calibre HMG. The standard cargo trucks were fitted with one of three basic body types: all steel, steel sided with a wood floor and all wood construction. Folding bench seats would adequately accommodate sixteen combat equipped troops although necessity often lead to overcrowding when moving large formations of troops.
The chassis could be fitted with a variety of different bodies which include Fuel or Water Tanker, Hi-lift cargo for servicing aircraft, mobile workshops, blood banks for mobile hospitals, wireless and office bodies and bomb service for use on airfields. It was also used in the production of the innovative DUKW vehicle.
Interestingly, the GMC truck stayed in service after the war with many European armies. The French Army released their last 5,000 GMC 'Jimmies' as recently as 1985. Only then did they feel it was time to modernise and to find an improvement on this reliable, rugged military cargo truck. Many examples of the GMC CCKW-353 and -352 Trucks survive across Europe and can be seen running at the many summer vehicle shows around the country.
The CCKW-353 Truck was powered by a GMC 270 engine, producing 104 Brake Horse Power. Its maximum speed was 45mph, and the front axle could be disengaged for travel on tarmac to improve on mpg ratings.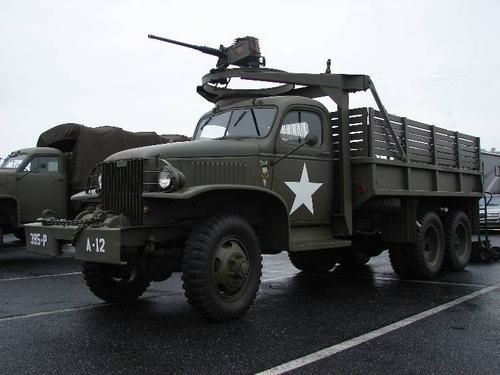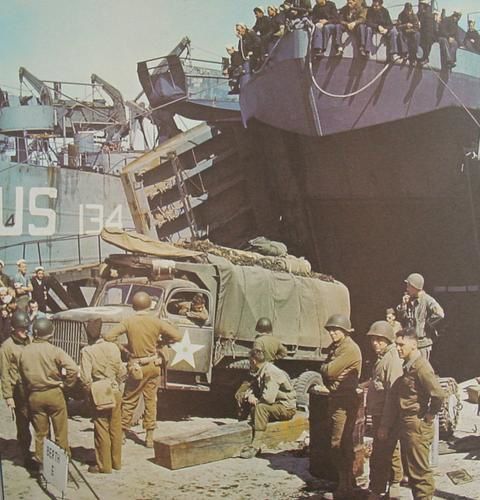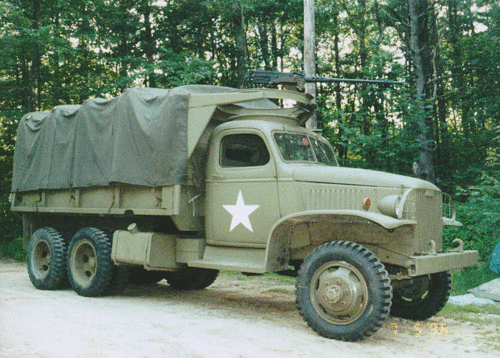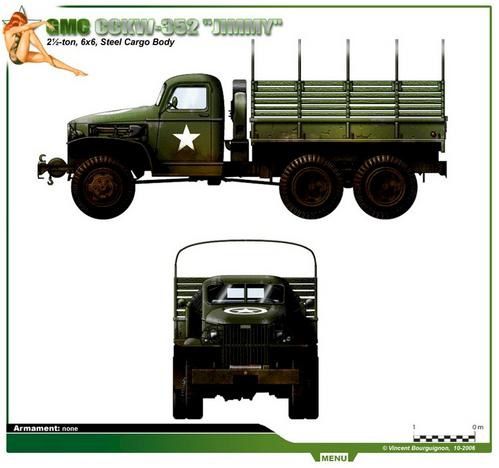 Engine

GMC 270 with 269.5 cid (4416ccm or 4.416 litres)

inline six, ohv (full pressure oil)

Horsepower

104@ 2750 rpm

Compression ratio

6.75:1

Transmission

5F 1R with two speed transfer case

Tires

7.50 X 20 on most models; others used 11.00X 20 or 11.00x18 singles on both rear axles

Weight

11,000 lbs for cargo trucks and 11,850lbs for dumps

Gas Tank

40 gallons (most models)
Model number nomenclature

Model

Axle Type

Body Type

Winch

CCKW 353-1

Split

None

With or Without

CCKW 353-2

Banjo

None

With or Without

CCKW 352/353 A1

Split

Cargo

Without

CCKW 352/353 B1

Split

Cargo

With

CCKW 352/353 A2

Banjo

Cargo

Without

CCKW 352/353 B2

Banjo

Cargo

With

CCKW 353 C1

Split

Stake Wagon

Without

CCKW 353 C2

Banjo

Stake Wagon

Without

CCKW 353 D1

Split

Gas Tank

Without

CCKW 353 D2

Banjo

Gas Tank

Without

CCKW 353 E1

Split

Gas Tank

With

CCKW 353 E2

Banjo

Gas Tank

With

CCKW 353 F1

Split

Van Body

Without

CCKW 353 F2

Banjo

Van Body

Without

CCKW 353 G1

Split

Water Tank

Without

CCKW 353 G2

Banjo

Water Tank

Without

CCKW 353 H1

Split

Dump

With

CCKW 353 H2

Banjo

Dump

With

Browning M2HB air-cooled machine gun on M3 tripod

Caliber: .50BMG (12,7x99mm)
Weight: 38 kg MG, 58 kg complete with M3 tripod
Length: 1650 mm
Length of barrel: 1140 mm
Feeding: belt
Rate of fire: 450-600 rounds/min

The development of a large-caliber heavy machine gun in USA was initiated in 1918, at the direct request of General Pershing, the commander of the US expeditionary corps in Europe. He requested a heavy gun capable of destroying military aircraft and ground targets such as tanks and armored cars. The task of developing such a gun and ammunition was passed to John Browning (then based at Colt's factory) and the Winchester Arms Co. respectively. The basic pattern of the new heavy machine gun was sealed in 1921. Officially adopted in 1923 as "machine gun, .50 calibre, M1921", this water cooled, belt fed gun became the prime AA weapon for the infantry and the navy.
In the year 1930 US Army adopted a slightly modified .50 caliber M1921A1 machine gun, and further work on this gun concentrated on the development of a universal weapon suitable for most roles. The key design changes were made by Dr. Samuel G. Green, who redesigned the basic receiver so it could be used in conjunction with either water-cooled or air-cooled barrels, encased in a water jacket or short perforated sleeve respectively. He also developed a switchable left or right side belt-feeding unit. The US Army adopted the new, improved fifty-caliber machine gun as the M2, in a water-cooled anti-aircraft version, an air-cooled ground mount version and as an aircraft weapon. Since the original air-cooled barrels were too light to provide any degree of sustained fire in ground applications, heavier barrels were soon introduced for the ground-mounted guns, so this weapon became the "M2 Heavy Barrel" or M2HB for short. In 1938 the barrel of the M2HB was lengthened to provide more striking energy and longer range, and in this form the M2HB was made in great numbers during the Second World War. US arms factories turned out a little less than 2 million M2 guns in all versions between 1941 and 1945, of which over 400,000 were made in M2HB configuration for ground use.