17 octobre 2010
7
17
/

10
/

octobre
/

2010
22:20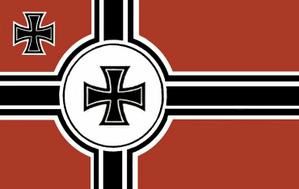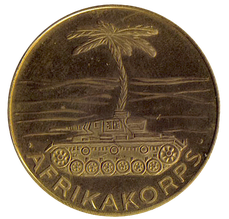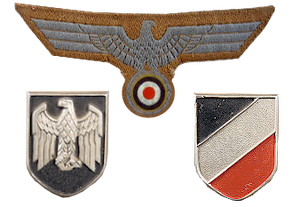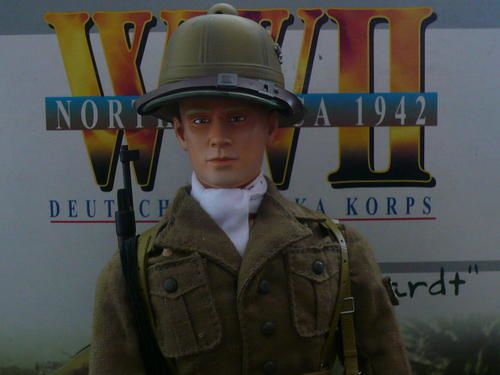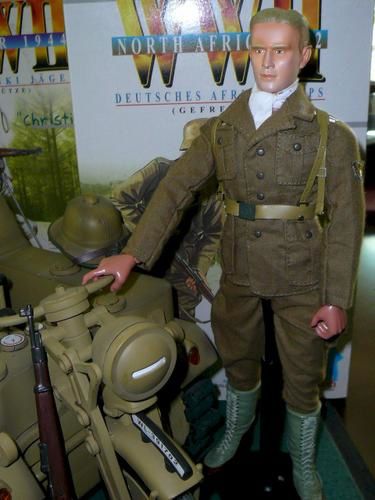 Deutsches Afrikakorps

The German Afrikakorps (German: Deutsches Afrikakorps, DAK listen ) was the original German expeditionary force in Libya and Egypt during the North African Campaign of World War II. The force was kept as a distinct formation and became the main German contribution to Panzer Army Africa which evolved into the German-Italian Panzer Army (Deutsch-Italienische Panzerarmee) and Army Group Africa.

Organization 

The Afrikakorps was formed upon the arrival on February 12, 1941, of General Erwin Rommel after the German Armed Forces High Command or Oberkommando der Wehrmacht (OKW) and Army High Command or Oberkommando des Heeres (OKH) had decided to send a "blocking force" to Libya to support the Italian army, which had been routed by a Commonwealth Force's counter-offensive led by the British Eighth Army, in Operation Compass.

The German "blocking force", commanded by Rommel, at first consisted of only the 5./leichte "Afrika" Panzer Regiment which was quickly cobbled together from the second regiment of the 3./Panzer Division and various other small units attached for water treatment and medical care. These elements were organized into the 5th Light Division when they arrived in Africa from February 10–March 12, 1941.

In late April and into May the 5th Light Division was joined by transference of the various elements constituting the 15th Panzer Division from Italy, though it did not completely arrive until after Rommel had made a counter-offensive and re-taken most of Cyrenaica and then subsequently gone back over to the defensive. At this time the Afrikakorps consisted of the two divisions plus various smaller supporting units, and was officially subordinated to the Italian chain of command in Africa (though Rommel had conducted his offensive without any authorization). 

In August, 1941, the German 5th Light Division was redesignated 21st Panzer Division or commonly written as 21./PD, still attached to the enlarged entity still known as the Afrikakorps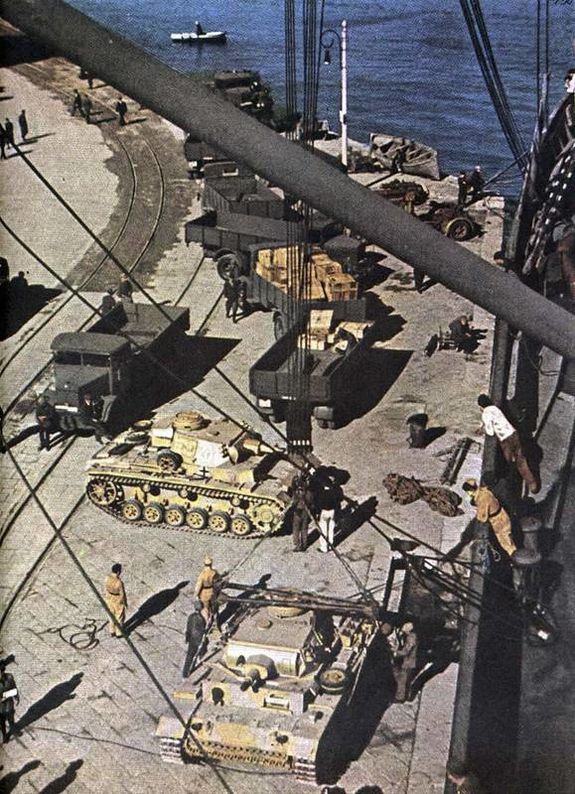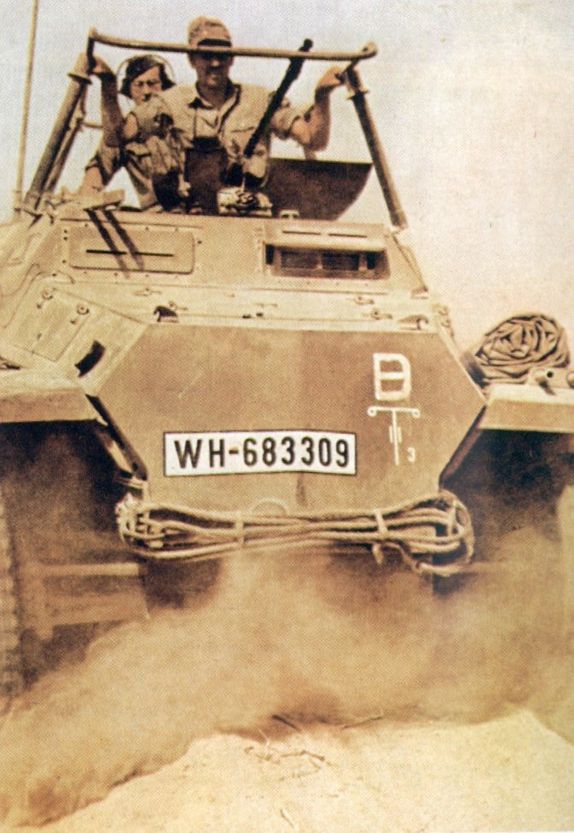 During the summer of 1941 OKW and Oberkommando des Heeres / OKH invested more command structure in Africa by creating a new headquarters called Panzer Group Africa (Panzergruppe Afrika). On August 15 Panzer Group Africa was activated with Rommel in command, and command of the Afrikakorps was turned over to Ludwig Crüwell. The Panzer Group controlled the Afrikakorps plus some additional German units that were sent to Africa, as well as two corps of Italian units. (A German "group" was approximately the equivalent of an army in other militaries, and in fact Panzer Group Africa was redesignated as German Panzer Army Africa (Panzerarmee Afrika) on January 30, 1942.)

After the defeat at El Alamein and the Allied invasion in Morocco and Algeria Operation Torch, OKW once more upgraded its presence in Africa by creating the XC Army Corps in Tunisia on November 19, 1942, and then creating a new 5th Panzer Army headquarters there as well on December 8, under the command of Colonel-General Hans-Jürgen von Arnim.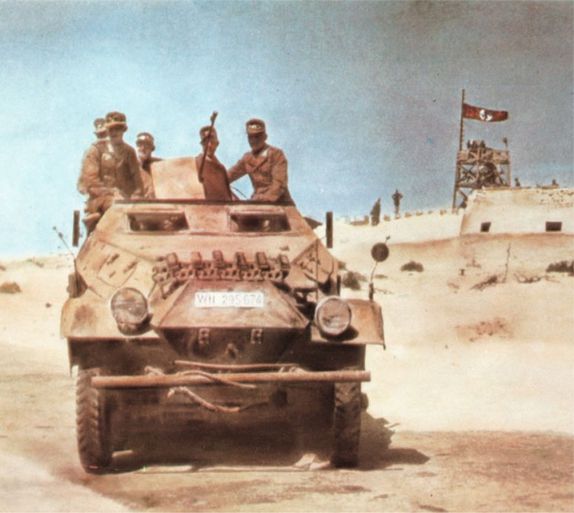 On February 23, 1943 Panzer Army Africa, (now called the German-Italian Panzer Army,) was redesignated as the Italian 1st Army and put under the command of Italian general Giovanni Messe, while Rommel was placed in command of a new Army Group Africa (Heeresgruppe Afrika) created to control both the Italian 1st Army and the 5th Panzer Army. The remnants of the Afrikakorps and other surviving units of the 1st Italian Army retreated into Tunisia. Command of the Army Group was turned over to von Arnim in March. On May 13 remnants of the Afrikakorps along with all other remaining Axis forces in North Africa surrendered.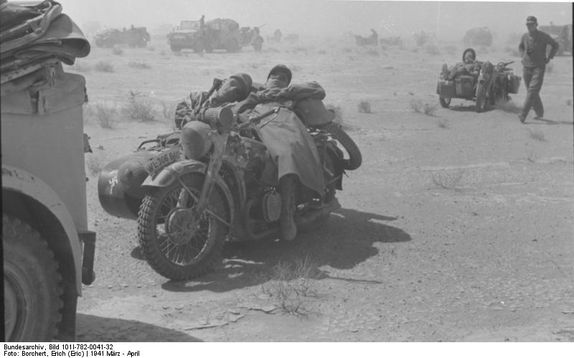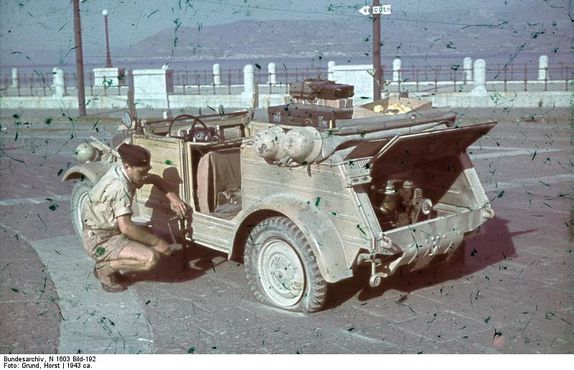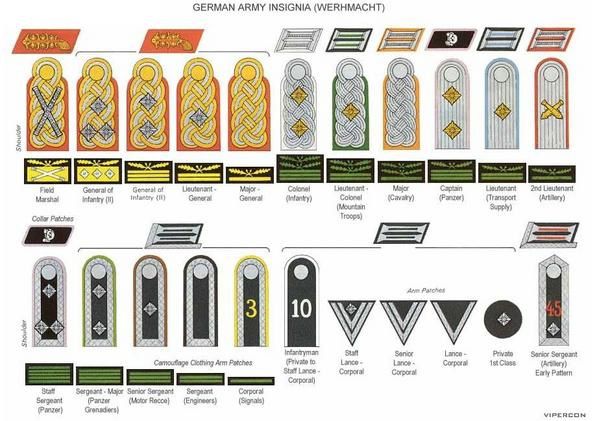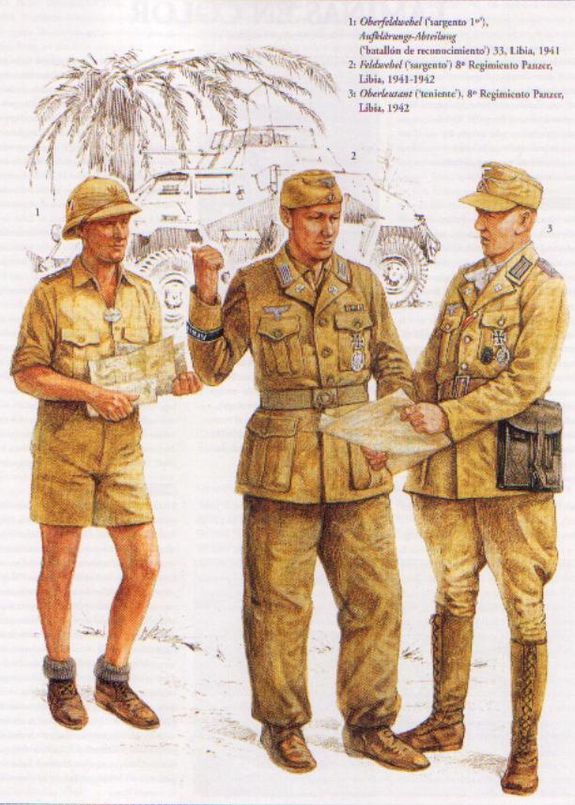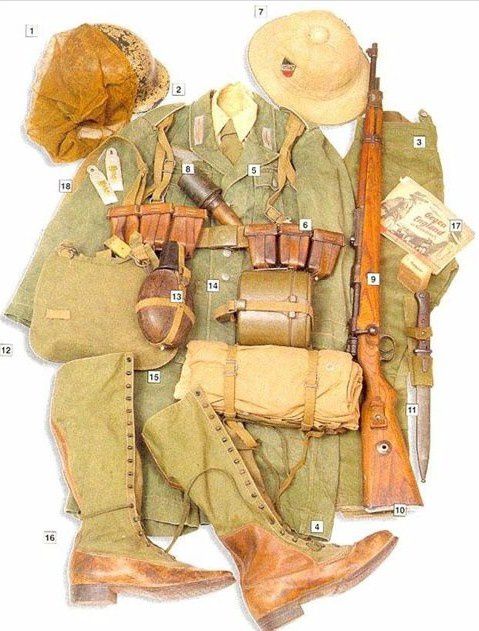 01 - M-35 steel helmet in desert camo
02 - M-40 olive jacket with white markings (infantry)
03 - M-40 breeches
04 - M-40 shorts
05 - main belt and webbing
06 - brown leather ammo pouches
[ 转自铁血社区 http://bbs.tiexue.net/ ]
07 - Tropenhelm cork helmet with Heeres insignia
08 - M-24 grenade
09 - 7,92 mm ammo pack
10 - 7,92 mm Mauser 98k rifle
11 - Seitengewehr 84/98 bayonet
12 - breadbag
[ 转自铁血社区 http://bbs.tiexue.net/ ]
13 - brown bakelite canteen ("coconut")
14 - M-31 mess kit
15 - M-31 tent cloth
16 - tropical boots
17 - RAF aircraft recognition book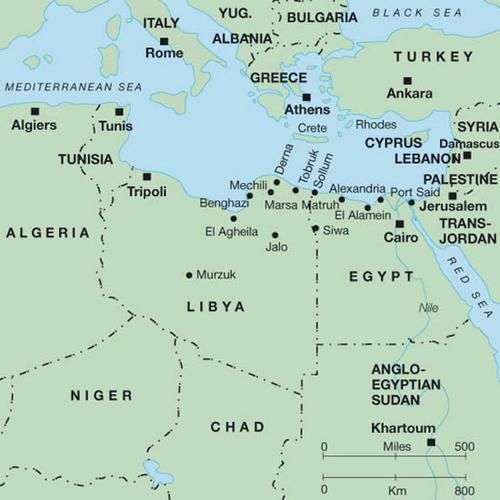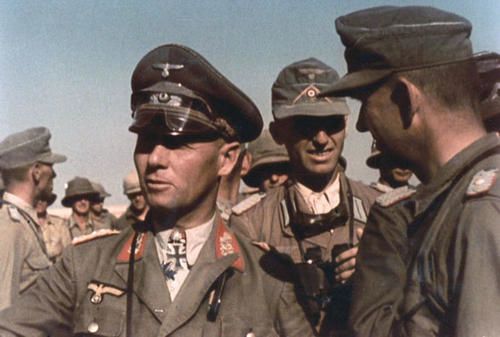 Erwin (Johannes Eugen) Rommel
The Desert Fox / Der Wustenfuchs
(1891 - 1944)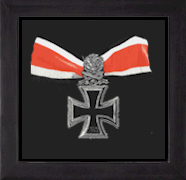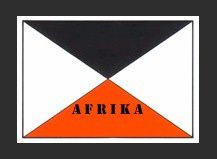 1891-1933
Erwin Rommel was born on November 15th of 1891 in Heidenheim an der Brentz near Ulm in the state of Wurttemberg. His father was a schoolteacher and his mother was a daughter of a former president of the government of Wurttemberg. Rommel planned to be an engineer but joined the army in July of 1910.He enlisted with his local infantry regiment, the 124th (6th Wurttemberg) Infantry Regiment as an officer cadet. After three months, Erwin Rommel was promoted to the rank of Corporal and after six to Sergeant. In March of 1911, he went to the officers' military school in Danzig (Gdansk). In January of 1912,Rommel was commissioned and returned to his regiment in Weingarten. While he was in Danzig, Erwin Rommel met and fell in love with Lucie Maria Mollin and they became formally engaged in 1915 and both were married in 1916. 

On Christmas Eve of 1928, their only child, Manfred was born. Since 1912, until the outbreak of World War I, Erwin Rommel served as regimental officer in charge of recruiting at Weingarten. On August 2nd of 1914, Rommel's regiment marched out to war and Rommel joined them few days later because he had to stay behind in Weingarten. Since the beginning of his military career, Erwin Rommel showed signs of bravery while attacking the enemy against the odds. 

In September of 1914, Rommel was wounded in the leg when, he charged three Frenchmen with a bayonet because he run out of ammunition. After returning to the frontlines in the Argonne area, in January of 1915, Erwin Rommel received his first decoration for bravery - Iron Cross Class I. In September/October of 1915, Rommel was transferred to the mountain unit for training. In late 1916, Erwin Rommel was posted to the Eastern (Carpathian) Front, in the area of Siebenburgen, where he was to fight with Rumanians. 

In May of 1917, Erwin Rommel was transferred to the Western Front, in the area of Hilsen Ridge, and in August back to Carpathian Front, where he took part in the assaults on Mount Cosna and Caporetto. For his outstanding action at Caporetto, Erwin Rommel was awarded the "Pour le Merite" and was promoted to the rank of Captain. Rommel was one of few junior officers awarded the "Pour le Merite", which was reserved for generals. Shortly after, Erwin Rommel was posted away to a junior staff appointment, where he remained to the end of the war. 

In mid December of 1918, Captain Erwin Rommel was reposted to his old regiment at Weingarten. In the summer of 1919, Rommel was sent to Friedrichshafen to command internal security company and in January of 1921, to Stuttgart where he commanded and infantry regiment. Erwin Rommel remained in Stuttgart until October of 1929, when he was posted as an instructor to the infantry school in Dresden. At the time, Rommel wrote and published his book "Infantry Attacks" ("Infanterie greift an"), which was based on his experiences during World War I. 


1933-1940
In October of 1933, Erwin Rommel was promoted to the rank of Major and was sent to Goslar, where he commanded a mountain battalion. In October of 1935, Rommel was promoted to the rank of Lieutenant Colonel and received the position of the teacher in War Academy in Potsdam. In November of 1938, Erwin Rommel received the command of War Academy in Wiener Neustadt, which left shortly before the outbreak of World War II. 

In September of 1939, Erwin Rommel was promoted to the rank of Major General and received the command of Adolf Hitler's Bodyguard for the duration of the Polish Campaign. At the same time, Rommel realized the full potential of Panzer Divisions and tactics of Blitzkrieg. After the Polish Campaign, Hitler allowed Rommel to choose what he would like to command and Erwin Rommel asked for a Panzer Division.

On February 15th of 1940, Rommel received the command of 7th Panzer Division, although he had no practical experience in Panzer warfare. In preparations for German Invasion of Low Countries and France, codenamed Fall Gelb, Rommel's 7th Panzer Division became the part of 15th Panzer Corps, which was positioned, in the central sector. The 15th Panzer Corps was under the command of General Hoth. 

On May 10th of 1940, Germany invaded the Western Europe. On May 12th, 7th Panzer Division reached Dinant and on May 13th, after heavy fighting crossed the River Meuse. 

On May 15th, Rommel virtually unopposed reached Philipiville and continued his advance westwards, passing Avesnes, Le Cateau and reaching Arleux on May 20th. Rommel's plan was to by-pass Arras to the southand then turn northwards in the direction of Lille.
 
On May 21st, Rommel reached the area of Arras, where his forward units where counter-attacked by two British Tank Regiments (70 tanks). After inflicting heavy losses among German infantry and anti-tank gun crews, British tanks advanced and were stopped by few 88mm Flak (anti-aircraft) guns deployed in the rear. It was the first time ever, that 88mm Flak guns were used against ground targets and soon became well known and feared "tank killers". In preparations for the attack into central France, which was to take place on June 5th of 1940, Rommel's 7th Panzer Division was positioned close to the coast near Abbeville. On June 8th, Rommel reached the outskirts of Rouen and on 10th, 7th Panzer Division reached the English Channel west of Dieppe. 

On June 17th, Erwin Rommel reached the southern outskirts of Cherbourg and on 19th, city's garrison surrendered to Erwin Rommel. On June 25th, fighting in France came to an end. During the Battle of France, 7th Panzer Division earned a title of the "Ghost/Phantom Division", because no one knew were it was, including the German High Command and Rommel's staff. 7th Panzer Division's success in France was based on the speed and total distance covered by it. As commander of 7th Panzer Division, Erwin Rommel presented himself as an unconventional military leader with unique methods of command. 

Also, Rommel commanded his units from the frontline, since he felt it was important for the commander to always be near his troops. Erwin Rommel was always with the reconnaissance troops and sometimes he cut the communication with the High Command, because he didn't want to be disturbed. Rommel realized that the High Command didn't know about tank warfare, so he simply cut the communication and explained everything later. His staff criticized Rommel for his behavior and they were often unable to find out where Rommel was. In his letters to his wife Lucie, Erwin Rommel wrote that the French Campaign was a "lighting tour of France".

1940-1943
After the fall of France, Erwin Rommel worked on his war diary, which described the events of May and June of 1940. In January of 1941, Rommel was promoted to the rank of Lieutenant General and in early February was called to Berlin. In Berlin, Erwin Rommel received the command of Deutsches Afrika Korps (German Africa Corps) and was ordered to leave for Tripoli on February 12th. Deutsches Afrika Korps was to consist of two divisions and was destined for North Africa (Western Desert) to aid Germany's Italian ally in their struggle against the British. 

From December of 1940 to January of 1941, British pushed Italians from Egyptian frontier back to El Agheila in Libya. On February 14th of 1941, leading elements 5th Leichte (Panzer) Division along with their commander Erwin Rommel landed in Tripoli and was joined in early May by 15th Panzer Division. Since his arrival, Rommel found Italians to be demoralized by the defeats inflicted upon them by British, and his relations with Italian commanders left much to be desired.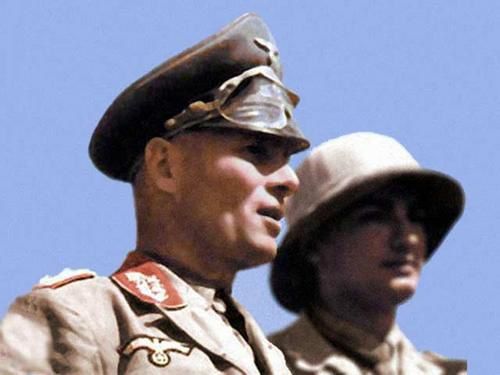 "In view of the tenseness of the situation, and the sluggishness of the Italian command, I decided to ignore my orders and to take command at the front with my own hands as soon as possible - at the very latest after the arrival of the first German units." - Lieutenant General Erwin Rommel - The Rommel Papers.

On February 24th, Afrika Korps had its first combat engagement with British forces at El Agheila and on March 31st launched a successful attack on British positions at Mersa Brega. Erwin Rommel, utilized the tactics of Blitzkrieg, which worked so well in France and took British completely by a suprise. Afrika Korps continued pursuing retreating British, advanced eastwards from Tripolitania through Libya to Cyrenaica and captured Benghazi. 

On April 13th, Erwin Rommel captured Bardia and Salum and on April 15th, reached Egyptian (western) border. Rommel's offensive forced British and its allies to retreat to the safety of static defenses around Tobruk. Rommel's first attempt to break the Tobruk's defenses made on April 11th lasted until April 13th but failed. It was followed by a second unsuccessful attempt on April 30 that lasted until May 2nd of 1941. 

At that time, Erwin Rommel was nicknamed the Desert Fox by both his friends and enemies, because he constantly improvised and used tricks in order to outsmart his enemies. Also at the same time, Rommel was promoted to the rank of Field Marshal. Rommel the youngest German Field Marshal ever, since he received the promotion at the age of 50. From mid April to mid June, British launched small scale offensives but were forced to retreat to defensive positions by 88mm Flak (anti-aircraft) guns deployed as anti-tank guns.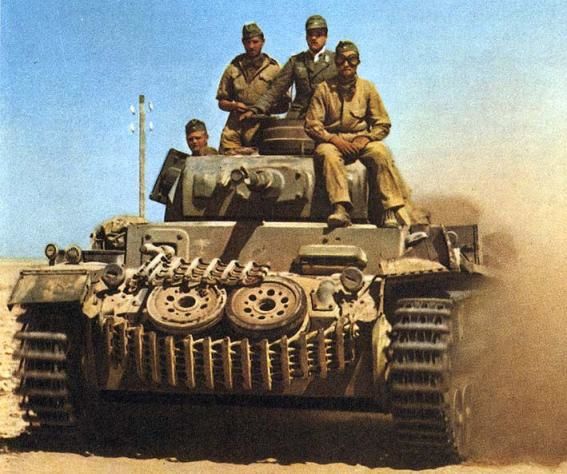 Erwin Rommel deployed and dug in his 88mm Flak guns in the U-shaped formation.They were dug in so deep, that the barrel looked only 30 to 60cm over the ground level.They were dug in, because they had no wheelsand stood very high on large pods and had a high profile. Then a low tent was erected over the position of every gun and evenwith field glasses it was impossible to distinguish them from sanddunes. Since the British saw a lot of sanddunes, they were not disturbed by them as well as that they didn't know of any German weapon with the profile as low as the small sanddunes. Then Rommel sent his light tanks to fake an attack on British positions. 

The British Crusaders saw an easy prey and followed Panzers to attacked, while Panzers withdraw in the U-shape. At point-blank range, sometimes requiringnerves of steel for the 88mm Flak gun crews, the trap sprang and they opened fire.
In June of 1941, both Allies and Axis, seized any offensive activities and strengthened their defensive positions. At the time, Erwin Rommel became very popular in Arab world and was regarded as a "liberator" from the British rule. In Germany, the Minister of Propaganda Joseph Goebbels used Rommel's popularity among soldiers and civilians as well, to create an image of an invincible Volksmarschall - People's Marshal.In mid August of 1941, Afrika Korps (now designated Panzer Group Africa) was re-organized and in reality Erwin Rommel became the commander of all Axis (Africa Corps and five Italian divisions) troops in North Africa. 

At the same time, 5th Leichte (Panzer) Division was redesignated as 21st Panzer Division and additional 90th Light Division was transferred to Afrika Korps. Erwin Rommel constantly requested equipment and supplies but received small portions of what he asked for. In October, Rommel started planning for the new offensive and further reorganization and strengthening of defensive positions took place until November of 1941. In the night of November 17th, British Commando unit was sent to penetrate Rommel's Headquarters and assassinate him but was unsuccessful since Rommel was not even there.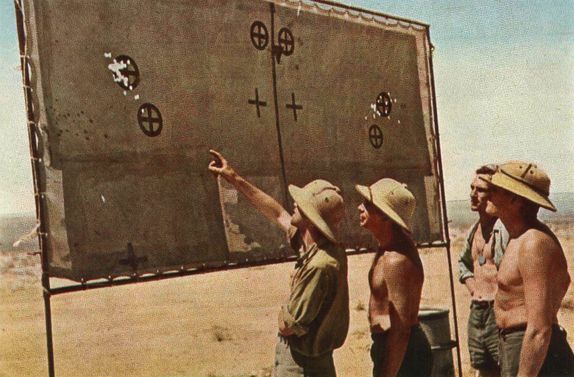 On November 18th, British started their offensive codenamed "Crusader". British attacked at the Halfaya Pass to relieve the encircled city of Tobruk. After British attacks on November 22nd and 23rd were stopped, Rommel counterattacked and drove into the British rear, relieving Axis forces at the Halfaya Pass. At the same time, British reached the vicinity of Tobruk and on November 29th, broke through to Tobruk. By December 7th, Afrika Korps was forced to withdraw across Cyrenaica and on January 6th reached El Agheila in Libya. From January 2nd to 17th, Axis forces were defeated at Halfaya Pass, Bardia and Sollum. In mid January, Erwin Rommel consolidated his forces and positions and decided to launch a new offensive when his force would be properly supplied and equipped.

"The Desert Fox in action"

Rommel ordered to attach bundles of wood and bushes on long ropes to all the supplytrucks and some Italian light tanks. The Italian light tanks drove in thefirst line, one after the other, behind them all the supply trucks. The attached bundles of wood and bushes made an immense clouds of dust. For the British, it looked like the real full-scale attack. They not only withdraw, but turned their delaying forces in the wrong direction. At the same time, Rommel attacked from the otherdirection with his German Panzer Division. The British were completely outwitted and defeated.

 In late January, Rommel launched his new offensive, recaptured Benghazi and forced British to retreat to the safety of Gazala line. In early February, both sides took defensive positions to consolidate their strength. On May 26th of 1942, launched the next stage of his new offensive and after heavy fighting breakthrough the Gazala line and threatened the city of Tobruk. On June 21st, Rommel captured Tobruk and decided to continue advancing eastwards into Egypt and by June 30th reached the British defenses at Marsa Matruh. Pursuing retreating British, Rommel reached the defensive system at El Alamein, 96km west of Alexandria and 240km west of Cairo. 

At this point, Axis forces were completely exhausted with only 50 tanks and relied on captured supplies and equipment. From early July to late August, British concentrated their efforts on destroying the remains of Afrika Corps but with little success.

Erwin Rommel continued requesting equipment and supplies but the main focus of German war machine was on the Eastern Front and very limited supplies reached North Africa.On August 30th, Rommel launched another offensive directed in forcing the British to withdraw from their positions at El Alamein.He attacked the British rear at the ridge at Alam Halfa, but quickly run out of supplies and Allied superiority forced him to withdraw to his previous defensive positions.

From September to October of 1942, there was another period of when both Allies and Axis, seized any offensive activities and strengthened their defensive positions. In November, sick and in the need of convalescence, Erwin Rommel left for Germany.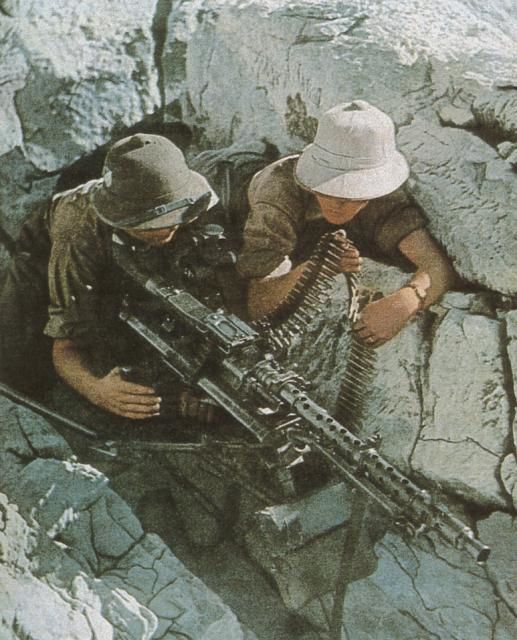 On October 23rd, British launched their offensive directed in recapturing lost land and destroying the Axis forces in North Africa.Right after the start of the British offensive, Rommel was recalled to Africa and reached his headquarters on October 25th. British with total superiority quickly defeated Axis forces at El Alamein and pushed the outnumbered Axis forces and on November 12th, recaptured Tobruk. To worsen the situation, on November 8th, an Anglo-American Invasion of North-West Africa, codenamed "Torch" began. 

British continued their offensive and recaptured Benghazi on November 19th, followed by the recapture of El Agheila on December 17th. Erwin Rommel was unable to establish defensive positions nor to launch an offensive due to the lack of equipment and supplies and decided to retreat to the German bridgehead at Tunis. British continued their pursuit of the Desert Fox and on January 23rd of 1943, captured the city of Tripoli. On February 19th, Rommel launched his last offensive in North Africa. On February 20th, he recaptured the Kasserine Pass but on February 22nd, his attack was stopped by the superiority of Allied forces. On the same day, he received the command of newly formed Army Group Africa, which was made up of all Axis troops in North Africa, but he refused to take the command. 


On February 23rd, Rommel was forced to take the command of the Army Group Africa. Soon after, Rommel handed over the command of the Army Group Africa to General von Arnim.On March 6th of 1943, Erwin Rommel flew back to Germany, to persuade Adolf Hitler about the hopelessness of the Axis situation in Africa. In reality, Rommel was recalled back to Germany, he then was ordered to take the sick leave and all his pleas to return to Africa where turned down. On March 11th of 1943, Erwin Rommel was awarded by Hitler, the Knights Cross with Oakleaves, Swords and Diamonds. At the time, Erwin Rommel was physically and morally shaken and was a shadow of his past glory. Two months later, on May 13th of 1943, the surrender of all Axis forces (200.000 men) in North Africa, took place.

1943-1944

From March to July of 1943, Erwin Rommel was enjoying his badly needed sick leave, spending time with his wife and occasionally with his son. On July 10th, Rommel was appointed as the Commander-in-Chief in Greece, but was quickly recalled back to Germany. In early November, Rommel became the Commander-in-Chief in Italy, but was quickly replaced by General Albert Kesselring. In late November of 1943, Rommel was transferred to France and on December 31st, received the command of Army Group B under Field Marshal von Runstedt. He was responsible for the area stretching from Holland to Bordeaux and was to organize coastal defenses against the expected Allied invasion. He was also appointed as Inspector General and was put in charge of the defenses on the Atlantic Wall. When preparing the Western Europe for the invasion, Rommel designed special paratroop and aircraft landing barrier, called "Rommel-Spargel" (Rommel's Asparagus), along with many other obstacles. Once the landing in June of 1944, had succeeded, Erwin Rommel realized that the war was hopelessly lost and that to condone Hitler's senseless continuation of it would be irresponsible. Injured in a strafing air attack on July 17th of 1944, Rommel could not personally participate in the attempt to overthrow Hitler three days later (July 20, 1944), but he was gravely implicated. (Rommel's role in the overthrow of Hitler is still not clear and highly disputed by the historians.) Rommel's opposition to Adolf Hitler was kept secret, because of his popularity. 

On August 8th, Erwin Rommel was transported from the French Hospital to Herrlingen, where he was placed under house arrest. Erwin Rommel was given the choice of suicide, to be reported as death from his wounds, as an alternative to execution as a traitor, which would have placed his family and close associates in grave danger. 

On October 14, 1944, Rommel was taken to the hospital at Ulm, where he died by his own hand taking the poison. On October 18th, Erwin Rommel was buried with full military honors and it was a day of national mourning ordered by Adolf Hitler himself. Overall, Erwin Rommel was an outstanding and an unconventional military leader with unique methods of command. Erwin Rommel is one of the few commanders, who was not involved in any war crimes. Rommel was highly respected by his enemies and was considered to be the last of the knights. During the North African Campaign, Rommel often cut the water rations of his troop, so that the prisoners of war could survive. His personal papers and notes, all put together by Lucie-Maria Rommel and Fritz Bayerlein, titled "Rommel Papers" ("Krieg ohne Hass"), were published for the first time in 1950 and described all of Rommel's combat and personal experiences. In post-war years, Erwin Rommel's son Manfred became Mayor of the city of Stuttgart.

.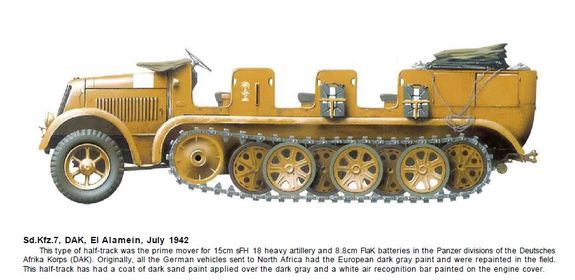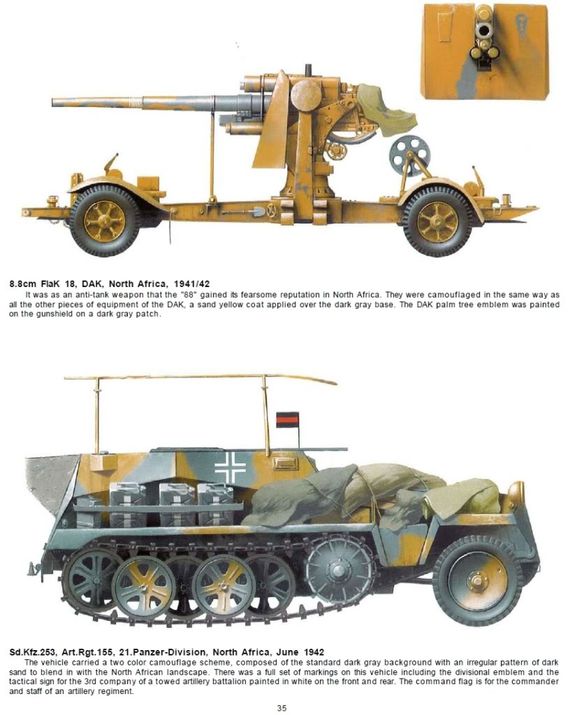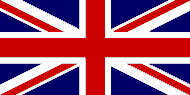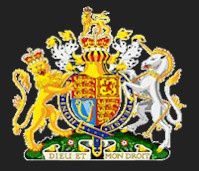 EL ALAMEIN

From World War II On Land
 DAVID G. CHANDLER MALLARD PRESS 1990
The Battle of El Alamein was the first British victory of the Second World War.  It saw the defeat of Rommel's Afrika Corps and the tide of war was turned.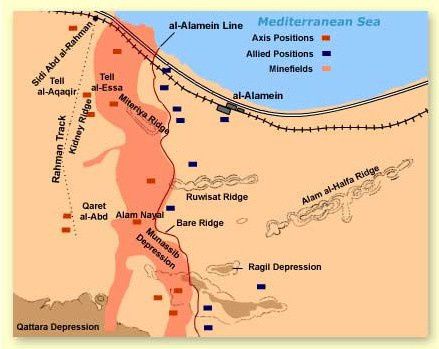 Earlier, the triumph of Gazala and Tobruk behind him, Field Marshall Erwin Rommel lost no time in driving deep into Egypt - his goal of the Suez Canal at last in sight. An attempt by rallying elements of the British 8th army to hold him at Mersa Matruh was shattered on 27th and 28th June when another fourty tanks were destroyed and a further 6,000 disconsolate POW'S began the long, thirsty trudge back towards Tripolitania.

However, four factors began to affect his brilliantly extemporized exploitation of the British defeat. First, the inexorable laws of "the diminishing power of the offensive" began to exert their hampering influence. Second, the Desert Air Force now operating from its nearby bases, slowed his speed of advance. Third, his pleas to the Fueher for just a pair of fresh German divisions to enable him to clinch his success in the Middle East, fell on uncomprehending ears, for the impending summer drive towards the Caucasus in the U.S.S.R. was taking all Hitler's attention. And Fourth, in July, three out of the four Axis tankers conveying vehicle fuel to North Africa would fall victim to Allied operations mounted from unsubdued Malta.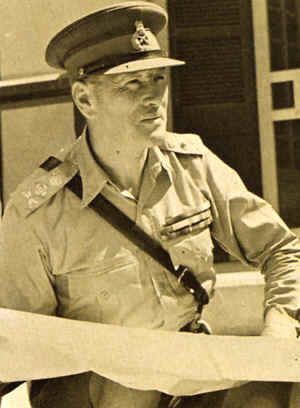 Sir Claude John Eyre Auchinleck



As a result, General Claude Auchinleck was afforded just suffifient time to prepare another line - and a real one this time - seventy miles west of Alexandria. It was to go down in history as "the El Alamein position" and, before 1942 was out, would be not only the decisive turning point in the Desert War, but also in Britain's fortunes overall in the Second World War. But none could guess this in Late June 1942, when 8th Army was, although brave, both baffled and defeated.

Reconnoitered by General Sir James Marshall-Cornwall earlier in the summer, the Alamein line ran for about thirty miles from the Mediterranean coast near the small railway station of EL Alamein to the cliffs edging the Qattara Depression, which was a vast area of impassable, low-lying salt marshes that effectively closed the Desert flank. Flat and sandy on the coastal sector, the center comprised a number of rocky ridges and escarpments. Both areas presented bad going for armour. Auchinleck estimated that two reinforced armoured divisions and two well-sited infantry divisions could hold this position against superior numbers.

The coast road and the railway provided good lines of communication to the rear, so long as the RAF could maintain air supremacy. Naval vessels could overhang the coast in front of the position. Lieutenant General Norrie at once put his weary and disheartened men to work, aided by troops of the new X Corps of Lieutenant General Holmes, whilst Gott's XII Corps held the ring. Four defended localities were prepared: the largest around EL Alamein; the next along Ruweisat Ridge; the third about Abu Dweiss, and the fourth at Deirel Shein. The headquarters of the 8th Army were close brhind the Ruweisat position, where the supply dumps and airfields of Alexandria and the Delta were within easy range to the coast.

To hold the area, Auchinleck could call upon 35,000 men and just 160 tanks. Reinforcements were promised - including a convoy of new American Sherman tanks provided by Roosevelt - but these would not arrive before September. Rommel could not be expected to be so helpful as to delay his next offensive until then, so could the line be held? The available troops were split into battle groups, and Auchinleck massed his artillery under Army HQ, and did what he could to create 4th Light Armoured Brigade. But to guard against disaster, he began to prepare defences in the Delta.

Fortunately for the British, Rommel also had his problems. At the extremity of his advance he had only sixty German and thirty Italian tanks, some 1,500 German soldiers and 5,00 italians, so small had Panzerarmee Afrika become.

Small wonder he pleaded,albeit unsuccessfully, for reinforcements. Typically, however, he paid scant heed to the 'quartermaster's nightmare' of his position, and at once set about planning a repeat of Mersa Matruh and Gazala, which meant diversions in the north by the Italians, strenghtened by 90th Light Division, combined with a drive by what remained of the Afrika Corps in the distant south to penetrate the desert flank. He believed this bluff would break what was left of Ritchie's nerve. Here he made a major miscalculation, for Auchinleck had replaced his army commander, and had himself devised an effective plan of defence. This was first to block Rommel's attack and then to launch counter-attacks against weaker Italian formations, compelling the German armour to divert from it's own purposes to the task of bolstering their allies.

Rommel struch on 1st July. By last light all his attacks had petered out. The long defence by Indian troops of the Deir el Shein box and the damage inflicted by heavy artillery fire on the 90th Light Division halted the diversionary attack, whilst the Afrika Corps, severly hampered by bad going and incessant air attacks, had to abandon its envelopmentplan. But when Auchinleck launched XIII Corps in a counter-strike towards the coast on 2nd July, it made little ground apart from reducing Rommal's tanks to twenty-six 'runners'. Risking all to gain - or lose - all, the next day Rommel threw everything against the coastal sector and broke in as far as Alam Baoshala, before again being halted. 'Our stength has faded away' remarked the German commander.

Time was now on Auchinleck's side. The efforts of the New Zealand infantry and 1st Armoured Brigade had reduced the Italian Ariete Division to a mere five tanks. Rommel unwillingly accepted the inevitable: he ordered his formations to dig in.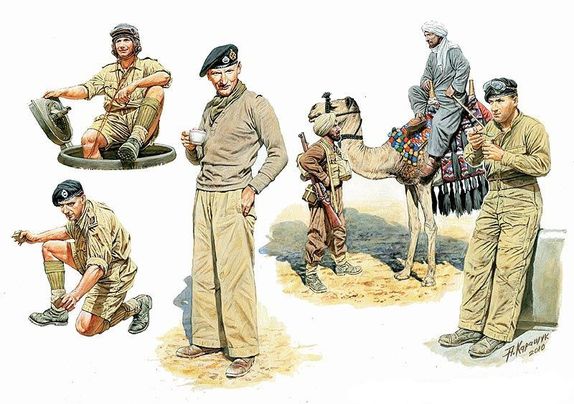 There followed three weeks of attritional warfare. Applying his operational plan, Auchinleck struck time and again at Italian positions, forcing the Afrika Corps to dance to his tune. Rommel bided his time, waiting for the arrival of 260 reinforcement tanks from Tripoli, together with 164th Infantry Division that had very belatedly been made available to him from Crete. But 8th Army lacked real drive; the 'battle groups' were disliked, and the South Afican troops were critical of the fate of their compatriots at Tobruk.

On 9th July, Rommel occupied 'Bel Q', jubilant to find it undefended, but the next day the new 9th Australian Division routed the Italian Sabratha Division at Tell el Eisa, forcing Rommel to divert 15th Panzer north. Two days later, Auchinleck routed the Italian Trieste Division and again Rommel was forced to respond. On 14th July the New Zealanders and 5th Indian Brigade routed the Italian Brescia Division in its turn, and all Ruweisat Ridge was cleared of the enemy.

The Italian Pavia Division was captive or in full flight behind Brescia Division and Rommel desperate, had to use his dwindling number of tanks to patch the line. On 17th July, he was about to launch an all-out armoured blow against 8th Army's center in a new breakthrough attempt when he learned that Trieste and Trento had been routed in their turn by the Australians on the coastal sector, and 90th Light Division had come off worse in a contest with 4th Light Armoured Brigade west of Alem el Onsol, after making a limited penetration southeast of the El Alamein defended zone.

Rommel had failed. His health was breaking down - he was suffering from a liver complaint, a duodenal ulcer and severe nasal catarrh. Even worse, he found himself militarily 'off-balance'. But to convert defeat into disaster for the Axis proved beyond Auchinleck's skill. Between 21st and 26th July he used XIII Corps in a northward drive, seeking Rommel's communications; but, as General Bayerlein recorded ' our counter-measures succeeded in preventing a catastrophe', and Auchinleck emerged with only complete possession of Meteirya Ridge to show for his efforts. Although 8th Army still possessed 119 tanks, whereas Rommel was reduced to a mere twenty-six, both armies were now totally exhausted, and five days later the First Battle of El Alamein simply petered out.

Auchinleck had lost 13,000 casualties since 1st July. But he was expecting two new armoured divisions from the canal base - namely 8th and 10th - two new infantry divisions (44th and 51st Highlanders reconstituted after the disaster following Dunkirk) and a hundred self-propelled guns. Furthermore, he had inflicted 22,800 losses on the enemy, including 7,000 prisoners, and yet had managed to leave Rommel with just a sufficient illusion of success to persuade him to hold his position face-to-face with 8th Army, rather than to retire westwards to his bases.

Auchinleck was not destined, however to reap the benefits of his achievement. On 3rd August, Winston Churchill arrived in Cairo, and five days later informed Auchinleck that he was to hand over to General Alexandert, Commander in Chief of the Middle East. The Prime Minister's intention that Gott should command 8th Army was shattered when that officer died in an air crash. Instead, Churchill summoned Lieutenant General Bernard Montgomery to assume the role. On 15th August, the handovers were complete, and a disappointed Auchinleck departed to command in India.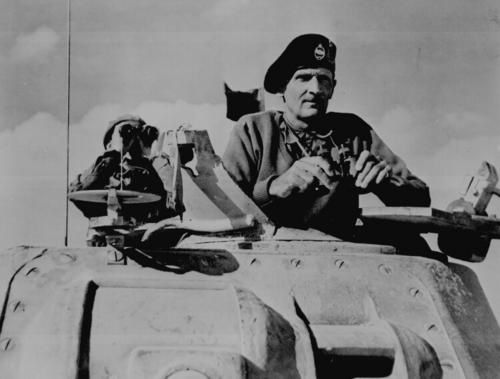 Field Marshall Montgomery

Montgomery immediately set about creating better morale and a new army based around a corps de chasse of powerful armour. He courted the rank and file of Britain's citizen army like no commander before him. He brought in new generals - Brian Horrocks for XIII Corps, Sir Oliver Leese for XXX Corps and Frederick de Guingand as Chief of Staff. He even insisted upon a new Chaplain General, hopeful of more effective prayer. The X Corps recieved two armoured divisions and the New Zealanders. He declared, erroneously, that he had destroyed '.. all plans for further retreat' and that he was going '.. to hit Rommel for six out of Africa'. These strident, even bombastic, claims had an amazing effect. General Sir Harold Alexander was happy to allow his subordinate his head - and large convoys of munitions were due to arrive any day. Better still, Ultra intercepts revealed that Axis shipments into Africa had dropped from 30,000 tons a month to only 6,000 tons in July.

Rommel was aware of the 1,200 miles separating him from his base at Tripoli, and knew that 8th Army was expecting important reinforcements. Already it had 767 tanks, good air support and plenty of fuel. Typically, he decided to try the mettle of the new British command without delay, in a last great fling to forestall the arrival of yet more Allied reinforcements.

By late August he had amassed 226 German and 243 Italian tanks. Accordingly, on 30th August, he suddenly attacked, in what the Germans dubbed ' the Six-Day Bicycle Race', and drove for the Alam Halfa Ridge southeast of El Alamein. As Italian XX Corps attacked on the left, the Afika Korps drove for the center. From the outset, air attacks and minefields imposed delays. And Montgomery was ready for him. With XXX Corps on his right, XIII Corps on his left and 7th Armoured Division (the Desert Rats) to the fore as a lure, he held Ruweisat Ridge and allowed his left wing to be pressed back towards a series of strong, new positions facing south, of which the key was Alam Halfa Ridge.

Against the dug in tanks and a new 6-pounder, anti-tank guns, Rommel struck in vain. With his fuel low on 2nd September he called off the battle and fell back to his starting positions. Montgomery made no serious attempt to follow, merely reoccupying his original line in the south. He was determined to bide his time. Rommel had lost fourty-nine tanks, 2,900 men, fifty-five guns and 395 vehicles to 8th Army's sixty-eight tanks, eighteen anti-tank guns, and 1,640 casualties. Montgomery also knew that a major Allied landing in northwest Africa - Operation 'Torch' - would occur west of Tripoli in November. So he played Rommel along, keeping his attention fully eastwards, whilst 8th Army grew steadily stronger.
Rommel fell for the bait, and stayed facing El Alamein, putting down new minefields and absorbing 164th Infantry Division, before departing on Hitler's orders for hospital in south Germany, leaving General von Stumme in command.  By mid-October the Germans had built a fourty-five-mile line, faced with a double row of minefields, five-miles deep in all.  On the coast stood 90th Light and 164th Infantry divsions. To its south was placed the Italian XXI Corps, strenghened by German paratroop battalions. On the right was the Italian X Corps. Close in the raer stood the armoured reserve, the veteran 15th and 21st Panzers and the two armoured and one motorized divisions of the Italian XX Corps in two groups - fielding in all 200 German and 300 Italian tanks, 53,000 German troops and 55,000 Italians. 

Montgomery was now almost ready. On his right was XXX Corps, five infantry divisions strong. On his left was XIII Corps, two infantry divisions plus the 'Desert Rats' of the 7th Armoured Division. In the rear waited X Corps - two armoured divisions (1st and 10th) with parts of a third (8th) divided between them, and the New Zealand Division. In all 220,000 Allied troops and 1,351 tanks, including new Shermans and trusty Grants, and a reinforced Desert Air Force (500 aircraft) stood waiting the order to advance and attack in Operation 'Lightfoot". This was deliberately timed for 'Torch minus 13'. Montgomery refused all Churchill's orders for an earlier offensive. He had a master plan.

The nine infantry divisions and three armoured divisions, equipped with 285 Sherman tanks with their 75mm guns, 246 Grants and 421 Crusaders, 850 6-pounder and 550 2-pounder anti-tank guns - amounted to a formidable 8th Army; in its ranks were Australians, Indians, Greeks and Frenchmen, as well as British soldiers. Facing it stood four reinforced Axis armoured divisions (two German and two Italian), and a pair of motorized divisions (one of each nationality) and eight infantry divisions, seven of them Italian. In overall terms Montgomery enjoyed a 2:1 advantage in manpower and a 3:1 advantage in tanks.

Overhead, the Desert Air Force of Air Vice Tedder (which had been reinforced by two fighter and two light bomber groups) held undisputed sway over the Luftwaffe and Regia Aeronautica. The numerical advantage that Montgomery had demanded had been achieved. He entered the battle in an enviable position: Rommel was away sick, and come what might Montgomery could hardly lose, for once Operation 'Torch' opened in Tunisia and Algeria on 8th November, the Axis would be compelled to retreat to save Tripoli. However, ther was some anxiety over the size and extent of the Axis minefields which had been partly probed in two brigade attacks on 30th September; accordingly, in tune with the latest intelligence reports, Montgomery adjusted his plan.

Originally, this had conceived of a simultaneous attack by XXX Corps in the north and XIII Corps in the south, which were to break into the Axis positions and clearcorridors for the armour of X Corps to exploit; the tanks would then sever the enemy's hostile lines of communication. Now, the 5th October, he decided to attack in the north with both XXX and X Corps and employ both simultaneously. Two busy weeks of final preparations and exercises ensued.

On the night of 23rd to 24th October 1942, some 900 guns suddenly delivered a hurricane bombardment, and the mine-clearing parties moved forward. The Second Battle of El Alamein had begun. The Axis were taken by surprise, but soon rallied to pre-arranged defensive tasks. The southern of the two thrust lines made good progress, and the New Zealanders rapidly captured Miteirya Ridge. Behind them, however, 10th Armoured Division hesitated to pass through, having run into more mines. Further north, the Australians made less progress against heavy resistance, and 1st Armoured Division became bogged down between the two minefields.

 The static tanks made excellent targets for the pre-registered Axis atrillery. On the other hand, German General Georg Stumme died of a heart atttack caused by an exploding mine. On 25th October, Rommel hurried from Germany to find the Allied operation still stalled in the north and making scant progress in the south, where 44th Division and 7th Armoured had also come to a halt.

On 26th October, Montgomery ordered a pause to adjust the plan. He now enjoined XIII Corps, led by the Australian 9th Division, to stike northwestwards towards the coast.  On 27th October,some progress was made, but then Rommel's armoured counter-attacks against Miteirya and Kidney ridges, although ultimately forestalled, restricted forward progress. Churchill cabled anxiously for news, aware that 'Torch' was now imminent.
By now, the main battle was concentrated around Tell al-Aqaqir and Kidney Ridge. The 2nd Battalion (Rifle Brigade) of the 1st Armored Division of the British was at a position called Snipe, to the southwest of the Kidney.  The stand at Snipe is one of the legends of the Battle of al-Alamein. Phillips in Alamein records that,
"The desert was quivering with heat. The gun detachments and the platoons squatted in their pits and trenches, the sweat running in rivers down their dust-caked faces. There was a terrible stench. The flies swarmed in black clouds upon the dead bodies and excreta and tormented the wounded. The place was strewn with burning tanks and carriers, wrecked guns and vehicles, and over all drifted the smoke and the dust from bursting high explosives and from the blasts of guns."
Mortar and shell fire was constant all day long. Around 4 pm, British tanks accidentally opened fire against their own position, killing many. At 5 pm, Rommel launched his major attack. German and Italian tanks moved onward. With only four guns in operation, the 2nd Battalion was able to score continual broad-side hits against forty tanks of the 21st Division, knocking out thirty-seven of them. The remaining three withdrew and a new assault was launched. All but nine tanks in this assault were also destroyed. The 2nd was down to three guns with three rounds each, but the Germans had given up on this assault.

By Operation 'Supercharge', the Australian attack on the coast was to continue, but the main thrust would be further south. While XIII Corps pressed forward, X Corps was to strike northwestwards to distract and defeat Rommel's Panzers. The new assault began early in the morning on 2ND November. Rommel, his petrol almost gone was told to 'stand and die' by Hitler. More realistically, he decidied to break off and retreat, taking all Italian transport for his German troops. Victorious 8th Army had lost 13,500 more casualties and 500 tanks (150 of them destroyed), but in turn had inflicted 59,000 on the Axis and accounted for 454 tanks and 1,000 guns. It ahd been a battle of direct attrition, but numerical advantages ahd told in the end.

By 4th November, X Corps was in full pursuit, but then heavy rain bogged the armour down and Rommel was free and away. Fighting bitter rearguard actions, he was pressed back through Tobruk by 13th November and Musus by 17th November, and the British re-entered Benghazi on 20th November. Montgomery paused before El Agheila where Rommel turned to face him once more, but on 13 th December the Axis moved to the west again.

 Boxing Day found Rommel in a new position at Buerat, but on 13th January, 1943 he again pulled out just before Montgomery launched an assault. So on 23rd January, the British at last entered Tripoli as Eommel entered Tunisia. The battle for the western desert was over, although much bitter fighting remained against Field Marshalla von Armin and Rommel who now, far too late, received strong reinforcements from Germany. But there was no denying the importance of Montgomery's victory at El Alamein. It was the only great land battle won by the British and Commonwealth forces without direct American participation and, together with the German surrender at Stalingrad in February, 1943, it marked the turning point of the war. 'It is not the end', Churchill warned the jubilant British public at a review of the victorious 8th Army in Tripoli; 'It may not even be the beginning of the end. But it is undoubtedly the end of the beginning.'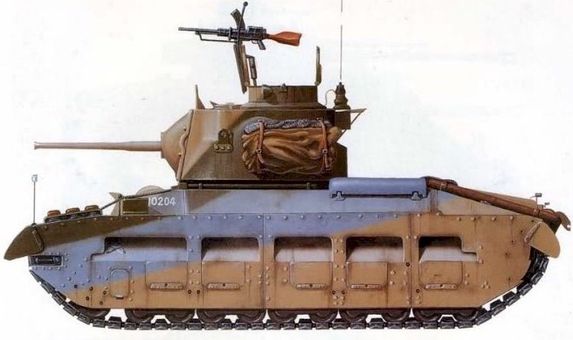 El Alamein 1942 - 1/5


El Alamein 1942 - 2/5


El Alamein 1942 - 3/5

El Alamein 1942 - 4/5


El Alamein 1942 - 5/5