26 octobre 2010
2
26
/

10
/

octobre
/

2010
22:10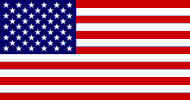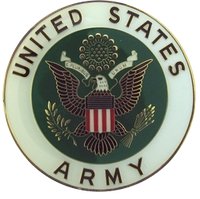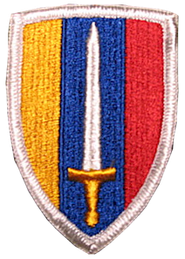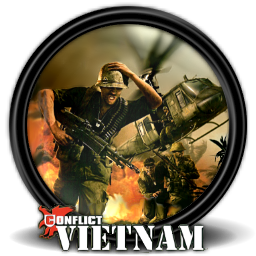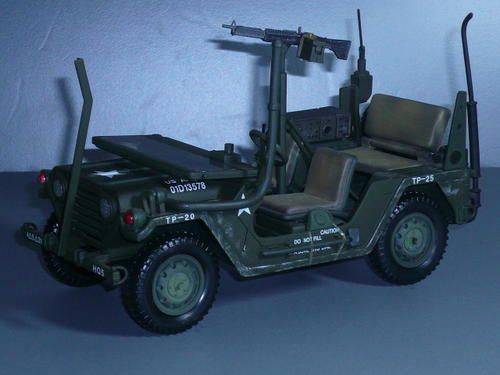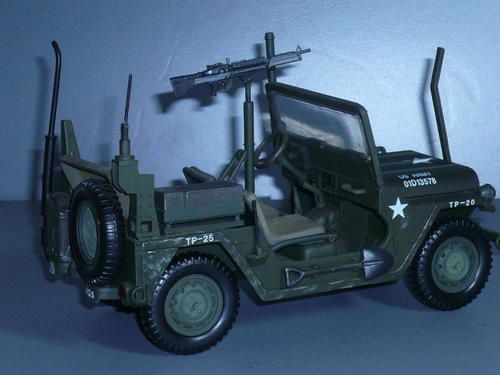 M151 Jeep
M151 Multi-Utility Tactical Truck (MUTT)
M151 Fast Attack Vehicle
The M151A2 1/4 ton utility truck is the last of the vehicles commonly called jeeps and the last of the series of 1/4 tons used by the Army. Everything since has been larger. Built by Ford and AM General from 1960 to 1969 they saw service with all branches of service and served until the mid 80's when they were replaced by the HUMVEE. The vehicle had a very low silhouette and was powered by a 71 hp 4 cylinder in line engine and was 4 wheel drive. It had an independent coil spring front and rear suspension which gave it an excellent off road performance and a more comfortable ride. Unfortunately the suspension made it subject to rollovers in fast, hard turns when in the hands of inexperienced drivers so it was redesigned.
.
The M151 Truck, Utility: ¼-Ton, 4x4, series of vehicles are commonly referred to as Jeeps. In use since 1979, various models of the M-151 have seen successful military service in 15 different North Atlantic Treaty Organization countries. The M151 family of vehicles includes M151, M151A1, M151A1C, M151A2, and M825 utility trucks and M718 and M718A1 ambulances. The High Mobility Multi-purpose Wheeled Vehicle (HMMWV) is the replacement vehicle for the M151 series jeeps. The current fleet of light tactical vehicles, the aging M151-A2 Fast Attack Vehicle and the High Mobility Multi-Purpose Wheeled Vehicle (HMMWV), are approaching the end of service life.
.
The Marine Corp's M151 Fast Attack Vehicle are a variation of the old Willys-style jeep. This light-weight, all-terrain vehicle capable of high-speed, cross-country travel with high maneuverability and agility. The vehicle serves as a weapons or communications platform and carrier for anti-armor, reconnaissance, and other missions that require speed, agility, and all-terrain capability.
.

FAVs are refitted to mount weapons systems ranging from the M-2 .50 caliber machine gun or the M-240G machine gun to the tube launched, optically-tracked, wire-guided [TOW] antitank missile. The TOW 2 guided missile system can be either tripod mounted or mounted on a pedestal in an M151 truck.
.

Although old, it's small size allowed it to be carried internally in the CH-53. FAVs are part of the Marine ground combat element's helicopter assault company, with the TOW variants being manned by weapons company Marines. The FAV is smaller, faster and lighter than the HMMWV, and it is not possible to load a HMMWV on a helicopter and insert it with a small unit. It can be deployed to the battlefield by loading it and the Marines that man it in a CH-53E Super Stallion.
The 26th Marine Expeditionary Unit (Special Operations Capable) combined heavy firepower and quick-strike capabilities with helicopter-inserted, light infantry forces during the early 1997 Operation Silver Wake noncombatant evacuation operation (NEO) in Tirana, Albania.
.

The few remaining M151 FAVs were modified by the creative and resourceful Sgt. David Ferry to mount a HMMWV ring mount on the roll cage. The FAV was not just a motor pool experiment as it saw service when the 3/8 Battalion Landing Team, 26th MEU (Marine Expeditionary Unit deployed to Kosovo in 1999.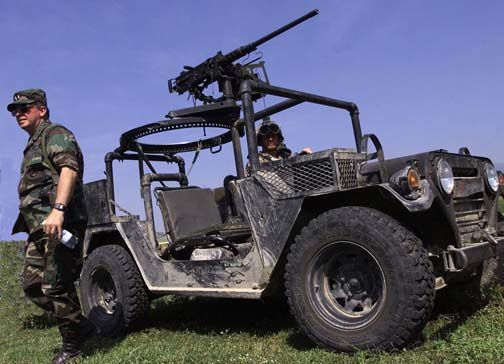 .

In 1980 the Army's 9th Infantry Division was selected as the test unit for the new High Technology Light Division (HTLD). The HTLD was designed to fight in the deserts of Southwest Asia. Critical pieces of equipment needed to realize the division concept were never available. The FAVs it wanted were neither authorized nor funded by Congress. One problem was that surrogate equipment became standard during its interim phase. For example, the FAV was replaced by the High Mobility Multipurpose Wheeled Vehicle (HMMWV).
.

An Army health hazard assessment revealed whole-body vibration as a significant health hazard. Vehicle crew members also suffered kidney and back injuries attributable to shock and vibration sustained during testing. The health hazard assessment report recommended redesigning the seats to include the addition of more padding to reduce both vibration and shock, redesigning the vehicle suspension system to increase its shock absorbency, and entering FAV operators into a medical surveillance program tailored to the identification of whole-body vibration health effects.
.

Jeeps are built for off road use and could be unsafe at high speed. The rear suspension system on M151 vehicles was designed for rough terrain usage by stabilizing the stock. Military personnel operating the M151 are given special training in use of the vehicle. On paved roads, where the general public would normally use a vehicle, these vehicles are readily subject to rollover accidents. The Administrator, National Highway Traffic Safety Administration, U.S. DoT, identified the M151 vehicles as a hazard to the safety of public highway users. Therefore, for public safety, DOD renders them inoperable prior to sale (i.e., cut or crush the unitized body and suspension system)
.

The M-151's tendency to tip over as well as the fact that it used flammable unleaded fuel, made it a safety liability. The M-151 didn't quite have the mobility, speed, or durability to get Marines into the environments they will need to be in during the 21st century.






Variants

M151 (1960) - Initial version. Because of its rear suspension design it had a dangerous tendency to flip over when cornered too aggressively by unaware drivers. The swing-axle rear suspension lay-out (comparable with that of the VW Beetle) could result in big rear wheel camber changes, causing drastic oversteer and a subsequent roll-over.

M718 - Front-line ambulance variant.

M151A1 (1964) - Second version: minor changes in the rear suspension, mostly aimed at allowing the vehicle to carry heavier loads. Addition of turn signals to front fenders. The essentials of the rear suspension remained unchanged and the same applies to the handling problems in corners.
.

M151A1C - The M151A1C equipped with a 106 mm recoilless rifle on a pedestal-mount. Capable of carrying six rounds of ammunition and weapon tools. Including the driver, it provides space for two men and has a cruising range of 442 km or 275 miles.
.

M151A1D - Tactical nuclear variant.
.

M718A1 - Front-line ambulance variant.

M151A2 (1970) - The A2 fielded a significantly revised rear suspension that greatly improved safety in fast cornering. The MUTT now had Semi-trailing arm suspension comparable to what most late eighties premium German cars had. Many smaller upgrades including improved turn signals. The A2 can be identified by the large combination turn signal/blackout lights on the front fenders, which also had been modified to mount the larger lights (earlier models had flat front fenders).
.

M151A2 FAV - Fast Assault Vehicle variant.
.

M151A2 TOW - tube-launched, optically-tracked, wire-guided [TOW] anti-tank missile variant..
.
M825 - Variant with M40 105mm Recoilless Rifle mounted on rear.
.
M1051 - Firefighting variant which saw exclusive use by the Marine Corps.
.
MRC108 - Forward Air Control variant, with multiband communications equipment.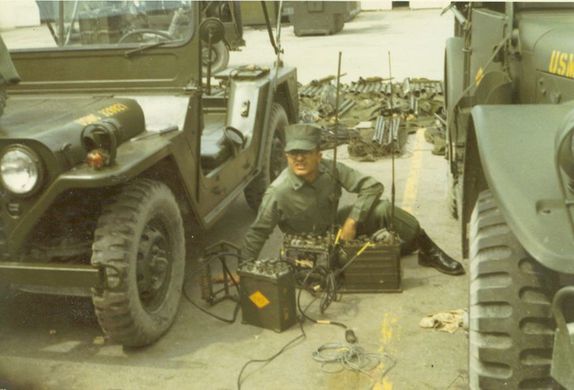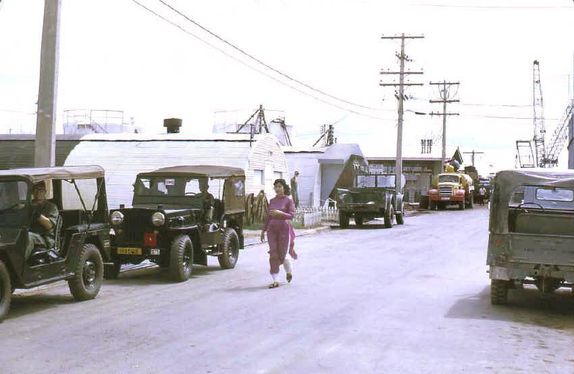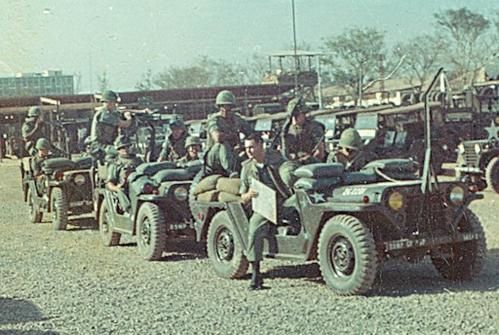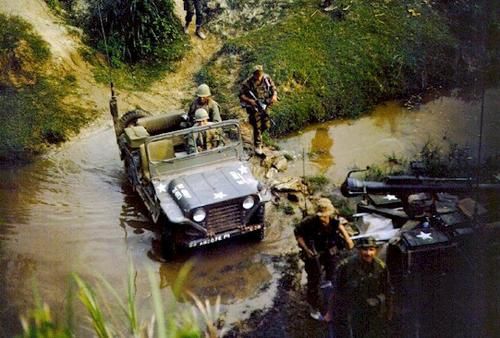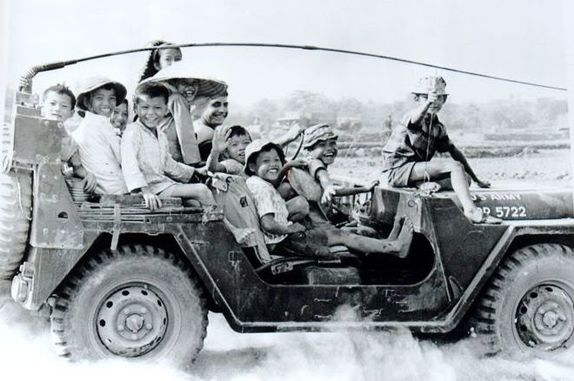 .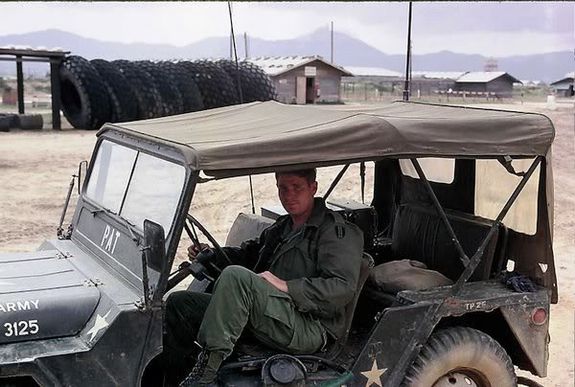 .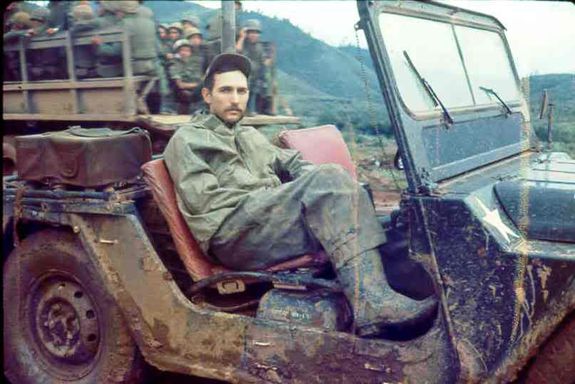 .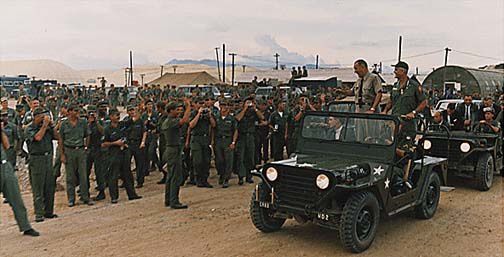 .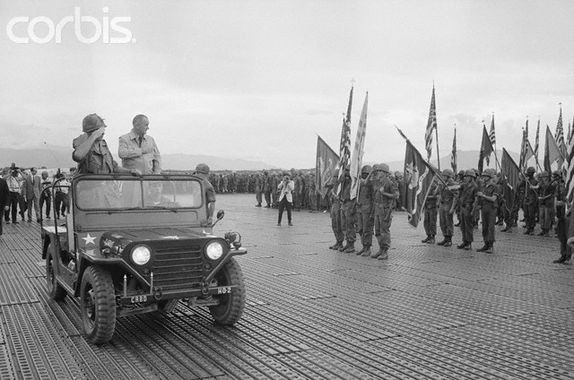 .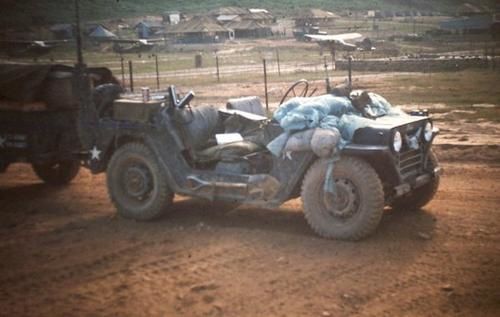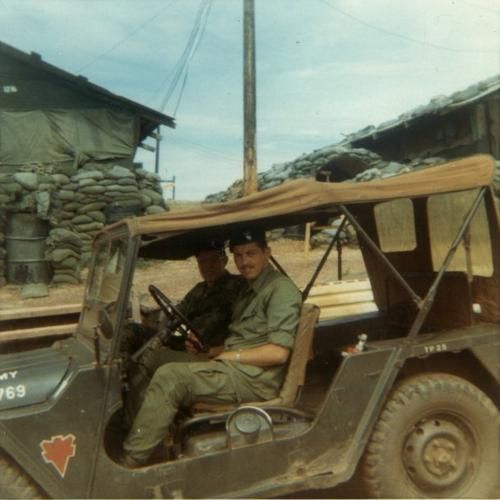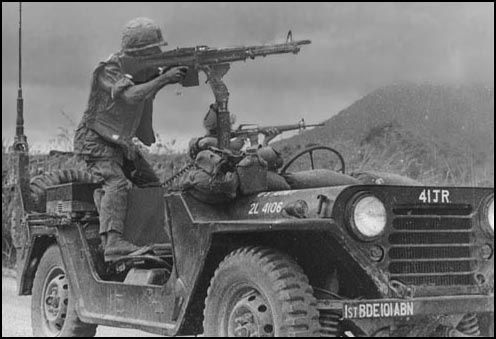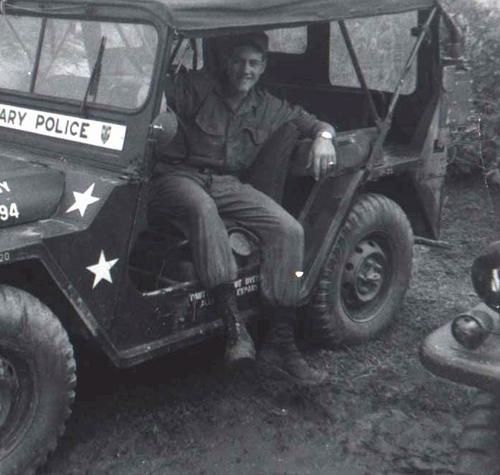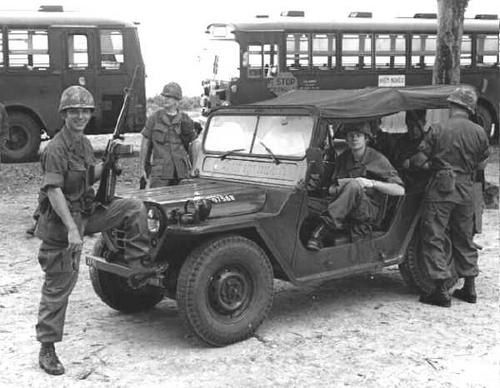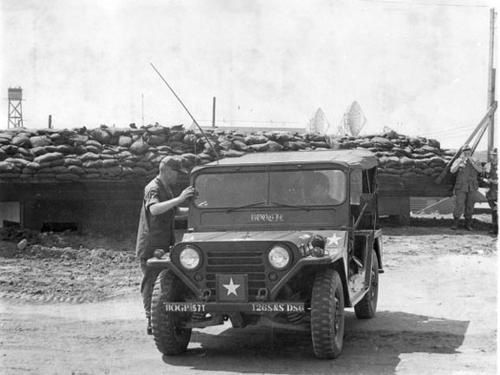 .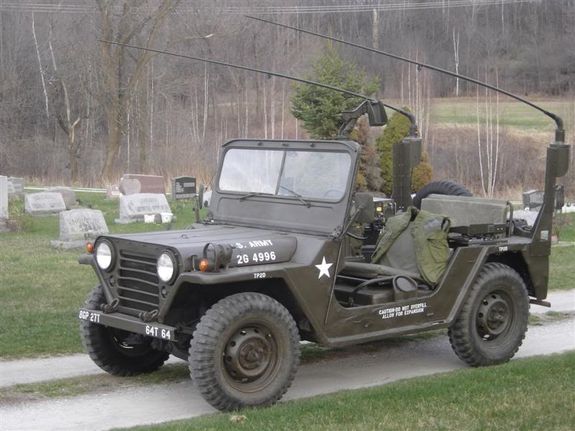 .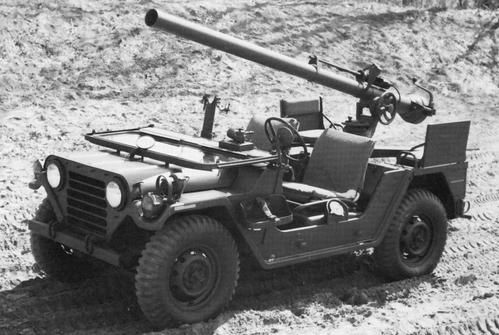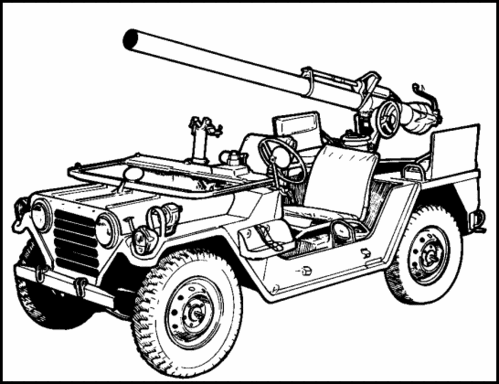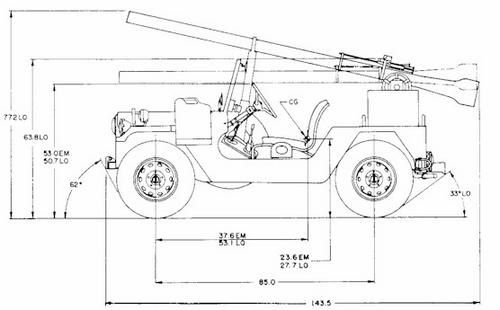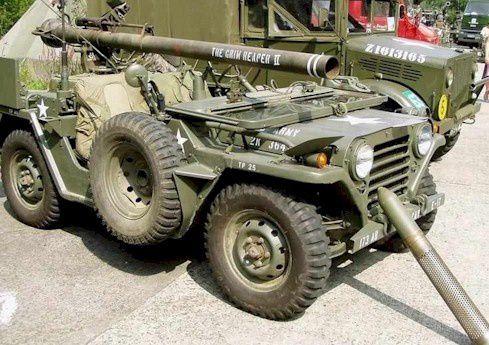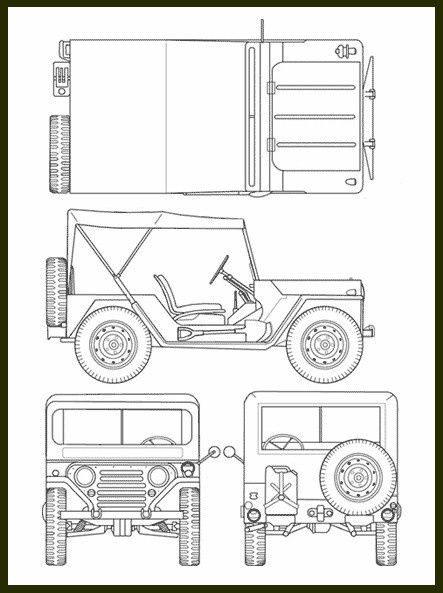 .
Production

> 100,000 (1959 - 1982)

Predecessor

M38 & M38A1

Successor

AM General HMMWV

Class

1/4 ton truck, four wheel drive

Engine(s)

4-cyl., 141,5 cu.in (2,320 cc)
71 hp (52 kW) at 4000 rpm / 128 ft·lbf (173 Nm) at 1800 rpm

Transmission(s)

4-speed + reverse
transfer case only to engage / disengage front wheel drive

Wheelbase

85 inch / 216 cm

Length

133 inch / 338 cm

Width

64 inch / 163 cm

Height

71 inch (180 cm) with top up
reducible to 53 inch (135 cm)

Curb weight

2,400 lb (~1070 kg)

Related

M422 'Mighty Mite' contemporary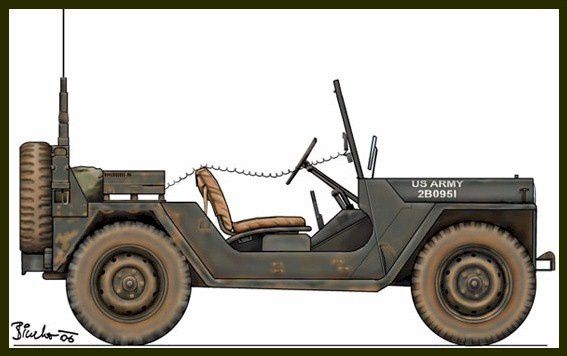 .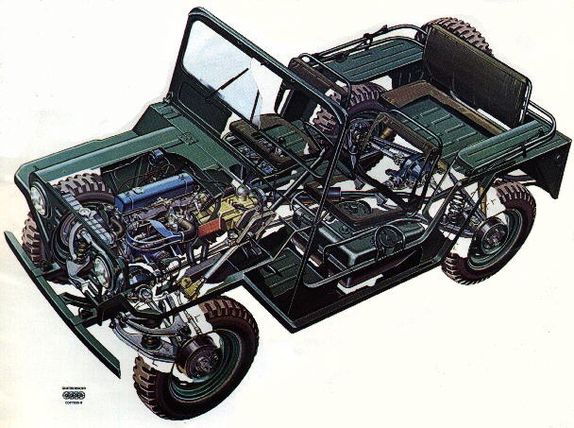 .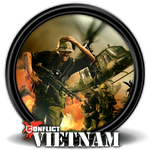 The Vietnam War was a Cold War military conflict that occurred in Vietnam, Laos, and Cambodia from 1 November 1955 to 15 May 1975 when the Mayaguez Incident concluded and two weeks after the fall of Saigon on 30 April 1975.
The Mayaguez incident involving the Khmer Rouge government in Cambodia on 12–15 May 1975, marked the last official battle of the United States (U.S.) involvement in the Vietnam War. This war followed the First Indochina War and was fought between North Vietnam, supported by its communist allies, and the government of South Vietnam, supported by the United States and other anti-communist nations.
.

The Viet Cong, a lightly-armed South Vietnamese communist-controlled common front, largely fought a guerrilla war against anti-communist forces in the region. The North Vietnamese Army engaged in a more conventional war, at times committing large units into battle. U.S. and South Vietnamese forces relied on air superiority and overwhelming firepower to conduct search and destroy operations, involving ground forces, artillery and airstrikes.
.
The United States government viewed involvement in the war as a way to prevent a communist takeover of South Vietnam and part of their wider strategy of containment. The North Vietnamese government viewed the war as a colonial war, fought initially against France, backed by the United States, and later against South Vietnam, which it regarded as a US puppet state.
.
United States military advisors arrived beginning in 1950. U.S. involvement escalated in the early 1960s, with U.S. troop levels tripling in 1961 and tripling again in 1962.
.
U.S. combat units were deployed beginning in 1965. Operations spanned borders, with Laos and Cambodia heavily bombed. Involvement peaked in 1968 at the time of the Tet Offensive. After this, U.S. ground forces were withdrawn as part of a policy called Vietnamization. Despite the Paris Peace Accords, signed by all parties in January 1973, fighting continued.
.
The Case–Church Amendment passed by the U.S. Congress prohibited use of American military after 15 August 1973, unless the president secured congressional approval in advance.
The capture of Saigon by the North Vietnamese army in April 1975 marked the end of the Vietnam War. North and South Vietnam were reunified the following year.
.
The war exacted a huge human cost in terms of fatalities ,including 3 to 4 million Vietnamese from both sides, between 1.5 to 2 million Laotians and Cambodians, and 58,159 U.S. soldiers.


.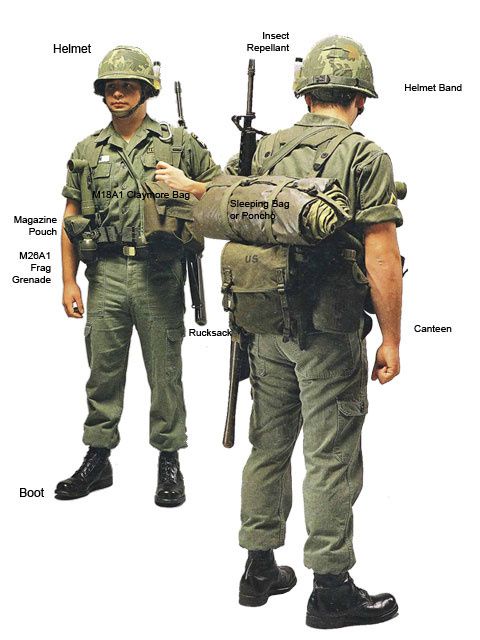 .

.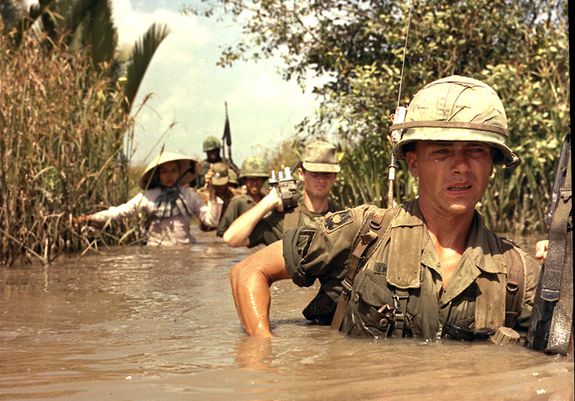 .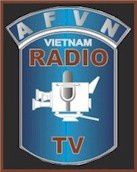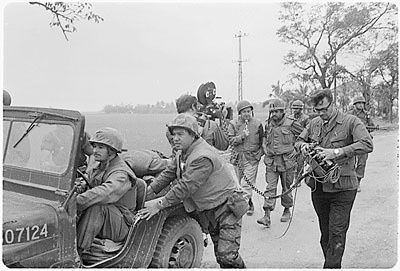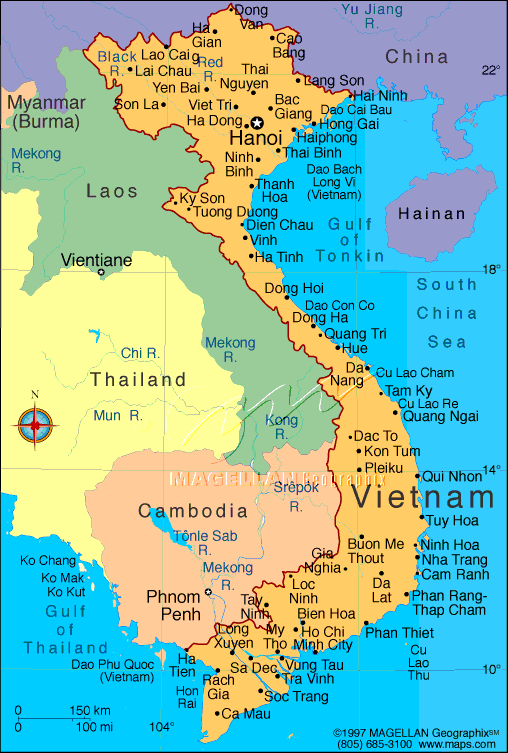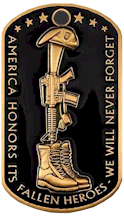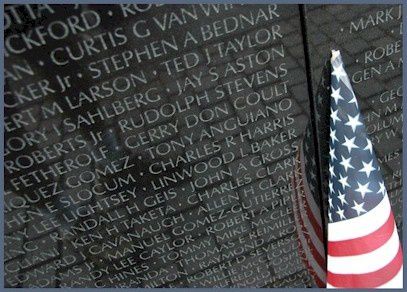 .
.