30 avril 2011
6
30
/

04
/

avril
/

2011
22:51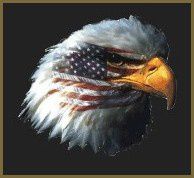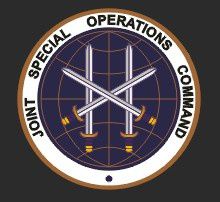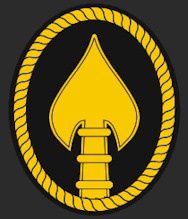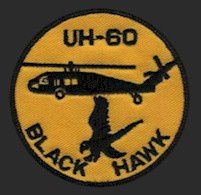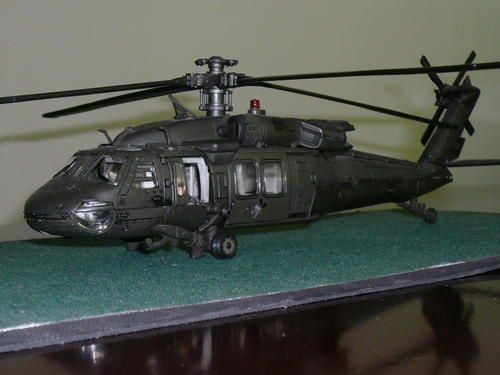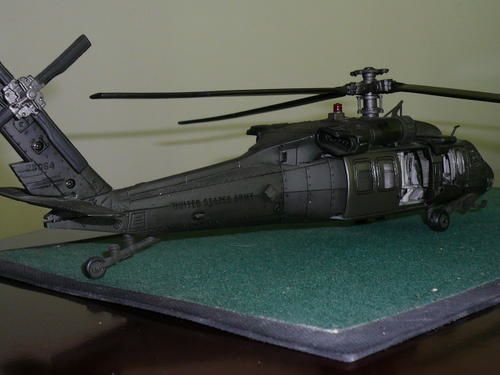 The UH-60A Black Hawk is the primary division-level transport helicopter, providing dramatic improvements in troop capacity and cargo lift capability compared to the UH-1 Series "Huey" it replaces. The UH-60A, with a crew of three, can lift an entire 11-man fully-equipped infantry squad in most weather conditions. It can be configured to carry four litters, by removing eight troop seats, in the MedEval role. Both the pilot and co-pilot are provided with armor-protective seats. Protective armor on the Black Hawk can withstand hits from 23mm shells.

The Black Hawk has a cargo hook for external lift missions. The Black Hawk has provisions for door mounting of two M60D 7.62mm machine guns on the M144 armament subsystem, and can disperse chaff and infrared jamming flares using the M130 general purpose dispenser. The Black Hawk has a composite titanium and fiberglass four-bladed main rotor, is powered by two General Electric T700-GE-700 1622 shp turboshaft engines, and has a speed of 163 mph (142 knots).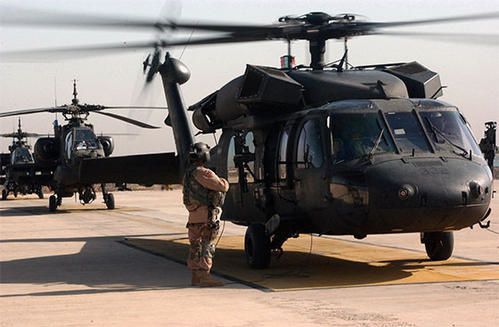 The UH-60, first flown in October 1974, was developed as result of the Utility Tactical Transport Aircraft System (UTTAS) program. The UTTAS was designed for troop transport, command and control, MedEvac, and reconnaissance, to replace the UH-1 Series "Huey" in the combat assault role.

In August 1972, the US Army selected the Sikorsky (model S-70) YUH-60A and the Boeing Vertol (model 237) YUH-61A (1974) as competitors in the UTTAS program. The Boeing Vertol YUH-61A had a four-bladed composite rotor, was powered by the same General Electric T700 engine as the Sikorsky YUH-60A, and could carry 11 troops. In December 1976 Sikorsky won the competition to produce the UH-60A, subsequently named the Black Hawk.





Elements of the US Army Aviation UH-60A/L Blackhawk helicopter fleet begin reaching their sevice life goal of 25 years in 2002. In order for the fleet to remain operationally effective through the time period 2025-2030 the aircraft will need to go through an inspection, refurbishment, and modernization process that will validate the structural integrity of the airframe, incorporate improvements in sub-systems so as to reduce maintenance requirements, and modernize the mission equipment and avionics to the levels compatible with Force XXI and Army After Next (AAN) demands.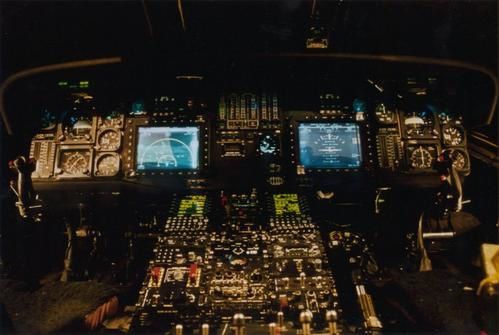 A Service Life Extension Program (SLEP) is planned for the UH-60 beginning in FY99. The UH-60 modernization program will identify material requirements to effectively address known operational deficiencies to ensure the Black Hawk is equipped and capable of meeting battlefield requirements through the 2025-2030 timeframe.

Primary modernization areas for consideration are: increased lift, advanced avionics (digital communications and navigation suites), enhanced aircraft survivability equipment (ASE), increased reliability and maintainability (R & M), airframe service life extension (SLEP), and reduced operations and support (O & S) costs. Suspense date for the approved Operational Requirements Document (ORD) was December 1998.


UH-60 Firehawk is a Reseach and Development program to provide the UH-60 series helicopter with both a wartime and peacetime fire fighting capability by use of a detachable 1,000 gal. belly tank. Qualification issues include design and testing required to maintain the combat capabilities of the UH-60 Black Hawk and the safe flight envelope of the aircraft with the tank.

UH-60 FATHAWK is a conceptual UH-60 capability to refuel/resupply other aviation assets using



Joint Special Operations Command (JSOC)



Joint Special Operations Command (JSOC) is officially described as a "joint headquarters designed to study special operations requirements and techniques; ensure interoperability and equipment standardization; plan and conduct joint special operations exercises and training; and develop joint special operations tactics" but this description is economical with the truth. Joint Special Operations Command serves as a standing Joint Special Operations Task Force responsible for unique special missions: execution, planning, training, tactics, and equipment development.

Joint Special Operations Command (JSOC) was established in 1980 and is located at Pope Air Force Base, North Carolina and at nearby Fort Bragg, NC. JSOC is a joint headquarters designed to study special operations requirements and techniques; ensure interoperability and equipment standardization; plan and conduct joint special operations exercises and training; and develop joint special operations tactics.

Although JSOC's stated purpose is to provide a unified command structure for conducting joint special operations and exercises, it is widely reported that JSOC is actually the command responsible for conducting US counter-terrorism (CT) operations. JSOC is reported to command the US military's Special Missions Units (SMUs). These SMUs are tasked with conducting CT operations, strike operations, reconnaissance in denied areas, and special intelligence missions.

Much of the hunting for senior Taliban and al Qaeda members in Afghanistan is being conducted by a unit called Task Force 11, composed mostly of Delta Force and SEALs.


JSOC units have reportedly been involved in a number of covert military operations over the last two decades. Some of these operations include providing assistance to Italian authorities during their search for kidnapped US Army Gen. James Dozier, participating in Operation Urgent Fury; the US invasion of Grenada, planning a rescue attempt of US hostages being held in Lebanon, rescuing hostages being held aboard the cruise liner Achille Lauro, participating in Operation Just Cause; the US intervention in Panama, directing US Scud hunting efforts during Operation Desert Storm, conducting operations in support of UN mandates in Somalia, and searching for suspected war criminals in the former Republic of Yugoslavia.


JSOC units regularly conduct training with similar units from around the world, and provide training to nations that request US support. JSOC has also provide support to domestic law enforcement agencies during high profile, or high risk events such as the Olympics, the World Cup, political party conventions; and Presidential inaugurations.

The DARPA Active Templates program, working in close collaboration with the Joint Special Operations Command, developed the software tools-of-choice for special operations command and control. These tools allow military planners to sketch out plans against a time-line or with a map or image in the background, merge plans from other teams that are connected to the network, de-conflict and coordinate changes as plans solidify, and then use these same tools to track the progress of the battle during mission execution.

Time-and-motion studies show that these tools speed planning by a factor of four, buying time for rehearsal and critical decision-making. These prototype tools were advocated for use following several successful special operations exercises in FY 2001. In October 2001, they were deployed and have been used continually to support combat operations in Operation Enduring Freedom.

The Marine Corps is exploring new ways to organize forces and maximize their usefulness to joint force commanders. The expansion of the Marine CorpsÕ relationship with the US Special Operations Command (USSOCOM) highlights a commitment to this process, and to transformation. To that end, in 2003 the Commandant and the Commander of the US Special Operations Command reestablished the USSOCOM-Marine Corps Board.

The board is a forum for the exchange of ideas between the Joint Special Operations Command (JSOC) and deploying Marine Expeditionary Unit staffs, to establish and continue a dialogue between Theater Special Operations Commands (TSOC) and deploying MEU staffs, and to coordinate USSOCOM and USMC warfighting developments.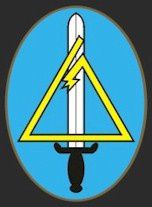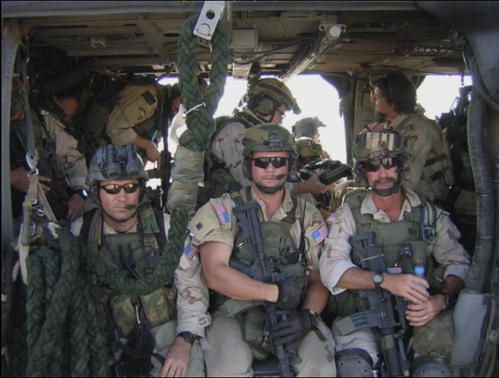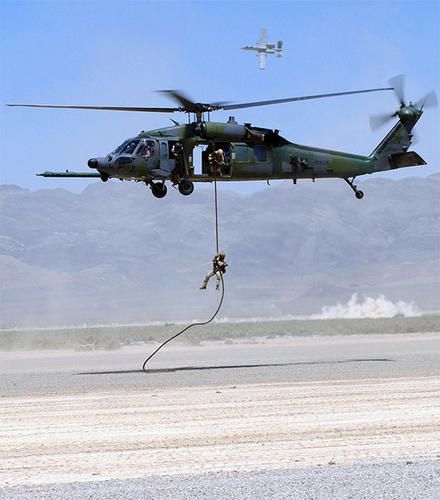 MH-60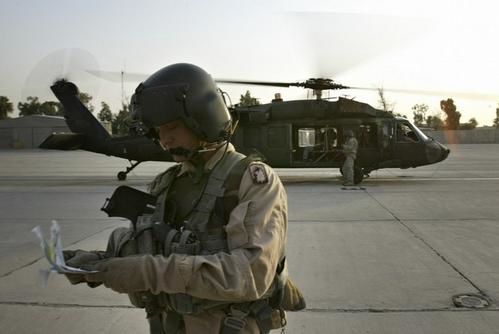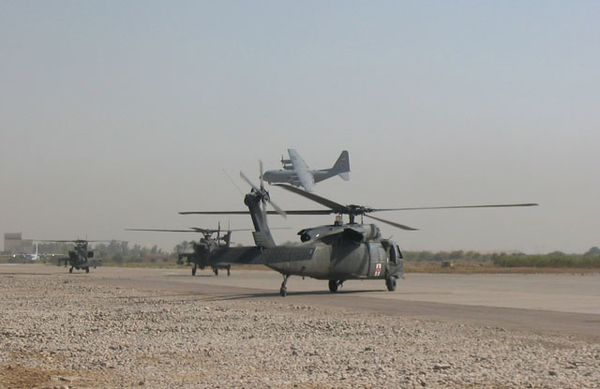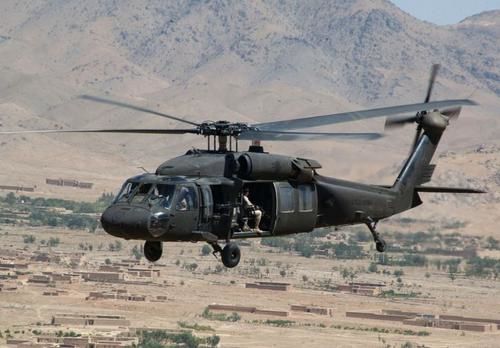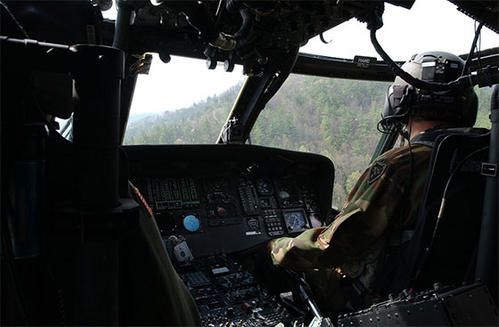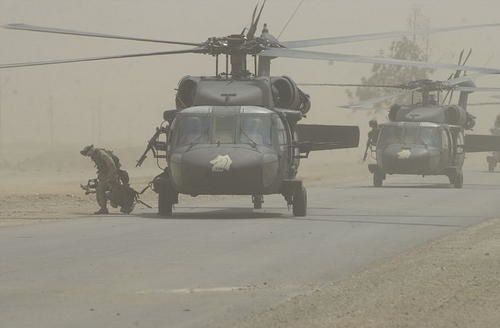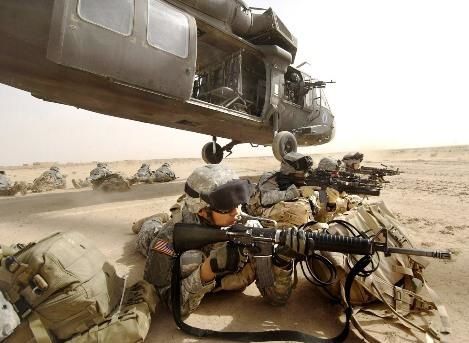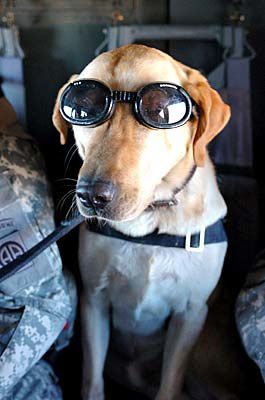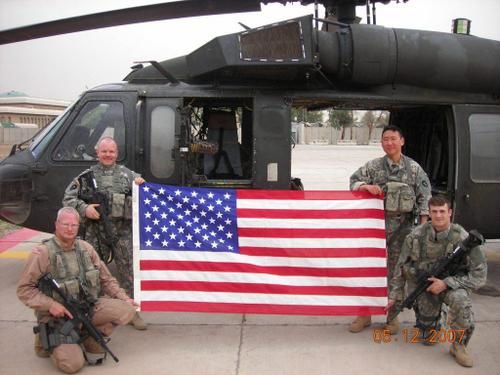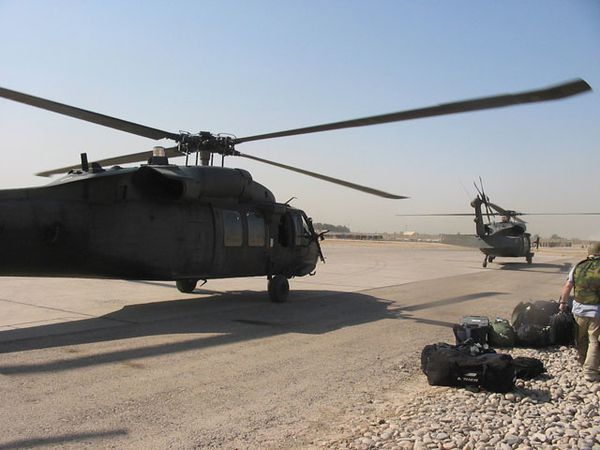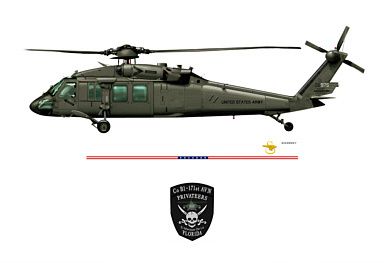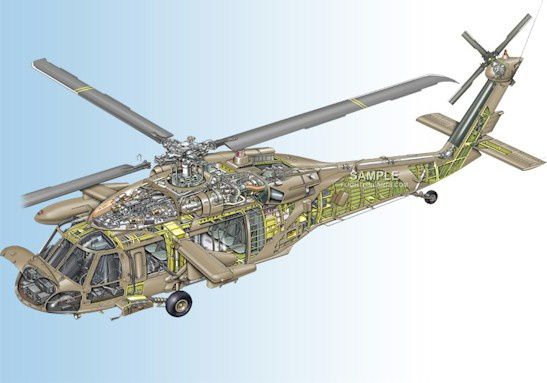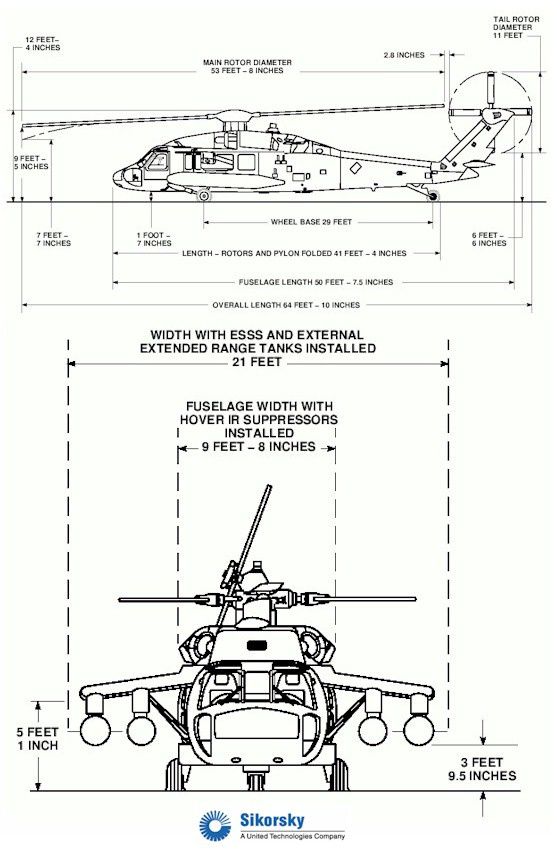 | | |
| --- | --- |
| Model | UH-60A |
| Manufacturer | Sikorsky Aircraft |
| Folded Length (rotor/tail pylon) | 40 ft, 11in |
| Rotor folded length (pylon flight position) | 53 ft, 3 in |
| Length overall (rotors turning) | 64 ft, 10 in / 19.76m |
| Fuselage length | 50 ft / 15.26m |
| Height: (to top of rotor) head | 3.79m |
| Overall height, (tail rotor turning) | 17 ft / 5.18m |
| Fuselage width | 7 ft, 9 in / 2.36m |
| Folded width | 10 ft, 7 in |
| Main rotor diameter | 53 ft, 8 in / 16.36m |
| Main rotor blade chord | 0.53m |
| Tail rotor diameter | 11 ft / 3.35m |
| Ground clearance | 11.2 in |
| Ground to tail rotor clearance | 6 ft, 8 in |
| Turning radius | 41 ft, 7 in |
| Clearance for 180° | 84 ft |
| Main rotor disc | 210.15m2 |
| Tail rotor disc | 8.83m2 |
| Vertical fin | 3.00m2 |
| Horizontal tail surfaces | 4.18m2; |
| Weight empty (ASW) | 6.191kg |
| Maximum useful load | (fuel and disposable ordinance) |
| Maximum disc loading | 47.2kg/m2 |
| Maximum power loading | 3.92kg/m2 |
| Maximum level speed at S/L (Dash Speed) | 126 knots |
| Rate of climb at S/L, OEI | 213m/min |
| Service ceiling | 5,790m |
| Service ceiling, OEI | 21287 |
| Hovering ceiling | 2,895mIGE |
| Range at S/L with standard fuel, no reserves | 319 nm |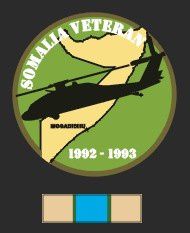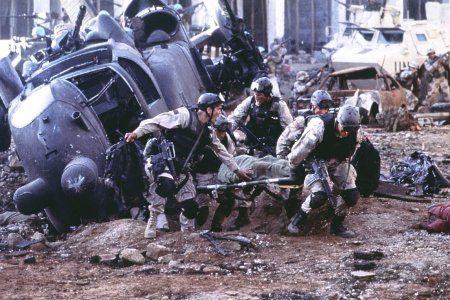 Blackhawk Down 2001 | 144mins | War, Drama | Color

Directed by Ridley Scott, "Black Hawk Down" is a military action movie about an ill-fated 1993 U.S. mission in which Americans were killed. Local warlords battled one another in Somalia, and some 300,000 Somalis died of starvation.The U.S. involvement was to facilitate the delivery of food shipments. American military forces mounted an operation, and soldiers were flown in via Black Hawk helicopters, two of which were shot down.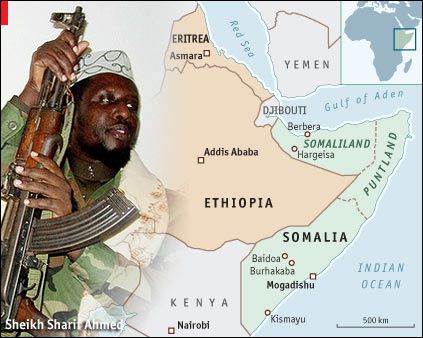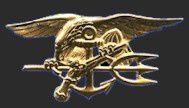 M60 7.62mm Machine Gun

The M60 is a gas-operated, air-cooled, belt-fed, automatic machine gun that fires from the open-bolt position. It has a maximum rate of fire of 550 rounds per minute. Ammunition is fed into the weapon from a 100-round bandoleer containing a disintegrating metallic split-link belt. It can be fired from the shoulder, hip, or underarm position; from the bipod-steadied position; or from the tripod-mounted position.

The M60 Machine Gun has been the US Army's general purpose machine gun since 1950. It fires the standard NATO 7.62 mm round and is used as a general support crew-served weapon. It has a removable barrel which can be easily changed to prevent overheating. The weapon has an integral, folding bipod and can also be mounted on a folding tripod.

The M60 machine gun uses several different types of 7.62-mm standard military ammunition. Soldiers must use only authorized ammunition that is manufactured to US and NATO specifications. The ammunition is issued in a disintegrating, metallic, split-linked belt. The preferred combat ammunition mix for the M60 is a four-ball (M80) and one-tracer (M62) mix. Again, the four-and-one mix allows the gunner to use the TOT method of adjusting fire to achieve target kill.

The ammunition is stored under cover. If ammunition is in the open, it must be kept at least 6 inches above the ground and covered with a double thickness of tarpaulin. The cover must be placed so that it protects the ammunition yet allows ventilation. Trenches are dug to divert water from flowing under the ammunition. Ammunition should not be removed from the airtight containers until ready for use. Ammunition removed from the airtight containers, especially in damp climates, may corrode.
| | |
| --- | --- |
| Type | Use |
| M61 Armor-piercing | Against lightly armored targets. |
| M62 Tracer | For observation of fire, incendiary effects, signaling, and training. |
| M80 Ball | Against light materiel targets and personnel, and for range training. |
| M63 Dummy | During mechanical training. |
| M82 Blank | During training when simulated live fire is desired (A blank firing attachment must be used to fire this ammunition). |
The 7.62-mm M60 machine gun supports the rifleman in offense and defense. It provides the heavy volume of close and continuous fire the rifleman needs to accomplish his mission. The M60 is used to engage targets beyond the range of individual weapons, with controlled and accurate fire. The long-range, close defensive, and final protective fires delivered by the M60 form an integral part of a unit's defensive fires.

Application of fire consists of the methods the gunner uses to cover a target area. Training these methods of applying fire can be accomplished only after the soldiers have learned how to recognize the different types of targets they may find in combat, how to distribute and concentrate their fire, and how to maintain the proper rate of fire. Normally, the gunner is exposed to two types of targets in the squad or platoon sector: enemy soldiers and supporting automatic weapons. These targets have priority and should be engaged immediately.

The M60 was type classified in 1957 as a companion to the 7.62mm M14 rifle. The M60 is lighter than the .30 cal. M1919A6 and only slightly heavier than the .30 cal. M1918A2 Browning Automatic Rifle (BAR) it replaced.

The M60 7.62mm machine gun has been the U.S. Army's general purpose medium machine gun since the late 1950s. The M60 fires standard NATO 7.62mm ammunition and is used as a general support crew-served weapon. It has a removable barrel which can be easily changed to prevent overheating. The weapon has an integral, folding bipod and can also be mounted on a folding tripod. The M60 has a rate of fire of 600 spm.

The M60C and M60D are aircraft versions of the basic M60 machine gun.
The M60 joined the United States Army's arsenal in 1959. It was to incorporate the best features of other successful guns, and the two which took the imagination of the designers were the World War II German MG42 and the FG42. The locking arrangements are from the FG42 and the feed and belt are from the MG42.

The M60 machine gun was the first U.S. gun to have a quick-change barrel. The original system did not work well because the gas cylinder, the barrel, and the bipod were permanently attached to each other. This drawback has been eliminated in the M60E1. In the early years of Viet Nam, Marines the 7.62mm (.30 caliber) M60 machine gun replaced the esteemed Brownings, but would be found wanting. The M60E1 has proven to be as good a gun as any NATO GPMG. In Vietnam, in thousands of fire fights, the M60E1 gave the U.S. Infantryman the handheld firepower he needed. Each standard Infantry Company was issued six M60 machine guns.

The M60 machine gun was never deemed fully satisfactory by its users despite efforts by both the Marine Corps and the Army to correct its many deficiencies. In the 1980s the M60 was replaced by the Belgian Fabrique Nationale 7.62mm MAG-58 general purpose machine gun, re-designated as the M240. The M60 series is being replaced by the M240B 7.62mm medium machine gun.

The M60/MK43 7.62mm Machine Gun within the NSW Inventory has proven to be less than reliable, NSW users have lost confidence in the weapon and the weapon is becoming logistically unsupportable. USSOCOM approved a MNS/ORD on 21 March 2001 for a new Lightweight 7.62mm Machine Gun (LMG).

Aircraft Mounts

The M144 armament subsystem consists of a left and right side mount marked "LEFT" or "RIGHT" respectively. Each is riveted inside the side window frame of a UH-60 series helicopter. Attached to the mount is the M60D machine gun with an ejection control bag and an ammunition can assembly. The mount assembly is made up of the pintle mount assembly, release arm assembly, and support mount.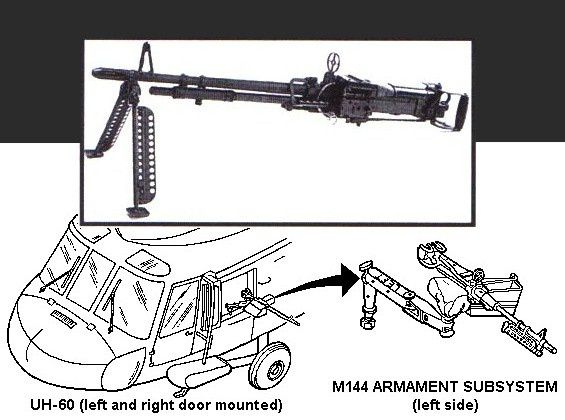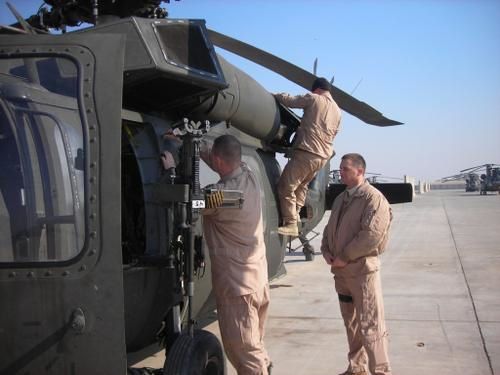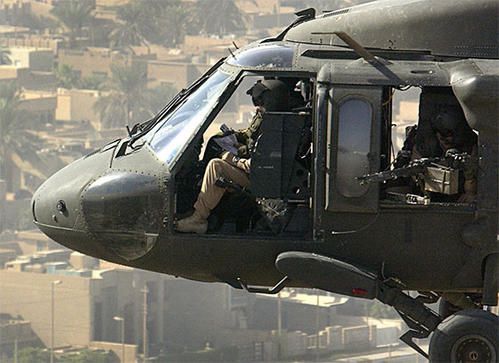 Manufacturer

Saco Defense, U.S. Ordnance

Specifications

Weight

10.5 kg (23.1 lb)

Length

1,077 mm (42 in)

Barrel length

560 mm (22 in)

Cartridge

7.62x51mm NATO

Action

Gas-operated, open bolt

Rate of fire

~550 rounds/min

Muzzle velocity

853 m/s (~2,800 ft/s)

Effective range

1,100 m (~1,200 yd)

Maximum range

3,725 m (~4,074 yd)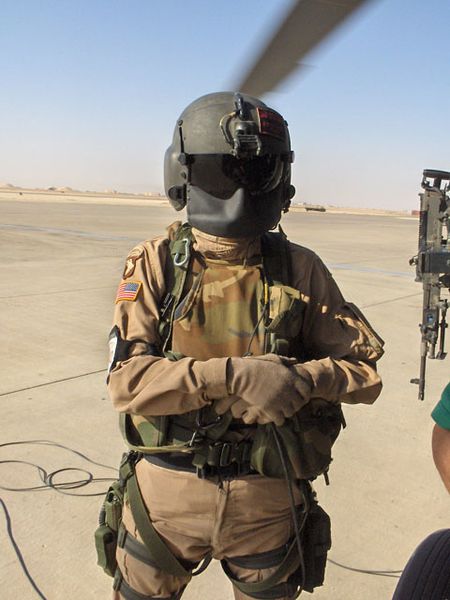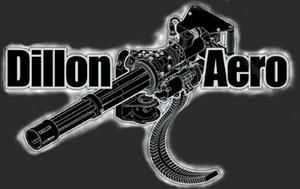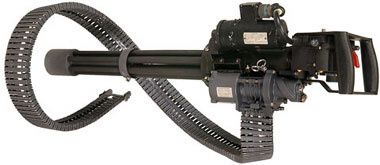 The Dillon M134D Gatling Gun is the finest small caliber, defense suppression weapon available. It is a six barreled, electrically driven machine gun chambered in 7.62mm NATO and fires at a fixed rate of 3,000 shots per minute.

Gatling Guns typically feed from a 3,000 or 4,400 round magazine. They are capable of long periods of continuous fire without threat or damage to the weapon making them an excellent choice for defensive suppression.

Dillon Guns are reliable. The M134D has system life in excess of one million rounds and an average time between stoppage of 30,000 rounds. In the unlikely event of a stoppage the weapon can be serviced and made operational again in under a minute. The multi barrel design means that each barrel only experiences a 500 round per minute rate of fire. This allows for repeated long bursts of fire and a barrel group life of 100,000 rounds.

Weights

Fixed Forward Fire: 56.9 lbs

Crew Served Gun: 66.1 lbs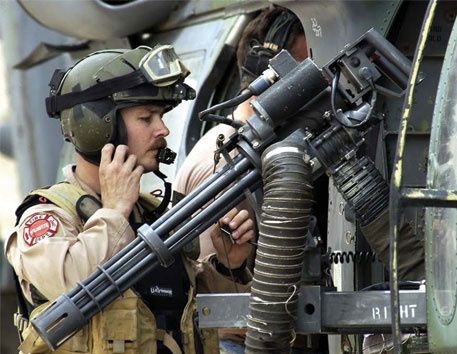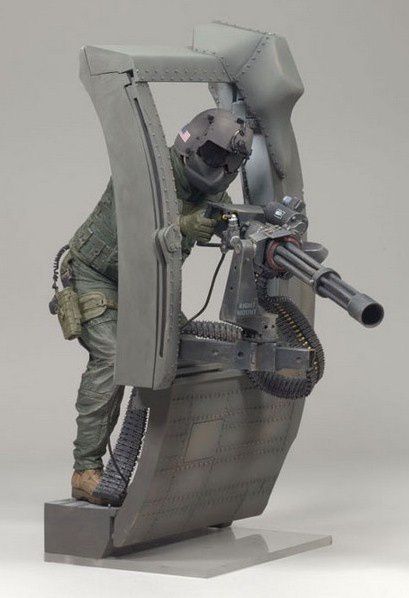 .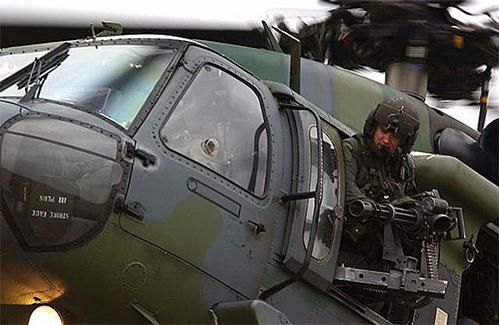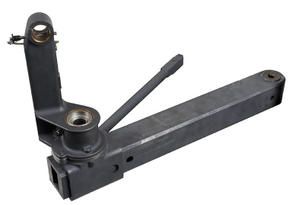 Black Hawk Mount

Colt M4 and M4A1 carbine
Assault rifle (USA)


The Colt company developed various carbine versions of the basic AR-15 / M16 rifle since 1970s. These carbines were intended for all markets - military, law enforcement, civilian. US Military (and some other armies, most notably - Israeli Self-Defense Forces) had adopted the Colt CAR-15 Commando and XM-177 carbines during the 1970s and 1980s. But early in 1990s the old idea of replacing the pistols in the hands of the troops with some more effective, shoulder fired weapon, rise again in the heads of the US Military. In fact, this idea can be dated back to the US M1 Carbine of 1941, but good ideas never die. So, in the 1994, US Army adopted the Colt Model 720 selective-fire carbine (basically, a shortened M16A2 rifle), as the US M4 Carbine.

This weapon was intended to replace in service some M9 pistols, as well as some aged M3A1 submachine guns and some M16A2 rifles. New weapon was much more handy and comfortable to carry, than the long M16A2 rifle, so the US Special Operations Command (SOCOM) put its eye on the M4 as a possible universal weapon for all Special Operations community. For this purpose M4 was latter modified with the M16A3-style flat-top receiver with integral Picatinny-type accessory rail instead of the M16A2/M4-type integral carrying handle.


The other change in the M4A1, when compared to M4, is that its trigger unit is modified to fire full-auto instead of the three shots bursts. Specially for the SOCOM M4A1s US Naval Surface Warfare Center developed a SOPMOD M4 kit, that consisted of the M4A1 carbine equipped with Rail Interface System (RIS) instead of the standard handguards.

The kit also includes a variety of the add-on goodies, such as various sights (ACOG 4X telescopic, ACOG Reflex red-dot, detachable back-up open sights), laser pointers (visible and infra-red), detachable sound suppressor (silencer), modified M203 40mm grenade launcher (with shortened barrel and improved sights). The kit also included a detachable front grip and tactical light.

From the first sight, the M4A1 SOPMOD is an ideal Special Operations weapon - handy, flexible, with good firepower. But the latest experience in the Afghanistan showed that the M4 has some flaws. First of all, the shorter barrel commands the lower bullet velocities, and this significantly decreased the effective range of the 5.56mm bullet. Second, the M4 barrel and the forend rapidly overheats.

Third, the shortened barrel resulted in the shortened gas system, which works under greater pressures, than in M16A2 rifle. This increases the rate of fire and produces more stress on the moving parts, decreasing the reliability. While adequate as a Personal Defense Weapon for the non-infantry troops (vehicle crews, clerks, staff officers etc), M4A1 is, by some accounts, less than ideal for the Special Operations troops, at least in its present state. The idea of the complete re-arming of the US Army with the M4 as a money-saving measure, also is somewhat dubious.


Caliber: 5.56mm NATO
Action: Gas operated, rotating bolt
Overall length: 838 mm (stock extended); 757 mm (stock fully collapsed)
Barrel length: 370 mm
Weight: 2.52 kg without magazine; 3.0 kg with magazine loaded with 30 rounds
Rate of fire: 700 - 950 rounds per minute
Maximum effective range: 360 m