20 septembre 2010
1
20
/

09
/

septembre
/

2010
06:02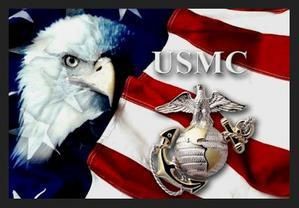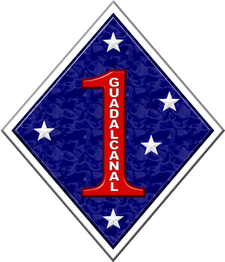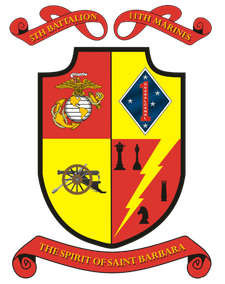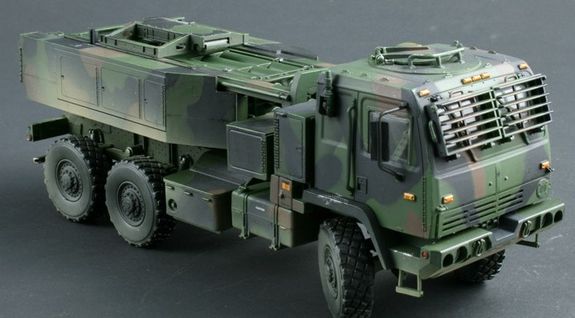 HIMARS M142
The high-mobility artillery rocket system (HIMARS) is the newest member of the multiple-launch rocket system (MLRS) family. HIMARS is a highly-mobile artillery rocket system offering the firepower of MLRS on a wheeled chassis. HIMARS was developed by Lockheed Martin Missiles and Fire Control under an advanced concept technology demonstration (ACTD) programme, placed in 1996.
In January 2000, Lockheed Martin was awarded an EMD (engineering and manufacturing development) contract to provide six HIMARS launchers. A further two HIMARS launchers were ordered under a two-year user evaluation programme for the US Marines Corps.
In March 2003, the US Army and Marine Corps signed a contract for the low-rate initial production (LRIP) of 89 launchers for the Army and four for the USMC. A second LRIP contract was awarded in January 2004 for 25 launchers for the army and one for the USMC. A third was awarded in January 2005 for 37 launchers for the army and one for the USMC. A total procurement of 900 launchers is planned.
"HIMARS is able to launch its weapons and move away at high speed."
In November 2004, HIMARS successfully completed initial operational test & evaluation (IOT&E). Three prototype HIMARS launchers were successfully used in combat during Operation Iraqi Freedom.
HIMARS entered service in June 2005 with the 27th Field Artillery, 18th Airborne Corps at Fort Bragg, North Carolina. The first full-rate production contract was awarded in December 2005.
HIMARS is also in service with 1st Battalion, 181st Field Artillery Tennessee National Guard, 158th Field Artillery Oklahoma National Guard (both since 2006) and 5th battalion, 3rd Field Artillery, Fort Lewis (since November 2007).
The first US Marine Corps battalion equipped with HIMARS, 2nd Battalion, 14th Marine Regiment, was deployed to Iraq in July 2007.
In September 2006, the United Arab Emirates requested the foreign military sale (FMS) of 20 HIMARS launchers plus munitions including 101 ATACMS block 1A, 101 ATACMS block 1A Unitary, 104 MLRS, 130 GMLRS and 130 GMLRS unitary rocket pods.
In January 2007, Lockheed Martin was awarded a further contract for 44 HIMARS systems for the US Army and 16 for the USMC, for delivery by 2009. In January 2009, a contract for 64 launchers (57 for the US Army and 7 for the USMC) was placed for completion by March 2010.
In September 2007, the US Congress was notified of the proposed sale to Singapore of 18 HIMARS launchers plus 32 Unitary GMLRS pods and 30 MLRS practice rocket pods.
"The HIMARS artillery rocket launcher can aim at a target in just 16 seconds."
The purpose of HIMARS is to engage and defeat artillery, air defence concentrations, trucks, light armour and personnel carriers, as well as support troop and supply concentrations. HIMARS is able to launch its weapons and move away from the area at high speed before enemy forces are able to locate the launch site.
HIMARS fire control
HIMARS retains the same self-loading and autonomous features installed on the MLRS. The improved launcher mechanical system (ILMS) upgrade and electronics of the improved fire control system (IFCS), which upgraded MLRS M270 launchers are also fitted to HIMARS vehicles.
Lockheed Martins universal fire control system (UFCS), a further evolutionary upgrade of the fire control system, has completed development and qualification and from mid 2008 is being fitted to full-rate production HIMARS. Successful HIMARS test firings of the ATACMS missile (in March 2008) and GMLRS rockets (in May 2008) took place using the new GPS-guided UFCS.
HIMARS is operated by a crew of three - driver, gunner and section chief - but the computer-based fire control system enables a crew of two or even a single soldier to load and unload the system. The fire control system includes video, keyboard control, a gigabyte of programme storage and global positioning system. The fire control computer allows firing missions to be carried out in automatic or manual mode.
In a typical mission, a command and control post would transmit the selected target data via a secure data link to the HIMARS on-board launch computer. The computer then aims the launcher and provides prompt signals to the crew to arm and fire a pre-selected number of rounds. The launcher can aim at a target in just 16 seconds. It is possible for the crew to select preprogrammed multiple mission sequences which have been stored in the computer.
High mobility artillery rocket system munitions
In addition to the standard MLRS round, HIMARS is capable of launching the entire MLRS family of munitions, including the extended-range rocket, the reduced-range practice rocket and all future variants. HIMARS carries a single six-pack of MLRS rockets, or one army tactical missile system (ATACMS) missile.
"HIMARS has successfully test fired the new extended range guided rocket GMLRS, with a range of more than 70km."
The extended-range MLRS rocket (ER-MLRS) improves the basic M26 range of 32km to more than 45km and the area of influence by 107%.
The extension of the rocket motor has resulted in a reduction in the payload to 518 M85 grenades, but the dispersion of the grenades is improved for better effectiveness with fewer grenades.
In April 2004, HIMARS successfully test fired the new extended range guided rocket GMLRS, with a range of more than 70km.
The Lockheed Martin GMLRS rocket has a GPS (global positioning system) and inertial guidance package and small canards on the rocket nose to enhance accuracy. GMLRS completed System Development and Demonstration (SDD) tests in December 2002 and entered low-rate initial production in April 2003.
Initial operating capability (IOC) was achieved in 2006, but the system has been operationally deployed since September 2005 in Iraq. The GMLRS is an international programme involving UK, Italy, France and Germany as well as the US. The industrial team includes Diehl, MBDA and FiatAvio.
First deliveries of a unitary variant of GMLRS, with a single 81.6kg (180lb) warhead, developed by General Dynamics Ordnance and Tactical Systems, and a range of up to 70km were in May 2005. In October 2003, Lockheed Martin was awarded an SDD contract for 86 unitary variant rockets, delivered in June 2005. In June 2007, GMLRS Unitary entered low-rate initial production (LRIP).
Army tactical missile system (ATACMS)
HIMARS is capable of firing the long-range ATACMS (army tactical missile system) guided missile. The ATACMS family includes the Block 1, Block 1A and Block 1A Unitary missiles. The block 1 missile delivers 950 anti-personnel anti-material (AP/AM) baseball-sized M74 submunitions to ranges exceeding 165km.
The block 1A missile range exceeds 300km by reducing the submunition payload to 300 bomblets and adding GPS guidance. The Block 1A unitary missile, with a single-burst warhead, was first deployed in support of Operation Iraqi Freedom in March / April 2003.
"HIMARS is capable of launching the entire MLRS family of munitions, including the extended-range rocket."
The program to develop the Block II missile, with GPS and 13 BAT (brilliant anti-tank) submissiles, and Block IIA missile, with six improved BAT submissiles, was cancelled in February 2003.
Vehicle
HIMARS carries a single six-pack of rockets on the army's family of medium tactical vehicles (FMTV) 6x6 all-wheel drive 5t truck supplied by Armor Holdings Tactical Vehicle Systems Division (formerly Stewart and Stevenson), Texas. The HIMARS vehicle weighs approximately 24,000lb compared to more than 44,000lb for the MLRS M270 launcher.
HIMARS is transportable on the C-130 aircraft, allowing the system to be moved into areas previously inaccessible to the larger C-141 and C-5 aircraft required for the M270 launch vehicle.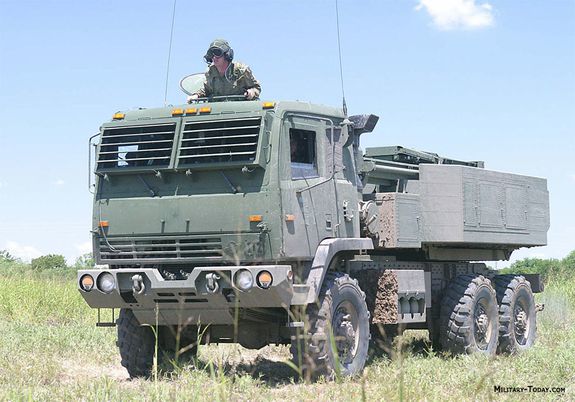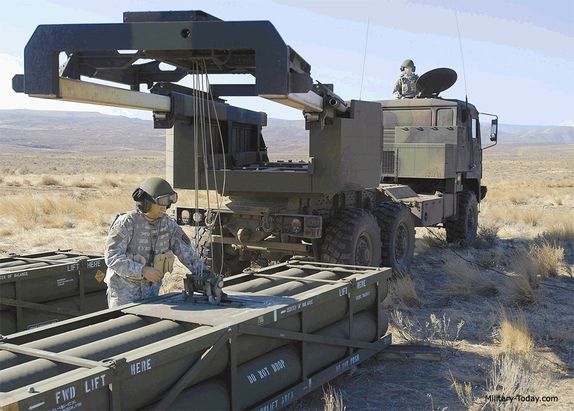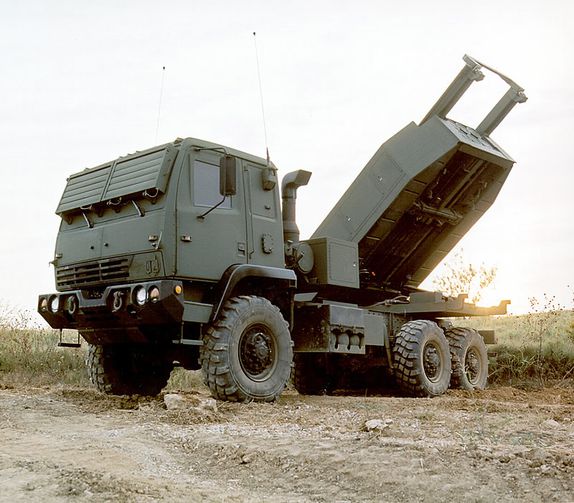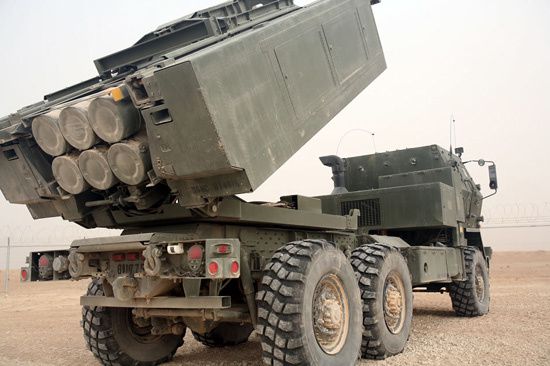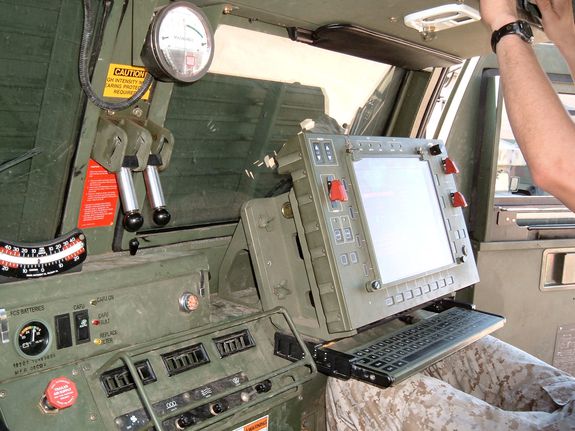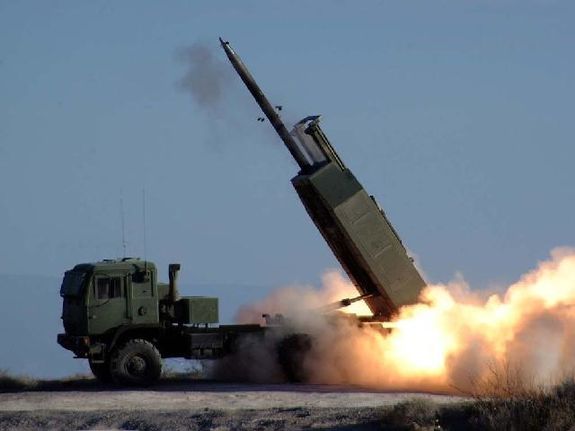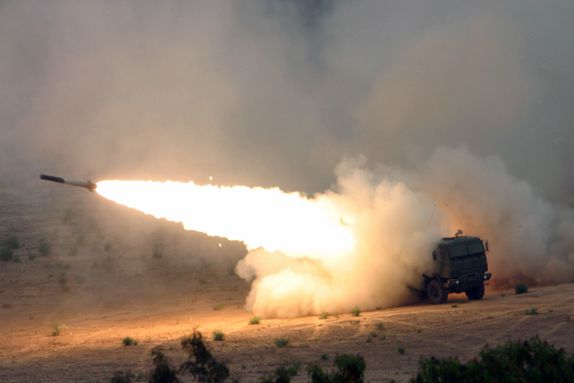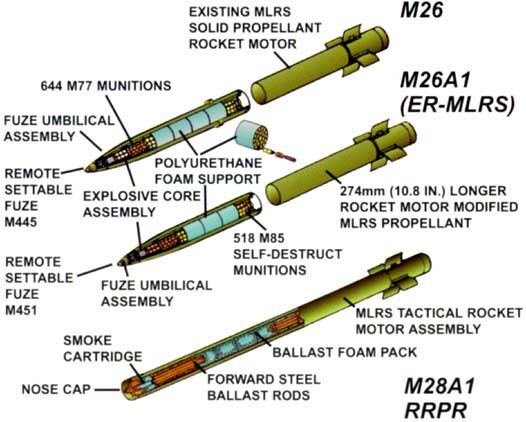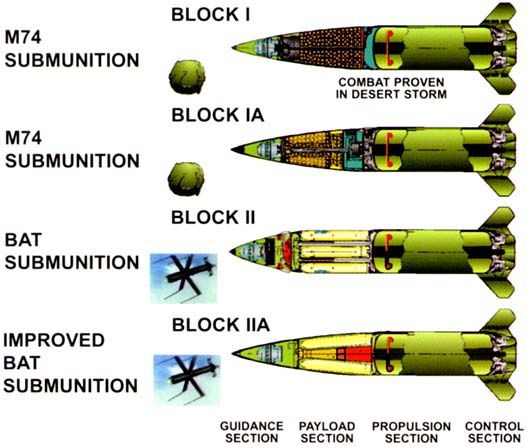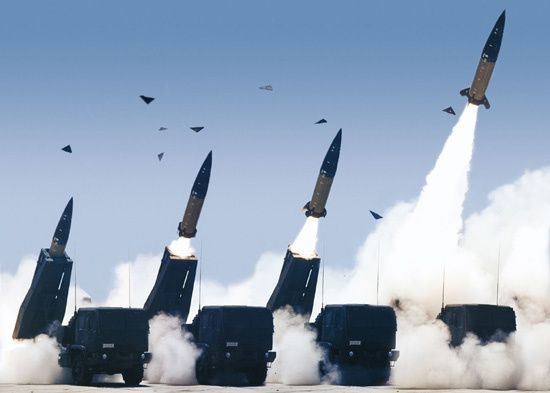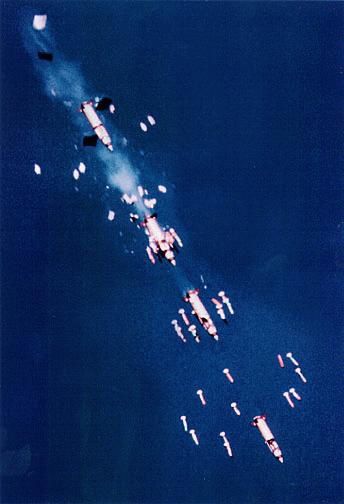 5th Battalion 11th Marines
Mission
Provide direct support of the 1st Marine Division and the Marine Expeditionary Units in time of conflict. That support may come in the traditional fashion of artillery support to maneuver forces, or by providing batteries to serve as provisional rifle companies. They also have the secondary mission of being the primary providers of civil-military operations (CMO). CMO is defined as the activities of the commander that establish, maintain, influence, or exploit relations between military organizations, Government and civilian organizations and the civilian populace.
Current units
Headquarters Battery - "HQ"
Battery R - "Romeo," currently conducting operations in support of Operation Enduring Freedom.
Battery S - "Sierra," currently preparing to deploy in support of Operation Enduring Freedom.
Battery T - "Tango," currently conducting operations in support of Operation Enduring Freedom.
History
World War II
5th Battalion 11th Marines was activated on May 1, 1942 at New River, North Carolina. In June of that year they deployed to Wellington, New Zealand. They were re-designated on January 1, 1943 as the 4th Battalion, 11th Marines. During the war they participated in the following campaigns:
Battle of Guadalcanal

Eastern New Guinea
New Britain
Battle of Peleliu
Battle of Okinawa
Following the surrender of Japan, the battalion was deployed to Tientsin, China as part of the occupation of northern China from October 1946 to January 1947. In January they returned to the United States to Marine Corps Base Camp Pendleton, California and were reassigned to the 3rd Marine Brigade. The battalion was deactivated on February 17, 1947. Later that year they were again activated on July 16 only to be deactivated again on September 30.
Korean War
The battalion was reactivated on August 4, 1950 at MCB Camp Pendleton and were assigned to the 1st Marine Division. In August they deployed to Kobe, Japan and fought in the war until the Korean Armistice Agreement was signed on July 27, 1953 . They participated in the following campaigns:
Inchon/Seoul Campaign
Battle of Chosin Reservoir
East/Central Front
Western Front
Following the war the battalion remained in Korea and participated in the occupation of the Korean Demilitarized Zone from August 1953 until March 1955 when they relocated to MCB Camp Pendleton
Vietnam War
The battalion was relocated to the Marine Corps Air Ground Combat Center Twentynine Palms, California. In February 1966 the battalion deployed to the Republic of Vietnam as part of the 1st Marine Division. They fought in Vietnam Until October 1970 operating from Chu Lai and Danang. They returned to the MCAGCC Twentynine Palms and were deactivated on November 15, 1974.
1980s and 1990s
The battalion was reactivated on February 15, 1979 at MCAGCC Twentynine Palms, California from units that had comprised the 1st Field Artillery Group. They were redesignated as 5th Battalion, 11th Marines on October 1, 1984. The regiment participated in Operation Desert Storm from August 1990 until March 1991. During July and August 1994 the battalion helped fight major forest fires in the western United States.
Iraq
The battalion participated in the 2003 invasion of Iraq and has made subsequent deployments to Iraq as part of Operation Iraqi Freedom (OIF). During the 2003 invasion (OIF I), 5/11 participated on every major battle including the siege of Baghdad, Al Kut and Tikrit (Saddam Hussein's home town). The battalion fired more artillery rounds and drove further in less time than any artillery battalion in history during the invasion, and set the bar as the only artillery unit involved in Task Force Tripoli. In July 2006, Marines from Tango Battery was deployed to the Al Anbar province of Iraq.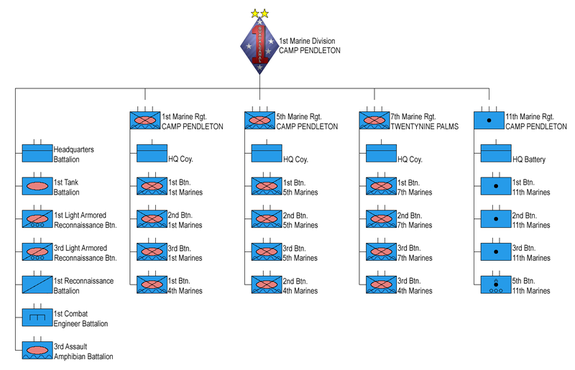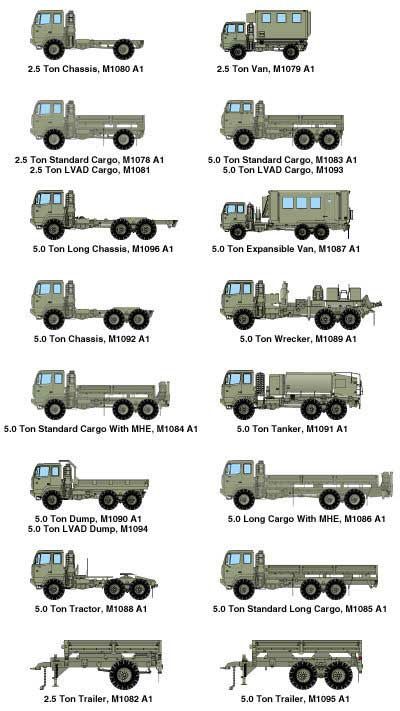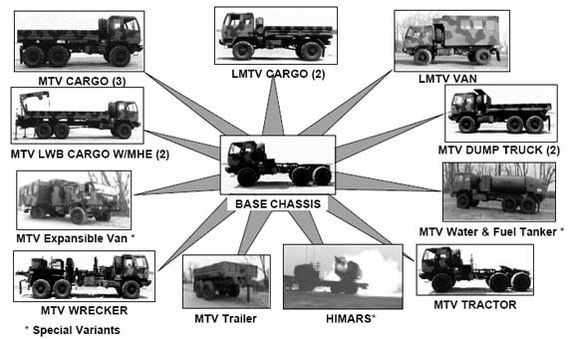 Entered service

2005

Crew

3 men

Dimensions and weight

Weight

?

Length

7 m

Width

2.4 m

Height

3.2 m

Armament

Caliber

240-mm

Number of tubes

6

Rocket weight

307 kg

Warhead weight

?

Firing range

2 - 40 km

Full salvo duration

~ 25 s

Reloading time

5 minutes

Mobility

Engine

Caterpillar 3115 ATAAC 6.6-liter diesel

Engine power

290 hp

Maximum road speed

85 km/h

Range

480 km

Maneuverability

Gradient

60%

Side slope

30%

Vertical step

?

Trench

?

Fording

0.9 m
.
.