12 décembre 2008
5
12
/

12
/

décembre
/

2008
23:36




.....................................

U.S. HUMVEE®
- -
SKN: 81002 | SCALE: 1:32

As the most popular tactical vehicle today, the M998 HUMMWV (dubbed Humvee) is currently used with many armies. However, only few except for the Israelis and US Army and US Special Forces are operating protected Humners.

The M998 High Mobility Multipurpose Wheeled Vehicle (HMMWV, pronounced "Humvee", also dubbed "Hummer") is the most commonly deployed tactical vehicle used by the Armed forces of the USA and its allies. The original vehicle offers excellent road and cross-country mobility. It was designed in a variety of configurations; primarily for utility, logistical and scout missions. Where active combat role was considered, the Humvee was selected for its excellent cross country and road, air and helicopter mobility and load capacity. It was never intended to perform as armored combat vehicles. Such specification precluded armor protection, in order to maintain its low empty weight and thus high mobility standard.

During and after the Kosovo conflict, the US Army decided to protect a small part of its Humvee fleet. The armored version would be heavier – resulting in reduced deployment flexibility. The US Marine Corps, requiring operational speed for its forces, opted not to protect its Humvees. Thus, in Iraq, they are currently forced to use some up-armored vehicles loaned from the US Army. The design of the up-armored M1114 Humvee matured around a standard protection kit adding about 2,000 pounds weight to the standard Humvee.

The first up-armored version came off the production line in 1996. In addition to steel plating and ballistic-resistant windows around the cab of the vehicle offering improved protection against small arms fire and shrapnel, the steel plating underneath is design to survive up to eight pounds of explosive beneath the engine to four pounds in the cargo area.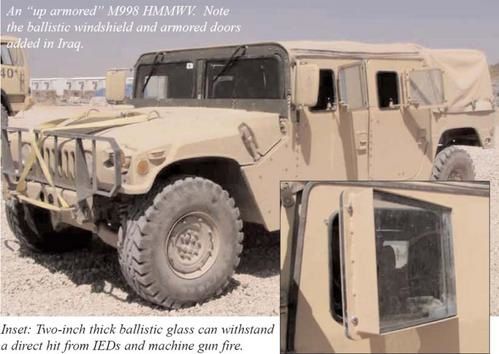 Unlike the US army that considering the vehicle mainly for utility and cross-country transportation, the Israeli Army planned more tactical roles for the Humvee, which required higher level of protection. The heavier armor protection required further automotive and structural modifications stretching these M-1113 ECV designated vehicles to their limits. However, during the Lebanon conflict and fighting urban guerilla warfare in the occupied territories, the up-armored IDF Humvees, demonstrated their capability to withstand most types of attacks successfully.

During the security and stability operations that followed operations Enduring Freedom (Afghanistan) and Iraqi Freedom (OIF), a limited number of up-armored Hummers were available in theater, but as of May 2004, most vehicles remain unprotected. As a result, many Hummers are often falling prey to repeated attacks that causing heavy casualties to coalition forces. Soldiers traveling in these soft skinned vehicles become highly vulnerable to every type of attack, even stone throwing and fire bombs. Highest lethality attacks are by small-arms fire, grenades, mines and RPGs.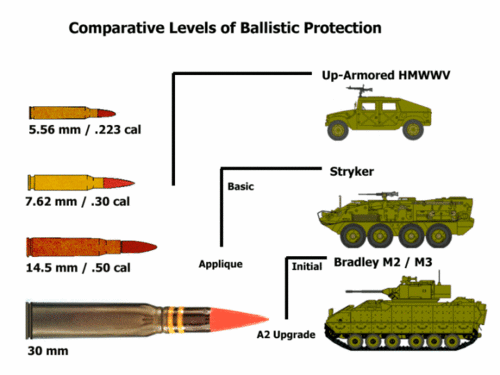 Among the most dangerous are the IED ambush and roadside bombs. In autumn 2003, responding to urgent calls from the field, requesting armor suits for the soft vehicles, the US Army launched a crash program to protect many of Humvees. The program proceeded in two parallel directions – accelerated delivery of highly protected up-armored vehicle, and implementation of improvised near-term solutions adding some protection levels to the crews. Makeshift armoring of vehicles, and ad-hoc in-the-field solutions became temporary measures by the forces in situ.

On May 2004 the US Senate approved US$618 million funding for the production of 300 M1114s per month from May through October, and 450 per month, from October 2004 till March 2006. $610 million were also allocated for armor kits for existing tactical vehicles. According to Major General John Sattler, Director of Operations for CENTCOM, the US Army initial assessments were that 1,000 up-armored Humvees will be sufficient for patrol, convoy protection and transportation in Iraq and Afghanistan. However, as opposition forces in both countries changed their ambush tactics and IED techniques, the numbers where updated, calling up for 2,500 more M-1114 up-armored Humvees. Currently, production of 2,000 more vehicles are on contract, and expected to be delivered in theater by December 2004, with approximately 4,500 up-armored humvees scheduled to be operational in the theater. In addition, 8,000 up-armored kits are on ordered and being installed to protect windshields and doors for additional vehicles, including trucked and soft skinned Humvees.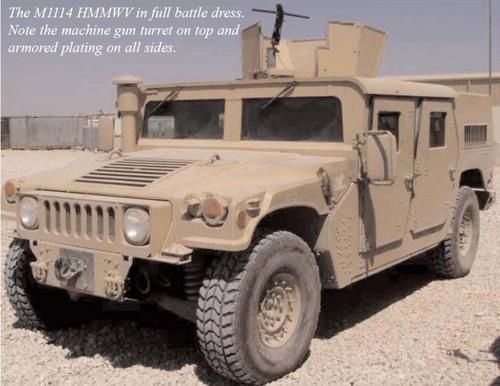 Armor Specifications
7.62mm Assault Rifle Armor Piercing Perimeter
155mm Artillery Airburst Overhead
12 lbs Front and 4 lbs Rear Anti-Tank Mine Protection



As of May 2004, the US Army currently operates several versions of up-armored Humvees - the production model fitted to new vehicles, field modified vehicles, up-armored with the Armor Survivability Kit (ASK) developed by the US Army to improve the protection for Soldiers traveling with standard Humvee. Six Army depots are producing ASK, are scheduled to ship up to 5,000 kits by the end of 2004. In parallel, production of new up-armored Humvees is accelerated. In April 2004, a $110 million contract was awarded to O'Gara, (now called Centigon) for the supply of up-armored Humvees. By July 2004 the company is planning to increase production rate to 300 vehicles per month, up from the current 220. Another contract worth $ 30 million was awarded to ArmorWorks, for additional armoring kits for Humvees.

By December 2004 the company delivered 1,000 Humvee Armor Kits to the US Army. Many of the remaining vehicles are fitted with steel plates and sandbags, improvised in theater. Battelle has also developed a lightweight armor kit for HMMVWs, The kit weighs around 750 pounds, (about a third of the weight of standard Humvee's armor). By September 2004, 75 initial kits were delivered to special operations units and 400 more are on order

One of the most important requirements for combat vehicle's protection is counter mine design. Traditionally, guerilla forces used standard mines to hit enemy patrols and military vehicles. Such mines included small (anti-personnel) or larger anti-tank mines, as well as armor penetrating and self-forged fragmentation (SFF) mines. Mines originally developed as a defensive weapon, were originally used to delay and disrupt enemy movements into a defense organized area. Mines are usually laid on the ground either exposed or buried, and are activated by pressure, magnetic influence, or other effects (tripwire, etc.). When employed by paramilitary and guerilla forces, mines are used mainly buried in unpaved remote countryside routes. Mines are usually based on few common operating mechanisms, which are familiar to mine disposal professionals. Therefore, effective protection and countermine techniques can be employed against such threats.

Protection of vehicles against mines generally follows several guidelines, including blast deflection, mitigation and roll prevention. The most common technique is the use of oblique blast absorbing panels, on the hull floor. These panels are deflecting the shock and fragments outside the fighting compartment, and stabilize the vehicle, preventing it from rolling over. Another concept is the use of outrider wheels, covered by spacious wheel bays which disintegrate by the blast, absorbing much of the pressure thereby reducing the lethal effect on the vehicle's hull. Such elements were implemented on South African and Indian mine-protected vehicles, as well as the Israeli RAM and RAM-2000 and the mine protected Abir version.

The rise of the global terror, assisted by the proliferation of modern communications technology, introduced a dangerous shift from the familiar standard issue weapons, to the use of improvised explosive devices (IEDs). The introduction of such makeshift weapons proliferated in Ireland, Chechnya, Iraq and Afghanistan, Bosnia, Lebanon and by the Palestinians in the occupied territories. As evidently proved in Iraq and Chechnya, the use of such explosive devices is not adopted from lack of basic, standard issue weapons, but due to the tactical advantages of such systems, when employed by loosely organized urban guerilla cells. Unlike the mine which is triggered by pressure or magnetic influence, IEDs do not necessarily require physical contact or pressure for activation but can be activated by remote control, including wire, electronic signals or cellular phone. This mode of operation can be employed against selective targets, even on busy urban traffic lanes, as repeatedly demonstrated in Iraq. In fact, the IED has become the symbol of the modern urban guerilla.

Standard mine protected vehicles do not always provide the optimal protection against IED. But they can provide the first of defense when an army encounters IED environment. Since operation of IED is characteristic of urban guerilla warfare, rapid response against IED is imperative for survival. Unarmored vehicles must be fitted with armored cabins, providing reasonable blast protection, on top of standard bullet-proof defense. Large windows, firing ports and access doors on both sides of the vehicle, are required for rapid and safe dismounting of the crew, enabling them to regroup and respond quickly with effective fire. Such concepts are provided for both Humvee tactical utility and transportation vehicles, such as the MTVR truck and Remote controlled firing stations, mounting light machine guns, Automatic Grenade Launchers (AGL), observation systems and ranging devices (target markers, laser rangefinders etc), are required for effective counter-IED action in an urban environment. Such equipment is of course vulnerable, but mutual cover by precision firepower from adjacent vehicles in the combat patrol denies the enemy further damage, provided that the engagement is quick, decisive and accurate.







Golden Humvee









BGM-71 / M-220 Tube-launched, Optically tracked,
Wire-guided missile (TOW)

Primary function: Guided missile weapon system.
Manufacturer:
Hughes (missiles)
Hughes and Kollsman (night sights)
Electro Design Mfg. (launchers)
Size:
TOW 2A Missile:
Diameter: 5.87 inches (14.91 cm)
Length: 50.40 inches (128.02 cm)
TOW 2B Missile:
Diameter: 5.8 inches (14.9 centimeters)
Length: 48.0 inches (121.9 centimeters)
Warhead weight 12.4 kg Maximum effective range: 2.33 miles (3.75 kilometers)
Armor penetration: T-80 + / 800+ mm [>700 mm]
Time of flight to maximum effective range:
2A: 20 seconds
2B: 21 seconds
Weight:
Launcher w/TOW 2 Mods: 204.6 pounds (92.89 kilograms)
Missile Guidance Set: 52.8 pounds (23.97 kilograms)
TOW 2 Missile: 47.4 pounds (21.52 kilograms)
TOW 2A Missile: 49.9 pounds (22.65 kilograms)
TOW 2B Missile: 49.8 pounds (22.60 kilograms





TOW on the Wire





M966 HMMWV TOW Missile Carrier Armored
The M966, M996A1, M1121, and M1036 HMMWVs are TOW Missile Carrier configurations of the HMMWV family.

The vehicles are equipped with basic armor and TOW launcher mounted on the roof of the vehicle. The vehicles are used to transport and launch TOW missiles to defeat armored vehicles.

The weapons platform can be traversed 360 degrees. Weapon station azimuth is limited to 300° left and right of vehicle centerline when Vehicle Power Conditioner (VPC) cables are connected. With launcher installed, elevation is limited to 20° and depression is limited to 10°.

The vehicles can climb 60% slopes and traverse a side slope of up to 40% fully loaded. The vehicles can ford hard bottom water crossing up to 30 inches without a deep water fording kit and up to 60 inches with the kit.

The only difference between the M966, M966A1, and M1121 TOW carrier armored vehicles and the M1036 TOW carrier armored vehicle is that the M966, M966A1, and M1121 do not have winches and the M1036 does. The M1036's self-recovery winch can also be used to recover like systems.

The M996A1 model has the latest modifications applied to the vehicle.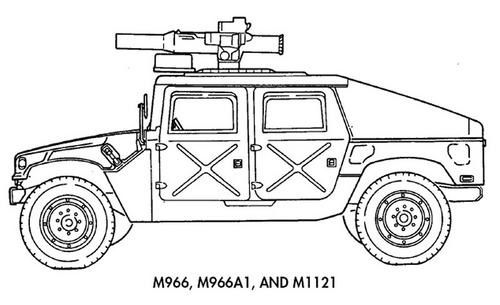 Specifications

Manufacturer

AM General

Width

85"

Ground Clearance

16" Loaded
Length

M966 / M998 / M1025 / M1035 / M1043 / M1045 / M1097

180"

M1026 / M1036 / M1038 / M1042 / M1044 / M1046

185"

M996 / M997

202"

Height

M998 / M1035 / M1037 / M1038 / M1042

69"

M966 / M1025 / M1026 / M1036 / M1043 / M1044 / M1045 / M1046

73"

M996

86"

M997

102"
Vehicle Curb Weight

M998 / M1035 / M1038

7,700 lbs.

M966 / M1025 / M1026 / M1036

8,200 lbs.

M1043 / M1044 / M1045 / M1046

8,400 lbs.

M966 / M1037 / M1042

8,660 lbs.

M997

9,100 lbs

M1097 / M1097A1

10,000 lbs.

M998A1 / M1035A1 / M1038A1

7,880 lbs.

M966A1 / M1025A1 / M1026A1

8,380 lbs.

M1043A1 / M1044A1 / M1045A1 / M1046A1

8,580 lbs.

M996A1

8,580 lbs.

M997A1

9,280 lbs.
Performance

Maximum Speed

55 mph Governed @ Gross Weight

Range

275 - 337 mi.

Maximum Grade

60%

Side Slope

40 deg.

Fording

Without Kit:30"
With Kit: 60"
Equipment Specifications

Cab

Crew Seating

2-4 Man

Seat Design

Fore/Aft Adjustable

Steering Type

Power Assist

Engine

Manufacturer

General Motors

Engine

Diesel, 8-cyl, 6.5 L, Naturally Aspirated

Rating

150 hp @ 3600 rpm, EPA-Certified

Fuel

Diesel, DF-2, JP-4, JP-8, VV-F-800

Cooling

Water, Radiator

Fan

Engine-Driven, Clutch Type

Transmission

Manufacturer

Allison, Fully Automatic

Speeds

3 Speeds Forward/ 1 Reverse

Transfer

Full Time All Wheel Drive, Integral Transfer Case

Self-Recovery Winch (Optional)

Operation

Electric

Load Capacity

Fifth Layer - 3,360 lbs.
Fourth Layer - 3,780 lbs.
Third Layer - 4,310 lbs.
Second Layer - 5,020 lbs.
First Layer - 6,000 lbs.
Specifications

M-1114

Up-Armored

Engine

6.5 liter Turbo Diesel 190hp

Transmission

4-Speed Automatic

Suspension

Independent Double A-Frame

Brakes

Hydraulic Power Disc Brakes

Maximum Speed

78 mph/125 kmh

Acceleration

0 to 30 mph (48 kmh) in 6.96 seconds
0 to 50 mph (80 kmh) in 17.84 seconds

Weight

12,100 lbs. / 5,489 lbs GVW

Range

Up to 275 miles (443 km)

Grade Capability

40%

Side Slope Capability

30%

Other

Full-time 4-Wheel Drive
Run-Flat Tires
130-inch Wheel Base
Air Transportable via C-130, C-141, and C-5
Accepts Mounted Armaments
Protection Features
Complete Perimeter Ballistic Protection
Mine Blast Protection
Overhead Airburst Protection
" White Glass" Transparent Armor
Gunner Shield
6.5L V8 Turbo Diesel Engine
Waterproof Dual Batteries
Accessible Payload
Electric De-Ice System
Turret Assembly
Heavy-Duty Air Conditioning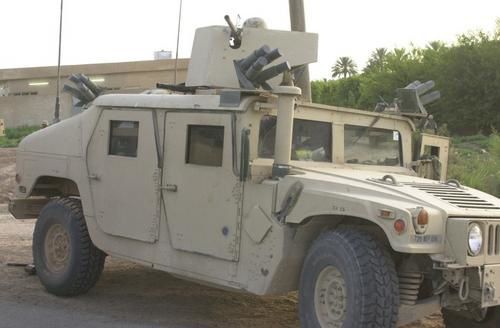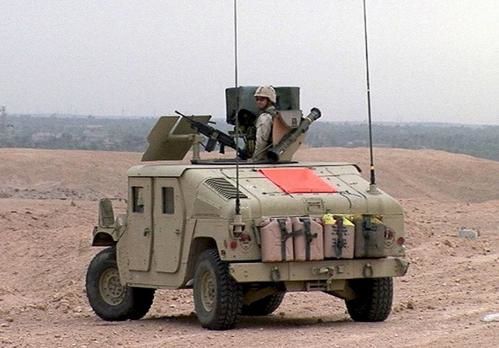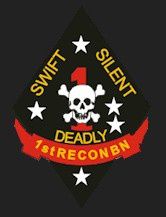 1st Reconnaissance Battalion

Camp Pendleton area 33

(1st Recon Bn) is a Reconnaissance battalion in the United States Marine Corps. It falls under the 1st Marine Division and the I Marine Expeditionary Force (I MEF). 1st Recon Bn was recently reactivated, on July 5, 2000 as part of Marine Corps Commandant General James L. Jones' mission to revitalize Marine Corps reconnaissance. Their scope of missions is broad and currently changing due to Force Reconnaissance units making a move to - Marine Corps Special Operations Command. 1st Reconnaissance Battalion currently consists of three Reconnaissance companies: Alpha, Bravo, and Charlie, with a supporting Headquarters Company. Delta company which used to fall under 1st Reconnaissance Battalion, now falls under the direct command of the I MEF commander. (1st Recon Bn) is a Reconnaissance battalion in the United States Marine Corps. It falls under the 1st Marine Division and the I Marine Expeditionary Force (I MEF). 1st Recon Bn was recently reactivated, on July 5, 2000 as part of Marine Corps Commandant General James L. Jones' mission to revitalize Marine Corps reconnaissance. Their scope of missions is broad and currently changing due to Force Reconnaissance units making a move to - Marine Corps Special Operations Command. 1st Reconnaissance Battalion currently consists of three Reconnaissance companies: Alpha, Bravo, and Charlie, with a supporting Headquarters Company. Delta company which used to fall under 1st Reconnaissance Battalion, now falls under the direct command of the I MEF commander.


Mission

Plan, coordinate, and conduct amphibious reconnaissance, ground reconnaissance and surveillance to observe, identify, and report enemy activity, and collect other information of military significance.


Conduct specialized terrain reconnaissance to include: hydrography, beaches, roads, bridges, routes, urban areas, helicopter landing zones, airborne drop zones, aircraft forward operating sites, and mounted reconnaissance missions.


When properly task organized with other forces, equipment or personnel, assist in specialized engineer, radio, mobile, and other unique reconnaissance missions.


Infiltrate mission areas by necessary means to include: surface, subsurface and airborne operations.


Conduct counter reconnaissance.


Conduct Initial Terminal Guidance (ITG) for helicopters, landing craft, parachutists, air-delivery, and re-supply.


Designate and engage selected targets with organic weapons and force fires to support battlespace shaping. This includes designation and terminal guidance of precision-guided munitions.


Conduct post-strike reconnaissance to determine and report battle damage on a specified target or area.


Conduct limited scale raids and ambushes.



Training
Potential Reconnaissance Marines in the past were screened by the receiving reconnaissance battalion and were subsequently assigned to a pre-basic reconnaissance course (Pre-BRC) program which were known as "Recon Indoc Platoon" or "Recon Training Platoon". However, due to changes made recently, Marines who wish to join the reconnaissance community must first complete the School of Infantry's Rifleman (0311) course prior to being assigned to the "MART" (Marines Awaiting Recon Training) platoon. The Marines then continue to the Basic Reconnaissance Course at the Reconnaissance Center of Excellence at School of Infantry, West aboard Camp Pendleton California.

While at this school prospective reconnaissance Marines, called "ropers" for the distinguishing sling ropes they are required to wear, receive training on mission planning, advanced patrolling, advanced radio communications, advanced land navigation, reconnaissance and surveillance techniques, calling for artillery and close air support, small boat operations, and clandestine operations.
Upon successful completion of either school the Marines receive the MOS designator "0321" or Reconnaissance man. They then attend S.E.R.E School, United States Army Airborne School, and Combatant Diver school.
In addition to these core courses Recon Marines will have the opportunity to attend Sniper School, Military Free Fall school, Ranger school, and H.R.S.T. master school, and Pathfinder school as slots become available .


Global War on Terror

1st Recon Battalion deployed to Kuwait and participated in the 2003 invasion of Iraq.
1st Recon Battalion re-deployed to Al Anbar province in Iraq February 2004, in support of Operation Iraqi Freedom.
1st Recon Battalion re-deployed to Al Anbar province in Iraq September 2005, in support of Operation Iraqi Freedom.
1st Recon Battalion re-deployed to Al Anbar province in Iraq March 2007, in support of Operation Iraqi Freedom.
In January 2006, the battalion was in the national news for leading Operation Green Trident, which discovered over ten metric tons of insurgent munitions, hidden in caches throughout a large area south of Fallujah in the Euphrates River Valley.
Marines of 1st Recon have told military reporters that about 90% of their time in Operation Iraqi Freedom has been spent in mounted patrols, using their Humvees.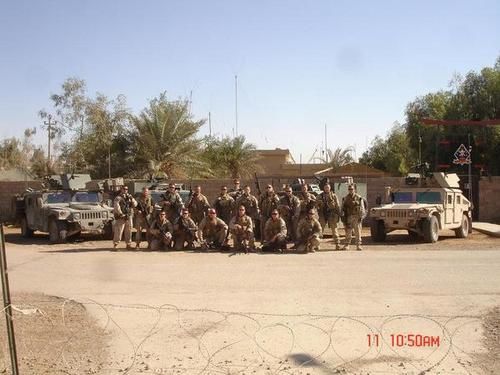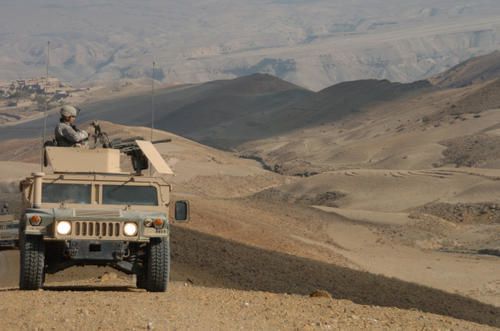 1st Reconnaissance Battalion In Iraq