23 septembre 2007
7
23
/

09
/

septembre
/

2007
23:37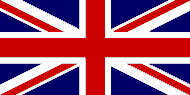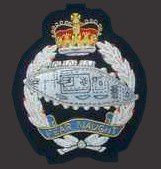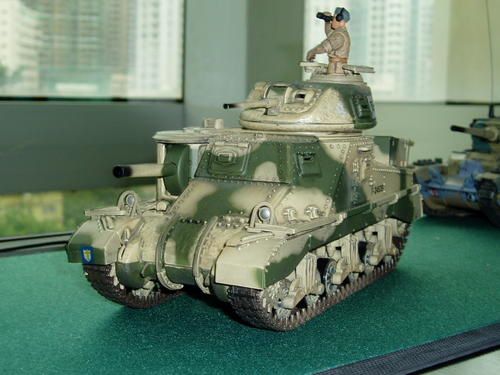 U.K. M3 Grant
- North Africa -
SKN: 81011 | SCALE: 1:32
M3 Grant /
M3 Lee
In the medium tank class, improvements in the M2A1 resulted in a completely redesigned tank, known as the M3 medium. By 1939 it was apparent that the 37 mm gun mounted on the M2A1 tank was not powerful enough. Experiments began immediately to enable installation of a 75mm pack howitzer on the M2 tank, resulting in the gun being mounted in a sponson on the right-hand side. Production of the resulting M3 Lee tank began in August 1941, and continued through December of 1942.
When World War II began in 1939, the United States lagged far behind the major European states in the development of tank technology and armored warfare doctrine. The fall of France in May 1940 awoke and alarmed the United States. The German army had defeated France in a matter of weeks through the use of a new operational doctrine based on fast-moving, massed armoured formations supported by air power.
America's leaders became convinced that the US Army needed a new main battle tank at least equal to that employed by the Germans and that it had to adopt German operational doctrine. To that end, in July 1940 the War Department authorized the development of a new medium tank, and it also authorized the organization of the first armoured divisions. By the time the Japanese attacked Pearl Harbor in 1941, the United States had five armoured divisions organizing and training for war in Europe.
The first American main battle tank employed in combat in World War II was the M3. The British fought with this tank in North Africa as early as 1941. The M3 was the result of a crisis atmosphere that was prevalent immediately following the fall of France. It is likely that no tank in history ever went from design to production faster than the M3. As furnished to the British under lend-lease, this first model of the M3 medium was known as the General Lee, which is sometimes confused with the later General Grant. The Grant was essentially the same vehicle except for its lower silhouette, achieved by removing the cupola from its turret.
The British named the M3 the Grant or Lee tank, depending on the version. The tanks purchased by the British from Press Steel and Pullman had a British-designed turret and were designated the Grant I. The name Lee was given to standard M3 variants. The M3 was the Lee I, the standard M3A1 was the Lee II, and so forth. The M3A5 was called the Grant II and supplied under the Lend Lease Act of 1941.
During the design of the M3, the Army's artillery branch had insisted that the tank's main armament meet artillery performance standards. The 75 mm gun had to be able to fire 4,000 rounds before the tube's replacement, just like a field gun, despite the fact that no tank could be expected to last in combat long enough to fire a fraction of that volume. As a result, the M3 and the following M4 Sherman went into action with a low-velocity gun.
Its major defect was its gun mount: the 75-millimeter gun was carried in a sponson in the right front of the hull and could traverse only 15 degrees to each side -- a major disadvantage in tank battles. However, the M3 was only an interim measure. Production ceased in late 1942, when the M4 went into full production.
British designations in parentheses
M3 (Lee I/Grant I).

Riveted hull. 4724 built.

M3A1 (Lee II).

Cast upper hull. 300 built.

M3A2 (Lee III).

Welded hull. Only 12 vehicles produced.

M3A3 (Lee IV/Lee V).

Welded hull, twin GM 6-71 diesel. Side doors welded shut or eliminated. 322 built.

M3A4 (Lee VI).

Stretched riveted hull, 5 x Chrysler A-57 Multibank engines. Side doors eliminated. 109 built.

M3A5 (Grant II) .

Riveted hull. Twin GM 6-71 diesel. Despite having the original Lee turret and not the Grant' one, was referred by the British as Grant II. 591 built.

M31 Tank Recovery Vehicle (Grant ARV I).

Based on M3 chassis, with dummy turret and dummy 75 gun. 60,000 lb winch installed.

M31B1 Tank Recovery Vehicle.

M31B2 Tank Recovery Vehicle.

105 mm Howitzer Motor Carriage M7 (Priest)

105 mm M1/M2 howitzer installed in open superstructure.

Gunless version was the OP (observation post vehicle)

155 mm Gun Motor Carriage M12

Designed as the T-6. A 155 mm howitzer on M3 chassis.

Yeramba Self Propelled Gun.

Australian SP 25 pounder. 13 vehicles built in 1949 on M3A5 chassis in a conversion very similar to the Canadian Sexton.
Grant ARV
Grant I's and Grant II's with guns removed and replaced with armoured recovery vehicle equipment.
Grant Command
Grant fitted with radio equipment and having guns removed or replaced with dummies.
Grant Scorpion III
Grant with 75 mm gun removed, and fitted with Scorpion III mine clearing flail, few made in early 1943 for use in North Africa.
Grant Scorpion IV
Grant Scorpion III with additional motor to increase Scoprion flail power.
Grant CDL
From "Canal Defence Light"; Grants with the 37 mm gun turret replaced by a new turret containing a powerful searchlight and a machine gun. 355 Produced by the Americans as well, it was designated Shop Tractor T10.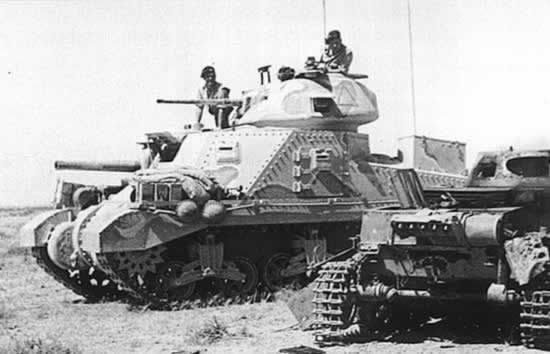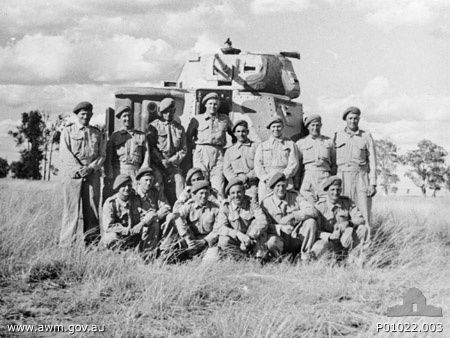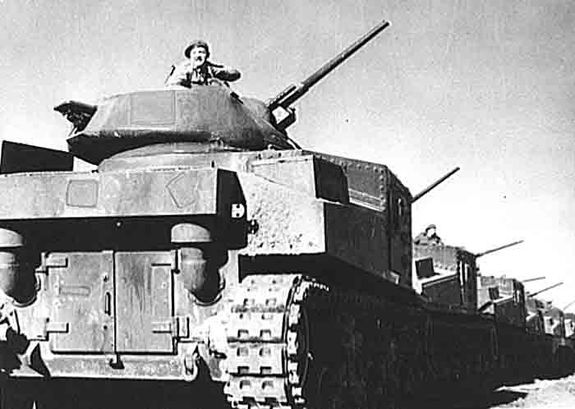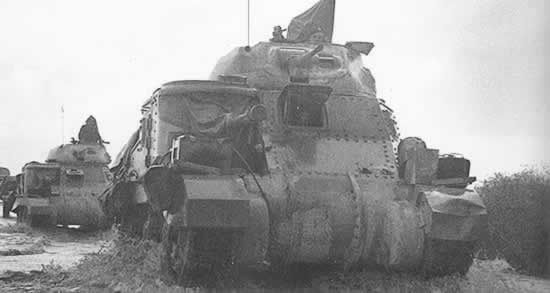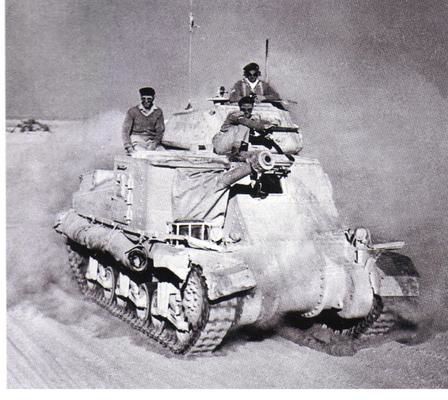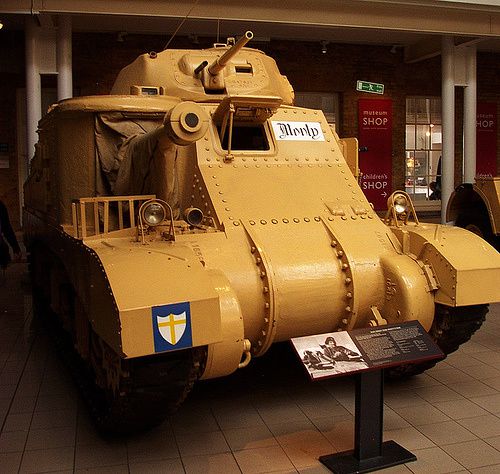 GENERAL DATA
Formal Designation

Cruiser Tank Grant I

Manufacturer(s)

n.a.

Production Quantity

n.a.

Production Period

1941-1942

Type

Medium/Cruiser Tank

Crew

6 or 7

Length /hull (m)

5.64

Barrel Overhang (m)

n.a.

Width (m)

2.72

Height (m)

3.02

Combat Weight (kg)

28100

Radio Equipment

No. 19
FIREPOWER
Primary Armament

75mm M2 (hull)

Ammunition Carried

75mm: 65

37mm M5 or M6 (turret)

37mm: 128

Traverse (degrees)

75mm: 30° (15 L or R)

Elevation (degrees)

75mm: -9° to +20°

37mm: Hydraulic (360°)

37mm: -7° to +60°

Traverse speed (360°)

75mm: Manual

Sight

n.a.

37mm: 20 sec.

n.a.

Secondary Armament

3 x .30 caliber MG M1919A4 (coaxial with 37mm, 2 x bow)

Ammunition Carried

4084
MOBILITY CHARACTERISTICS

Engine Make & Model

Wright (Continental) R975 EC2

Track Links

79/track

Type & Displacement

R9, 15.9 liters

Track Width

40.6 or 42.1 cm

Horsepower (max.)

400hp@2400rpm

Track Ground Contact

373.4 cm

Power/Weight Ratio

14.2 hp/t

Ground Pressure

12.7 psi

Gearbox

5 forward, 1 reverse

Ground Clearance (m)

0.43

Fuel

Gasoline (Petrol)

Turning Radius (m)

18.9

Range on/off road (km)

193

Gradient (degrees)

31°

Mileage (liters/100km)

412 on road

Vertical Obstacle (m)

0.61

Fuel Capacity (liters)

796

Fording (m)

1.0

Speed on/off road

34 km/h

Trench Crossing (m)

2.3
ARMOR PROTECTION
Armor Detail
Front
Side
Rear
Top/Bottom
Hull

51mm@45-90°

38mm@90°

38mm@80-90°

25mm@0°(front)

13mm@0°(rear)

Superstructure

38mm@37°(lower)

38mm@90°

-

13mm@0-7°

51mm@60°(upper)

Turret

76mm@43°

51mm@60-90°

51mm@90°

32mm@0-9°

Mantlet

n.a.

-

-

-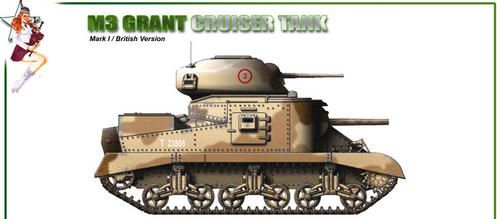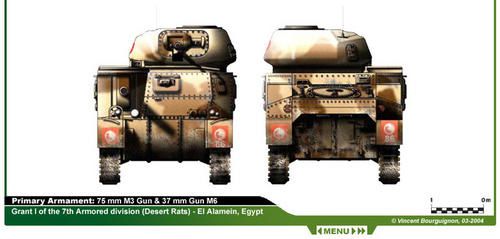 Field Marshall Montgomery



Field Marshall Sir Bernard Law Montgomery (1887-1976) soldier, was born 17th November 1887, in Kensington, South London, the fourth of nine children, six boys and three girls, of Henry Hutchinson Montgomery, Anglican Bishop, born in India, and Maud (nee Farrar) Montgomery, of Harrow, North London, daughter of Dean Farrar, Anglican clergyman.
In September 1889, just before Bernard's second birthday, his family moved to Tasmania, before returning to live in London in 1902. He first visited the Irish family home at New Park, Moville, in the summer of 1897, when they were met by a committee from the then village with an address of welcome. New Park's 1,000 acre site had been purchased form the Marquess of Donegal in 1768 by his great-great grandfather, Samuel Montgomery, wine merchant of Derry city, and the young Montgomery developed a lifelong affection for an identification with Moville and its people spending a considerable amount of his youth and numerous holidays at New Park.
He was educated by private tutors in Tasmania, at King's School, Canterbury, for a Summer term, at St. Paul's School, London (1902-6) before attending Sandhurst Military College from January 1907 until July 1908.
He first became a commissioned officer with the Warwickshire Regiment in 1908 and was wounded twice in World War 1, fighting on the western front in 1914-5 and then assuming training duties in the UK later in 1915.
He was then promoted to brigade Major, 104th brigade, at the first battle of the Somme in June-November 1916, staff officer, 33rd division battle of Arras, April 1917, staff officer 9 Corps, 3 battle of Ypres/battle of Passchendaele, July-November 1917, and staff officer 47th division in 1981. He graduated from the Staff College, Camberley, in December 1920, before being appointed brigade-major of the 17th Infantry brigade at Cork in 1921-2.

From 1926 until 1931 he was an instructor at Staff College, Camberwell, before being appointed commander, 1st battalion, Royal Warwickshire Regiment to the Middle East and India (1931-4) and then general staff officer, grade 1, at Staff College, India (1934-7).
Appointed commander, 9th infantry brigade in Portsmouth (1937-8), he then became commander, 8th division, Palestine (1938-9) until the outbreak of the world War II. In 1939-40 he was appointed commander, 3 division, 2 corps for France and Belgium and was one of the last soldiers to evacuate Dunkirk in May-June 1940.
Back in England he was appointed commander, 5 corps in 1940 and commander, 12 corps in 1941.
The following year he was promoted to South Eastern Command and was involved in planning the Dieppe raid of 1942, before commanding the 8th army in 1942-3, during which time he defeated Nazi forces in the North African campaign in major battles of Alam Halfa (August-September 1942), El Alamein (October-November 1942), Medenine (March 1943), Mareth (March 1943) and the last major battle in Tunisia (May 1943).
Thereafter, his men joined up with US forces, capturing Sicily (July-August 1943) and mainland Italy (September-December 1943). Appointed commander 21 army group (1943-5), he was commander-in-chief of ground forces in Normandy (June-August 1944) at the battle of Arnhem (September 1944), at the Ardennes 1944-5), and having crossed the River Rhine in March 1945, he accepted the surrender of German forces in May 1945.
After the war he was commander, British Army of the Rhine (1945-6) chief of the imperial general staff (1946-8), chairman, Western Europe Commander-in-chiefs Committee 1948-51) before coming deputy supreme allied commander. Europe, until his retirement in 1958.
Despite his clipped upper-class accent, Montgomery disliked being called English and throughout his life described himself as Irish and a Donegal man. For most of his life, he spent considerable periods of time at New Park until his mother's death in 1949 when the house was sold to become a hotel. Given both his personal and lengthy familiar relationship with Inishowen, it is possible to regard him as the most famous person from the peninsula. Frequently described as Britain's greatest military leader since Wellington, he was unquestionably one of the finest military commanders of the twentieth-century.
His victory against General Rommel, 'the desert fox', in North Africa, was the first and only major British ground campaign success achieved without American assistance.
Among his many honours, he was knighted in 1942 and promoted to Field Marshall in 1944. He wrote a number of books: Memoirs (1958); An Introduction to Sanity (1959); The Path to Leadership (1961); Three Continents (1962); A history of Warfare (1968).
In 1927 he married a widow with two sons, Betty Carver (nee Hobart); they had a son of their own, David, but Betty died in 1937. His main residences were in Tasmania, London, Moville and Portsmouth. He died in Alton, Hampshire, on 24th March 1976.