6 mai 2008
2
06
/

05
/

mai
/

2008
10:54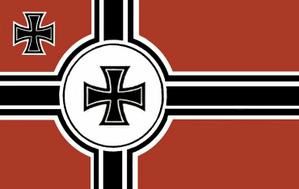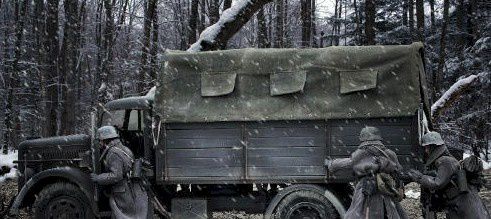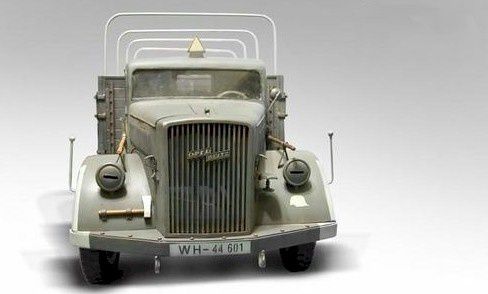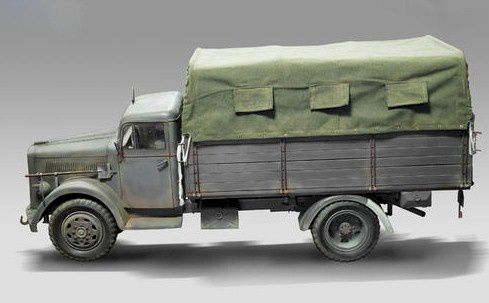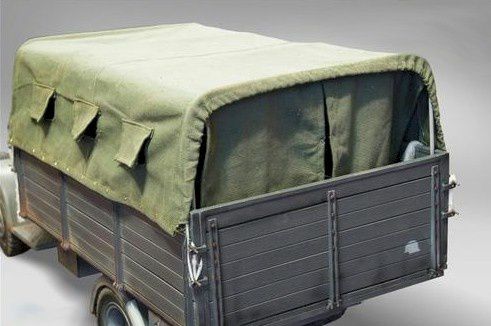 Opel "Blitz" (Kfz.305) (4 x 2)

During World War Two the German Army adopted and intensively used many types of cargo truck, but without doubt the three-tone Opel "Blitz" was the most famous of all Wehrmacht vehicles. With more than 100,000 built, these trucks with the Bitz's characteristic lightning emblem on the radiator front panel became symbolic of Germany's conquests. Its tire tracks could be seen in the great city squares of Europe,in the fields of France and also in the endless sands of the African desert; and it even overcame the infamous Russian mud. These trucks had a reputation of hardiness and being easy to repair which made them a legend.

The story of the Opel "Blitz" began in the mid-1930s when the new German National Socialist government instigated a program of economic modernization with a clearly expressed militaristic direction. At this time the American General Motors concern had already owned the Opel factories for ten years and Opel had quickly become a major German car manufacturer, with a great family of different vehicle types.

One of their most successful designs was the Opel "Blitz" S whose production started in 1936. When the 'Western dam' construction began, more than 10,000 trucks of different types were involved. It was the original competition for military cargo trucks and the result was that the Opel "Blitz" won. The Opel factory received a massive order for this new standard Wehrmacht vehicle.

The European conflict which started on September 1st, 1939, gathered pace with many fronts opening up, and obviously huge numbers of trucks were needed. Many thousands of civil Opel "Blitz" S produced before the war was drafted into army units.

These civil trucks were brought up to army standard Kfz.305 - the official military designation for the Opel "Blitz". In all about 140 different army modifications were installed on the Opel "Blitz" chassis during the war years - they became radio cars, repair stations, fuel trucks, and even some exotic types like mobile laundries or printing-houses.

Many other vehicles like staff buses or fire trucks were also based on the Blitz chassis.
From 1937 up to 1944 nearly 140,000 vehicles were built, among them 82,356 standard army Blitz S trucks, 14,122 with a long wheelbase and also 8,363 with a low-level base. In 1942 another famous manufacturers, Daimler Benz AG was involved in Opel "Blitz" license manufacture.

Mercedes-built trucks were visually identical to the standard Blitz but had their own designation, Mercedes L701. License production started only in 1944, when the main Opel factory in Russelheim was destroyed by Royal Air Force bombing.

From the first days of war the Opel "Blitz" was very popular in the army. These trucks were integral to the organization of Panzer Divisions but unlike all other German trucks they used gasoline, and tanks used the same fuel. Ground pressure was low and the Blitz could overcome some obstacles which other types, even three-axle trucks, had problems with. Operation and repair in the field was very easy.

The Eastern campaign demonstrated another advantage of the Opel "Blitz", whose gasoline engine could be easily and simply started with boiled water in very cold weather conditions, when diesel-fuelled trucks typically failed. Large numbers of trucks of this type were taken into the Red Army as trophies, and if the condition of the vehicles was satisfactory, they were used without any problem. Some Opel "Blitz"es even took part in Russian-Japanese battles in eastern China in 1945.

This truck became a legend in the army and the absolute favorite among drivers. Some of them were convinced that Germany lost the war because the available quantity of Opel "Blitz"es was too little.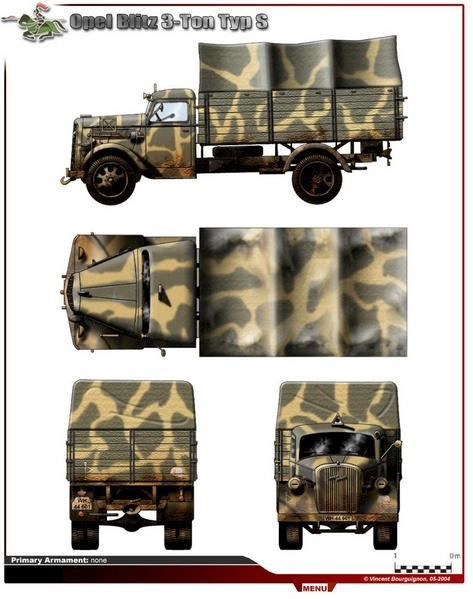 Crew

1

Weight

1,800 kg (3,968 lb)

Length

6.02 m (19.75 ft)

Width

2.265 m (7.43 ft)

Height

2.52 m (8.27 ft)

Engine

Opel six-cylinder, 3.626 L (221 cu in),
68 hp (51 kW) @ 2,800 rpm

Gears

Five forward, one reverse

Fuel capacity

82 L (21.7 US gal) gasoline

Fuel consumption

26 L/100 km (9.0 mpg) on road,
35 L/100 km (6.7 mpg) cross country

Cross-country speed

35 km/h (22 mph)

Road speed

85 km/h (53 mph)


UNIT HISTORY
As a fighting unit Großdeutschland was formed in 1939. The core of this four battalion infantry regiment came from the "Wachtregiment Berlin", a guard unit used for ceremonial purposes. The rest of the regiment came from volunteers from all areas of Germany. Thus the name Großdeutschland was used meaning "Greater Germany". The unit's first designation was "Infanterie-Regiment Großdeutschland".
At the outbreak of war with Poland the regiment was still in the midst of reorganization. Infanterie-Regiment Großdeutschland was to stay home and continue the reorganization during the Polish campaign. On 6 September 1939 it was heard that the unit was to be air-landed into Poland. This operation was cancelled due to the advance of Soviet troops into eastern Poland which made the operation unnecessary. In August 1940 the black cuff title Großdeutschland was issued to the unit and they were now a motorized formation. Although Infanterie-Regiment Großdeutschland was ready, they did not participate in the immediate invasion of France. However the unit did see some action during the campaign while fighting under the leadership of Heinz Guderian's 19th Armeekorp. Later they were attached to Kleist's command.
Großdeutschland took part in the invasion of Yugoslavia in April 1941 and then by 22 June, 1941 they headed into Russia during operation Barbarossa. In this campaign they were part of the 2nd Panzerarmee. Distinguishing itself in combat, Großdeutschland was one of the few German units to reach the out skirts of Moscow. Following the harsh winter battles from Tula to Orel, Großdeutschland served as an excellent fighting unit while suffering heavy casualties. As a result the unit under went several reorganizations. By April 1942 Armored units were added for better support. The unit was then reformed as "Infanterie-Division (mot) Großdeutschland". As a much larger unit Großdeutschland fought several major engagements ending the year west of Moscow.
On 23 June, 1943 Großdeutschland was designated "Panzer Grenadier Division Großdeutschland". By this time Großdeutschland was truly a reinforced Panzerarmee with reconnaissance consisting of Pioneer (engineer) Battalions that were fully armored. During 1943 Großdeutschland fought at Kharkov, Belgogrod and Kursk during operation Citadel. Later the unit fought in operations north of Karachev in the Orel area. In September 1943, Russian attacks forced Großdeutschland and other units south across the Dneiper river. These bitterly fought battles sent Großdeutschland to France for refitting.
In 1944 Großdeutschland fought at Targul Frumos, Poland, Lithuania, and Memel just to name a few places. In November 1944 Großdeutschland was reformed as "Panzer Korps Großdeutschland". Fighting in retreating battles Großdeutschland gained the nickname "Die Feuerwehr" (fire brigade). Suffering heavy casualties Großdeutschland fought until May 1945. Großdeutschland repeatedly faced an enemy with far superior forces while inflicting powerful blows to them. Großdeutschland held their own against enemy superiority in the field. As a World War II combat unit, their legacy left 50,000 dead including 1,500 officers killed in combat. The unit was awarded more Knights Crosses than any other formation in the German Military. Why? As General der Panzertruppe Hasso von Manteuffel once wrote: "Our honor is the fulfillment of our duty!"