19 février 2008
2
19
/

02
/

février
/

2008
23:09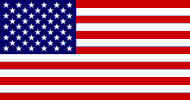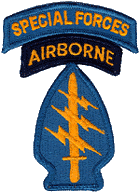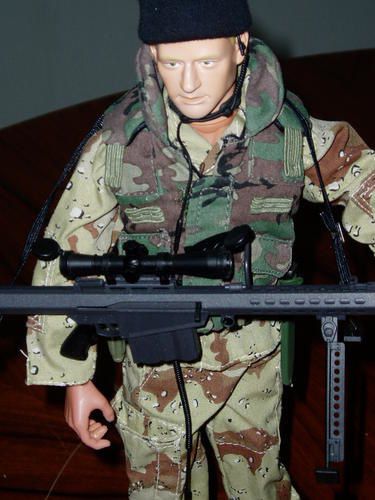 Specialists in guerrilla warfare The U.S. armed forces select and train highly skilled and motivated soldiers to perform covert operations.
Special Operation Forces

-- U.S. Army Rangers
-- Green Berets (Army)
-- Marine Expeditionary Units
-- Navy SEALs
-- Delta Force
-- Air Force Special Operations Forces

Anatomy of a Special Forces raid

Teams within teams

Large teams are often divided into "cells," i.e. reconnaissance, evasion, force protection and sniper groups.
1 Satellite photographs terrorist locations
2 Spy plane tracks terrorist movements
3 Reconnaissance cell Confirms presence of terrorists
4 Assault cell At start of assault, troops hanging from helicopter platform drop onto rooftop
5 Team rappels down building, bursts through windows. Stun grenades cause diversion
6 Squad kills, restrains terrorists
7 Recovery cell Waiting helicopter retrieves team
SNIPER HISTORY

During the late 18th century in India, British officers enjoyed hunting a very small fast moving bird called the "Snipe". The term sniper originaly had nothing to do with the current use of the word, "Sniper" described a skillfull Snipe hunter. A sniper was also very good at stalking, and had an almost perfect shot (much like modern day "snipers"). The word "Sniper" first entered military use in 1773, soldiers put their hats on sticks for the enemy to shoot at, and called it sniping.

The current use of the word "Sniper" came into play in the twentieth century, during the first great war. World War I brought a new type of combat to the world, trench warfare. This is where the modern sniper was born. The first country in the war to utilize the tactic of sniping where the Germans. Men with an extremely good shot were issued 'accurized' Scharfschutzen-Gewehr (Gew 98) rifles with 4x scopes.
The role of a trench sniper was to move about on his own, searching for targets of value to take out. Also to use his scope to observe enemy positions, and record what they see in a special note book. A true sniper is an operative who gathers intelligence for the command structure (law enforcement or military) and occasionally takes the one, well-aimed shot that, if done properly, will save lives.

Since the invention of the firearm, skilled individuals with specialized equipment have influenced the tide of battle. At times, this effect has been so great as to turn the tide of history. From Leonardo da Vinci to present, the long range rifleman has had a telling effect on the direction, drive and scope of battle. By his discriminatory nature, he has felled the command structure of his enemies, rendered their equipment useless and driven fear into the hearts of their fighting men. The sniper is one of the most effective weapons on the field of battle. He is frugal, and precise. He is not a superman, capable of incredible feats, but he is skilled in ways that many misunderstand.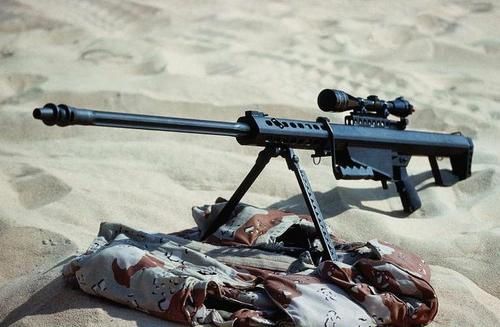 M82A1A.50 Caliber Special Application Scoped Rifle
Caliber .50 Sniper Rifle (CFSR)
The Special Operations Forces first became interested in the Barrett M82 during Operation Desert Storm. SOF recognized the key warfighting advantages that a man-portable, rapid-fire, Cal .50 rifle brought to the table, so they took the initiative of acquiring it on their own and employing it with great results. It became apparent that the Army had to standardize it and make it available and supportable across the entire service.
In the mid-1990's, requirements for a new heavy sniper rifle were formalized by the US Army Infantry Center at Fort Benning, GA. They were developed in conjunction with snipers from the US Army Special Operations Command and the Army Sniper School. The project manager then began a program to verify through comprehensive technical and operational testing that a technology existed that could satisfy user needs. Supportability and training requirements also were considered.
In August 1996 the US Army stated an interest in acquiring a rifle system capable of delivering long range, precision fire on targets out to a range of 2,000 meters. This Caliber .50 Sniper Rifle (CFSR) system must be a man portable, shoulder fired system utilizing military standard .50 caliber ammunition. The primary components of the system are a rifle, optical sighting system and carrying cases. Spare parts and logistic support packages will be required as part of any contract action. The selected contractor was also be required to supply depot level maintenance support based within the Continental U.S. (CONUS). Interested vendors were required to submit four (4) bid sample systems as part of their proposal submission. These bid samples were used in evaluation testing by the government. Bid samples will be returned in as tested condition. The selected contractor was to able to produce a minimum of 20 systems per month, with a production surge capability to 30 systems per month. The schedule projected release of a competitive Request for Proposal (RFP) in December 1996. Delivery of bid sample hardware was required 100 days after release of the RFP.
The Caliber .50 Sniper Rifle (CFSR) system is a direct line of sight system capable of engaging targets out to 1,500 meters (2,000 meters desired); be a rugged and highly reliable system; minimize both muzzle flash and blast signatures during firing. The CFSR should; weigh less than 30 pounds (25 pounds objective: with 5 rounds loaded in the magazine; have durable, corrosion finishes or be constructed from corrosion resistant materials; be constructed from materials which resist exposure to solvents and cleaners. All external/exposed surfaces should be dull, non-reflective; objective external color is tan, gray or black. The CFSR should include a maintenance/cleaning kit containing all operator level repair parts and tools. Operators and maintenance manuals will also be required.
Components requirements were as follows: The rifle must; be highly accurate when firing the Mk211 Multi-purpose round or ballistic equivalent; be compatible with the current family of .50 caliber ammunition (Ball, API, APIT); be able to fire a minimum of 6 rounds/minute (10 rds/min objective); have an adjustable trigger pull; have a detachable box magazine with a minimum capacity of 5 rounds (10 rounds objective); have an easy to operate, positive safety; have no parts which can be improperly assembled to the detriment of weapon performance.
The rifle should also have; a minimum barrel life of 1,000 rounds (5,000 rounds objective); be easily disassembled into components, the maximum length of any component being 40 inches (36 inches objective); come equipped with a sling, detachable sling swivels and bipod.
The optical sighting system must; provide suitable resolution to allow target identification at the maximum effective range of the system; provide a threaded interface to accept LASER protection; be detachable; interface with a Picatinny type rail IAW MIL-STD-1913. The optical sighting system should; have a scaled reticle to aid in range estimation; repeat zero within 1/2 MOA when removed then reinstalled on the weapon; have adjustable windage and elevation controls; provide sufficient adjustment to compensate for the ballistic drop of the Mk211 out to the maximum effective range of the system; remain watertight when submerged in water; come equipped with dust covers; be provided with a hardened carrying case for protection during airborne operations. Ammunition; Bid sample systems will not require the contractors to submit ammunition.
The government provided sufficient quantities of ammunition needed for all government testing. Accuracy testing was completed using the Mk211 multi-purpose cartridge or ballistic equivalent. Compatibility with the existing family of military .50 caliber ammunition is also required. The component carrying case should; be capable of storing all system components; protect system components during hot, cold, rain conditions, transportation and storage. An objective requirement is to provide protection to the system during parachute airdrop and subsurface deployment (33 ft threshold, 66 ft objective). A drag bag soft case is also required for man pack infiltration of the system.
Features: The M82A1A is a semi-automatic, air cooled, box magazine fed rifle chambered for the .50 caliber, M2 Browning Machine Gun cartridge (.50 BMG or 12.7 x 99mm NATO). This rifle operates by means of the short recoil principle. The weapon system is comprised of the rifle (M82A1A) with a Unertl 10-power scope and an additional box magazine. The system comes packed in its own watertight, airtight carrying case with an air release valve for aircraft transportation and the requisite cleaning rod and brushes. The basic M82A1A rifle is equipped with bipod, muzzle brake, carrying handle, metallic sights, and 10-round box magazine. There is also a back pack for cross country transport and a bandolier for extra magazines is available.

Background: The M82A1A is designed to provide commanders the tactical option of employing snipers with an anti-materiel weapon to augment the present anti-personnel M40A1 7.62mm weapon. The rifle is manufactured by Barrett Firearms Manufacturing, Incorporated of Murfreesboro, Tennessee. The scope is manufactured by Unertl to match the trajectory of .50 caliber Raufoss Grade A (DODIC A606), which is the standard operational round.

Manufacturers: Barrett Firearms Manufacturing, Inc. and Unertl
Length: 57 inches (144.78 centimeters)
Barrel length: 29 inches (73.67 cm)
Weight: 32.5 pounds (14.75 kilograms) (unloaded)
Bore diameter: 12.7mm (.50 Caliber)
Maximum effective range on equipment-sized targets: 1800 meters
Muzzle velocity: 2800 feet (854 meters) per second
Magazine capacity: 10 rounds


M107 .50 Caliber Special Application Scoped Rifle SASR
Long Range Sniper Rifle (LRSR)

The M107 .50-caliber long range rifle is semi-automatic and is being fielded to infantry soldiers. It can engage targets to 2,000 meters with precision. At 29 inches long, the frame mounted, bolt-action XM107 weighs 28.5 pounds with optics. It is manufactured by Barrett Firearms Manufacturing, Inc. The XM107 is a rapid-fire; man portable, shoulder-fired, recoil operated semi-automatic system utilizing military standard .50 caliber ammunition.
The primary components of the system consist of a rifle, day optical sighting system and hard carrying case(s).
Army snipers deliver precision fire against enemy targets that are outside a rifleman's limitations of range, size, location, mobility and visibility. The M107 is derived from the M82A1 commercial version of the weapon that is manufactured by Barrett Firearms Manufacturing, Inc. of Murfreesboro, TN. It can defeat materiel targets located at distances beyond the range of the standard M24 7.62mm Sniper Weapon System, Galeazzi said. In the hands of a trained sniper, the M107 can surgically take out strategic targets while minimizing collateral damage. It is capable of hitting personnel targets as far away as 1500 meters and materiel targets out to 2000 meters.
The complete system includes the .50 caliber semi-automatic rifle, detachable 10-round magazine, variable-power day optic sight, transport case, tactical soft case, cleaning /maintenance equipment, detachable sling and adjustable bi-pod and manuals. It fires standard caliber .50 ammunition. The new rifle provides Army snipers a much needed solution that is tactically superior to other capabilities against materiel and personnel targets.
The M107 .50 caliber long range sniper rifle is a new Category I weapon being fielded to infantry snipers, with 700 in service in FY2003. The Category II M82A1 remains in service. The Army's new .50 caliber sniper rifle design was initially designated the XM-107. At least two manufacturers of .50 caliber sniper rifles were in competition for the contract -- Barrett and EDM Arms -- and Barrett won the contract.
The M107 is the Barrett Model 95, a smaller, lightweight .50 caliber rifle with emphasis on accuracy and durability. The bullpup design results in a compact rifle with no sacrifice on accuracy or velocity thanks to its cryogenically treated 29-inch (73.7 cm) barrel, the same length as the Model 82A1. Recoil is reduced by the dual-chamber muzzle brake and specially designed recoil pad.
The 3-lug bolt of the M107 locks rigidly into the barrel extension, to accommodate the widest variety of factory ammunition loads. The adjustable bipod may be detached by removing a single quick-release pin. The M107 is set up to mount a variety of telescopic sights and with good ammunition this combination usually produces minute of Angle (MOA) accuracy. The M107 may be disassembled for cleaning without tools. 10 round magazines are available.
Barrett .50 caliber rifles are in service world-wide for EOD (Explosive Ordnance Disposal) use. Users have found that mounting the Barretts on vehicles is a rapid and cost-effective method of clearing military airport runways from unexploded ordnance. Others have found the Barrett as an effective means of detonating land mines once they have been detected.
The M107 Long Range Sniper Rifle (LRSR) candidate weapon was DA approved for Urgent Requirement procurement (without night sight capability) in October 2001. The night sight capability for the XM107 LRSR was TBD. With an armorer- level modification, the Rail Quick Release System would allow the AN/ PVS- 10 Sniper Day/ Night sight currently used with the M24 Sniper Weapon System to be used with the XM107 LSRS. The cost: $1,180 per set, with a BOIP of: One Sniper Team Set: Weapon base (2); Scope Rings/ base (2); PVS-10 base (1) per XM 107 LRSR / M24 SWS.
Two Picatinny organizations, PMSW and the Armament Research, Development and Engineering Center, teamed up to buy, test and field the system to US troops in both countries. In November 2004 Picatinny continued to field the M107 .50 Caliber Long Range Sniper Rifle to US troops in Afghanistan and Iraq. By the end of 2004r, the Picatinny team expected to issue more than 700 of the new systems to deployed Soldiers.
Production and fielding were scheduled through 2007.
In January 2003 the U.S. Army Tank-automotive and Armaments Command, Armament Research, Development and Engineering Center (TACOM-ARDEC), Picatinny Arsenal, NJ announced an interest in acquiring information on commercially available or non-developmental item (NDI) suppressors that will reduce the baseline muzzle flash, blast and sound signatures of the Army's XM107 Caliber .50 rifle system (also commercially available as the Barrett M82A1-M). Potential contractors must be able to produce a minimum of 60 systems per month, with a production surge capability to 90 systems per month.
The suppressor must be able to reduce the baseline signatures of the XM107 without adversely affecting or degrading weapon performance/accuracy, functionality, recoil, safety and reliability. It must also be modular enough to be quickly and easily installed and removed by the operator without requiring the use of special tools not readily available to the operator.
The .50 caliber Barrett Model 82A1/XM107 produces modest recoil energy. The weapon operating mechanism combined with an efficient muzzle brake reduce recoil energy to about 36 foot-pounds. The 25mm XM109 fires ammunition with essentially the same impulse as .50 caliber ammunition. However, the 25mm launches a much heavier projectile and uses much less propellant. The small amount of propellant limits the muzzle brake effects. The recoil energy of the XM109 exceeds 60 foot pounds. The suppressed version of the Model 82A1/XM107 produces significantly greater recoil energy than the muzzle brake variant of the 82A1/XM107, and is also a good candidate for recoil reduction efforts.
According to Operation Iraqi Freedom PEO Soldier Lessons Learned [LTC Jim Smith 15 May 2003] "The Barrett 50 cal Sniper Rifle may have been the most useful piece of equipment for the urban fight – especially for our light fighters. The XM107 was used to engage both vehicular and personnel targets out to 1400 meters. Soldiers not only appreciated the range and accuracy but also the target effect. Leaders and scouts viewed the effect of the 50 cal round as a combat multiplier due to the psychological impact on other combatants that viewed the destruction of the target.
"My spotter positively identified a target at 1400 meters carrying an RPG on a water tower. I engaged the target. The top half of the torso fell forward out of the tower and the lower portion remained in the tower." 325th PIR Sniper
"There were other personal anecdotes of one round destroying two targets and another of the target "disintegrating."
"The most pervasive negative comment was that snipers felt the Leopold Sight was inadequate for the weapon – that it was not ballistically matched. It the sight was zeroed for 500, 1000 and 1500 meters, soldiers did not feel confident in their ability to engage targets at the "between" distances (e.g. 1300 m). Snipers felt there were better sights available for this weapon such as the Swarovski. Sniper team spotters felt the tripod for the Leopold Spotter Scope could be better designed. COL Bray, Commander, 2d BCT, 82d Airborne Division supported an Operational Needs Statement for a Sniper Sight that would allow the sniper to identify targets as combatants or non-combatants out to 2000m."
In March 2005 the Army approved its new long-range .50 caliber sniper rifle, the M107, for full materiel release to Soldiers in the field. The term "full materiel release" signifies that the Army has rigorously tested and evaluated the item and determined that it is completely safe, operationally suitable and logistically supportable for use by Soldiers.
The M107 program is managed by the Project Manager Soldier Weapons with engineering support provided by Picatinny's Armament Research, Development and Engineering Center. Product Manager for Crew Served Weapons had previously equipped combat units in Afghanistan and Iraq with the M107 under an urgent materiel release as well as other units supporting the global war on terrorism. The Army expected to complete fielding of the M107 in 2008.
The M107 was funded as a Soldier Enhancement Program to type classify a semi-automatic .50 caliber rifle for the Army and other military services. It underwent standard type classification in August 2003. A production contract was awarded to Barrett Firearms Manufacturing, Inc., Murfreesboro, Tenn., the following month.
Compared to the M24 7.62mm Sniper Rifle, the M107 has more powerful optics and fireds a variety of .50 caliber munitions. This provides sniper teams greater capability to identify and defeat multiple targets at increased ranges. It is based on the US Marine Corps Special Application Scoped Rifle, the M82A3. The M107 enables Army snipers to accurately engage personnel and material targets out to a distance of 1500 to 2000 meters respectively.
The weapon is designed to effectively engage and defeat materiel targets at extended ranges including parked aircraft, command, control and communications, computers, intelligence sites, radar sites, ammunition, petroleum, oil and lubricant sites and various lightly armored targets.
In a counter-sniper role, the system offers longer standoff ranges and increased terminal effects against snipers using smaller caliber weapons. The complete system includes: the rifle itself, a detachable ten-round magazine,a variable-power day optic sight, a transport case, a tactical soft case, cleaning and maintenance equipment, a detachable sling, an adjustable bipod and manuals.
The Army plans to modify the M107 in the future by adding a suppressor to greatly reduce flash, noise and blast signatures. PM Soldier Weapons manages crew-served and individual weapons for the Army. It is one of three centers of excellence reporting to the Program Executive Office Soldier located at Ft. Belvoir, Va.
TECHNICAL DATA

M107

Alternative Designations

Semi-Automatic Long Range Sniper Rifle, Semi-Automatic Anti-Material Rifle, USMC Special Applications Scoped Rifle (SASR), Heavy Sniper Rifle (HSR)

Country of Origin

USA

Date Of Introduction

2002

Caliber

0.50 in (12.7 mm)

Cartridge

.50 Browning Machine Gun (12.7 x 99 mm)

System of Operation

Short recoil

Weight, Gun and Scope, Unloaded

28.5 lb (12.9 kg)

Length

Assembled: 57 in (1,448 mm)
Takedown Mode: 38 in (965 mm)

Barrel Length

29 in (737 mm)

Barrel Rifling

R.H., eight lands and grooves, pitch 1 in 15 inches (381 mm)

Safety Features

Manual thumb-lever

Trigger Pull

?

Magazine Capacity

10 rounds.
The preferred load is 8 to 9 rounds.

Weight Magazine

10 rounds: 4.12 lb (1.87 kg)
8 rounds: 3.62 lb (1.64 kg)

Performance (with standard 660 grain bullet)

Muzzle Velocity

2,800 fps (853 mps)

Muzzle Energy

11,500 foot-pounds (15,582 J)

Maximum Range

7,450 yd (6,812 m)

Maximum Effective Range

2,000 yd (1,829 m)

Sights

Front Sight

Flip-up 0.075 in. (1.91 mm) post with a protective, anti-glare ring

Rear Sight

Flip-up peep, adjustable for windage and elevation

Daylight Scope

Type

Leupold 4.5x14 Vary X

Length

12.63 in (320.80 mm)

Reticle

Mil dot

Lens

1.97 in (50 mm)

Elevation

1 click equals 1/4 MOA (Minutes of Angle) at 328 ft (100 meters)

Windage

1 click equals 1/4 MOA at 328 ft (100 meters)

Eye Relief

3 to 6 in (76 to 152 mm)
Mark 211 .50-caliber Multipurpose Ammunition
The XM107 .50-caliber sniper rifle is capable of firing the entire family of .50-caliber ammunition, other than the SLAP round. It is specifically tailored to the Mark 211 (Mk211) .50-caliber multipurpose anti-materiel round. The Raufoss Multipurpose (armor-piercing, explosive, incendiary) Ammunition is the crown jewel of .50 caliber sniper ammunition. This multi-purpose round was developed by the Norwegian company Nordic Ammunition Company (NAMMO) Raufoss AS. It is manufactured under license by several American companies, including Winchester. It is said to be the most popular round with US military snipers, it was used to good effect by US forces in the 1991 Gulf War.
The round combines armor-piercing, explosive, and incendiary effects and uses a highly effective pyrotechnically initiated fuze that delays detonation of the main projectile charge until after initial target penetration-moving projectile fragmentation and damage effect inside the target for maximum anti-personnel and fire start effect. While the round can be used in sniper rifles similar to the Barrett M82A1/XM107, it has the equivalent firing power of a 20 mm projectile to include such targets as helicopters, aircraft, light armour vehicles, ships and light fortifications, and can ignite JP4 and JP8 military jet fuel.
The unique Multipurpose Concept (MP) as developed by Raufoss has been applied in a wide range of products due to its recognised high performance and excellent safety characteristics. The MP concept provides cost-effective ammunition against a wide range of targets such as aircraft, helicopters, ships, trucks, and light to medium armoured vehicles and building structures. The MP design excludes the use of a mechanical fuze, which has been replaced by a pyrotechnical ignition train providing delayed action in the target, penetration, fragmentation and incendiary effects.
The MP concept has been used with great success to develop a unique 12.7 mm MP ammunition which has strongly contributed to enhance the 12.7 mm weapon system. The optimised ballistic shape of Low Drag Multipurpose projectiles has significantly reduced time of flight, improved hit probability against fast moving targets and improved terminal effects.
For the Multipurpose projectile to be effective against a wide range of targets it must have different kill mechanisms. It has been designed to have armour penetration capabilities and delayed action is built into the projectile. Terminal effect like blast, fragments and incendiary will, because of the delay, be delivered inside the target. The fragmentation process of the Multipurpose projectile will produce heavy fragments with deep penetration capabilities in material type targets.
The standard design of Multipurpose ammunition (20 - 40 mm) consist of an aluminium nose cap press filled with an incendiary charge on top of the shell body (heat treated steel) which again is press filled with a HE charge and an incendiary charge. The projectile can also be equipped with a tracer and a self-destruct element.
The 12.7 mm Multipurpose projectile differs from the standard design by using a tungsten carbide hardcore to increase penetration capabilities and being encased in a copper jacket. Since Multipurpose ammunition is a fuse-less design and do not have any sensitive primary high explosive components (only secondary high explosive) it does not have the safety risk associated with fused projectiles and does not produce dangerous duds.
Functioning of the Multipurpose projectile is obtained by hitting the target (light or heavy) inducing a fast deformation of the nose cap which is press filled with the incendiary charge. Upon reaching the ignition criteria for the incendiary charge the charge will start burning and subsequently ignite the HE charge resulting in the fragmentation of the shell body. Sensitivity is dependent on the deformation speed of the nose cap and the high speed associated with a projectile travelling down the trajectory is needed to obtain the necessary sensitivity.
Performance Data

MP NM140

MP-T NM160

AP-S NM173

Penetration

11 mm Armour in 45° at 1000 m

11 mm Armour in 45° at 1000 m

11 mm Armour in 30° NATO at 1500 m

Fragmentation

Approx. 20 effective fragments after hitting 2 mm Dural

Approx. 20 effective fragments after hitting 2 mm Dural

_

Incendiary effect

Ignition of JP4 and JP8 ammunition

Ignition of JP4 and JP8 ammunition

_

Accuracy Grade A
At 550 m (Mean radius)

< 15 cm

< 25 cm

< 15 cm

Tracer

_

Red tracer 50 – 1500 m

_
TECHNICAL DATA

Description:

12.7 mm x 99 MP NM140 (US nom. Mk211 Mod 0)
12.7 mm x 99 MP-T NM160
12.7 mm x 99 AP-S NM173


Cartridge length:

Projectile diameter:

Projectile weight:

Muzzle velocity:

Approx. 915 m/s (Browning M2)

Cartridge, Caliber .50, Tracer, M17

Cartridge, Caliber .50, Armor Piercing Incendiary-Tracer, M20